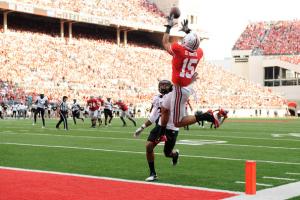 Fourteen.
That is how many receptions Ohio State's leading receivers had last season. It was a total straight out of the 1970s – literally. Ron Springs, in 1977, was the last Buckeye to lead the team with so few receptions. But his 16 catches for 90 yards were during Woody Hayes' three yards and a cloud of dust offenses.
To put the quantity in perspective, between 1977 and 2011, the fewest number of catches that led Ohio State was 24. The Buckeye passing game ranked 115th out of 120 teams last year and two of those were option teams. Urban Meyer didn't mince words when he spoke about the lack of production at wide receiver after he was hired. And it came to a tipping point when the unit failed to distinguish itself in the spring.
Those playing the position decided to do something about their coach's comments. During the offseason, they got together with quarterback Braxton Miller and worked on routes, timing and catching. Just three days into fall camp, it appears it has paid off.
"We're trying to learn this offense and put last season behind us," junior wideout Philly Brown said. "We all had a great offseason; now it is time to go out and make plays. We know what we have to do to be successful and we're working hard every day to do those things."
On Monday, Meyer saw something he had not seen in 17 practices: a wide receiver run a perfect nine route.
"It was ridiculous," a giddy Meyer said. "That's what we need."
Slowly but surely, game-changing skill players are showing up on the Ohio State offense.
It was more of the same on Tuesday, as Smith, Brown, Evan Spencer and Michael Thomas displayed a wide range of abilities. Spencer, for instance, showed off his 4.4 speed to get separation, while Thomas flashed an innate capability at being aware of where the ball is and coming down with it.
No longer is it a clown show, as Meyer referred to the passing game in the spring.
"I think there's enough here where I'm hoping to get wowed a little bit," he said.
Thomas has become particularly intriguing since he enrolled in January after a year at Fork Union Military Academy. He was solid throughout the spring and put an exclamation point on the short season by hauling in 12 catches – all from Miller – for 131 yards in the spring game.
Despite his status as a true freshman, Thomas will be on the field if he can produce.
"The best players are going to play," Meyer said. "If someone beats somebody out, they'll get it. There will be some freshmen from what I've seen so far. There will be a good chunk of freshmen playing in that first game."
Said offensive coordinator Tom Herman: "Mike's got really good ball skills. He comes in and out of his cuts really well. He understands the nuances that are inherent in good route running. But Mike's got to do a better job mentally of picking up the offense and understanding the minutiae of the offense as a whole, not just his position. But he's a freshman. He's got a chance to be good if he will really pour himself into that."
Coaches have never complained about having talent. But the amount of rawness among the Buckeyes' wide receivers can be considered concerning. No one on the two-deep has played more than one season's worth of games or been a significant part of the offensive gameplan.
"We all know in this game (potential) just means you haven't done it yet," Herman said. "At least we have some glimmers of hope at that position, which is encouraging."
Deciphering any offense is considered a challenge, let alone Meyer's intricate system. The vast improvement in less than four months should be commended.  According to Herman, though, the offense hasn't quite scaled Everest yet.
"We're light years better," he said. "We actually can throw and catch a football. If we were at a two coming out of the spring in terms of throwing and catching, we're up to a four. We still aren't really good, but we are still a lot better than we were at, which is a testament to our guys and how much work they put into the offseason.
"Now it is up to those guys to pull out that potential and turn that into a performance on the field. When you see glimmers of that it gives you a little bit of hope at night that hopefully in the next 24 days that potential will turn into performance."
Practice No. 6 is the bench mark for the Buckeye offense. That is when the entire offense will be installed.
"We try to throw everything at them in the first six practices, and then we'll go back and reteach the finer points of everything," Herman said. "The retention has been better than expected. But still it's hard to watch at times."
The pressure doesn't simply reside with the receivers, however. To catch the ball it has to be delivered to them, and their mailman is Miller. His 54-percent completion percentage doesn't foreshadow greatness. But now Miller is in an offense that is virtually identical to the one he ran during a highly acclaimed high school career.
Much of Miller's poor passing from a year ago can be attributed to his footwork, according to Herman. It was also a topic Miller discussed Friday, saying he spent large chunks of the summer dedicated to footwork. 
"Physically, his acceleration and explosiveness are off the charts," Herman said. "The kid can throw the football. He's got a quick, smooth release. If he's very consistent with his footwork, he can do some dynamic things in the throwing game because he can avoid a lot of problems with his feet and extend plays, which is an incredible asset for him."
A sidekick could be missing during the season's opening weeks. Miller and the Buckeyes were banking on Jordan Hall playing a starring role as the elusive hybrid back. Now that Hall has been sidelined, it remains a mystery who, if anyone, will pick up the pieces.
Brown was thought to be a front-runner for the position, but Herman dismissed Brown's prowess at running inside. Brown is better on the edge in space.  Meyer spoke Monday about skill players filling roles that aren't necessarily their territory but are in need of an occupant.
"I'm not sure how many carries he can withstand inside the tackles," Herman said about Brown. "That probably wouldn't be something that would be considered at that position where he would get carries on inside zone or power. But he could certainly motion back into the backfield and become a pitch guy on an option or a fly sweep guy, because he does have some acceleration and some speed."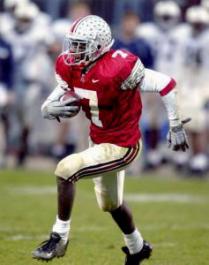 CHRIS GAMBLE PART II
Ten years ago, Ohio State won the national championship thanks in large part to two-way star Chris Gamble. He played nearly every play in the national championship game versus Miami, at wide receiver and defensive back, and his addition to the defense had a profound effect on the season's fortunes.
Now, cornerback Bradley Roby is looking to get into the mix. He committed to Vanderbilt as a wide receiver before de-committing and joining the Buckeyes. Many expect Roby to be the next great cornerback at Ohio State, which has a history of producing NFL stars.
But Roby also wants to try his hat at offense, lobbying coaches for the opportunity. It appears it has fallen on deaf ears, however. At least Luke Fickell wasn't having any of it. The co-defensive coordinator/linebackers coach quickly nixed the idea.
"That's the self-confidence we love about him," Fickell said. "Let's be great at one thing before we become a jack of all trades and a master of none."
Roby is rumored to be the fastest player on the team, having been clocked at 4.31 seconds in the 40 over the summer. Brown disputes it, though, because he was unable to run. Regardless, Roby has the speed and skill to play receiver. He even put his pass-catching on display Tuesday by intercepting a Miller pass over his shoulder.
Chances are he won't be hauling in passes from Miller during the season.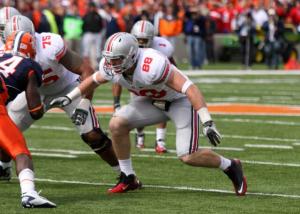 NEXT IN LINE
There are few position battles being waged during the fall, but one of them is worth watching: right tackle. Converted tight end Reid Fragel was named the top guy when Meyer released the depth chart in May. But his promotion came on the heels of an outstanding spring from true freshman and early enrollee Taylor Decker.
Coaches continually raved about Decker's skill and ability to pick up the nuances of the offense. That play has continued in fall camp.
Fragel is lining up exclusively with the first-team offense, while Decker has taken snaps with both the first- and second-team. It is clear that each has a strength and a weakness.
For Fragel, run-blocking appears to be a highlight for him. He has experience having spent three seasons in Jim Bollman's offense blocking for Boom Herron. When it comes to pass protection, though, Fragel has struggled. It partly has to do with the guys across from him – John Simon and Michael Bennett. Even All-American offensive linemen would struggle with that duo. But Fragel's inability to stand up a lineman has led to Miller performing more rollouts when Fragel is blocking.
Decker has been much the opposite, shining during pass plays and struggling on the running sets.
NOAH'S ARK
Ohio State's defensive line has been a popular topic since they overwhelmed the offensive line throughout the spring. Their play in two full days of fall camp has been just as impressive. But the focus has shifted to the freshmen, and in particular, Noah Spence and Adolphus Washington.
Spence has displayed an ability to get around the end just seconds after the ball is snapped. It is reminiscent of Usain Bolt getting out of the blocks. Obviously, Spence isn't a world-class sprinter, but he is able to get a great jump and get up to speed almost immediately.
With offenses unaware of the newcomer's tendencies, Spence could find himself in the rotation frequently. He has mostly been taking reps with the third-team defense, but a venture up the depth chart would not be a surprise.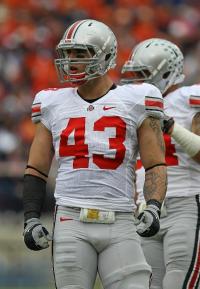 BACK IN ACTION
Meyer has talked about Nathan Williams being ahead of schedule. He wasn't kidding. Williams took part in a series of contact drills Tuesday. When he wasn't on the field frothing at the mouth, Williams could be seen on the sideline working with tackling sleds.
How valuable and liked is Williams? His teammates gave him a standing ovation when he strode on to the playing field.
It's been a long road back for the rowdy defensive end. Williams suffered a knee injury in the 2011 season opener and underwent microfracture surgery.
On Monday, Meyer said he was hurt personally by Williams' absence because he knows how important football is to him. He also cautioned rushing Williams and running back Jordan Hall ahead of schedule.
CIRCLE OF LIFE
Fans fell in love with the "Circle Drill" after Meyer opened the spring game with a lively version at midfield of Ohio Stadium. He did the same at practice yesterday, and it featured a rookie theme.
The matchups featured 10 freshmen:  David Perkins and Warren Ball; Armani Reeves and Riquan Southward; Kyle Dodson and Adolphus Washington; Devan Bogard and Frank Epitropoulos; and Blake Thomas and Jamal Marcus.