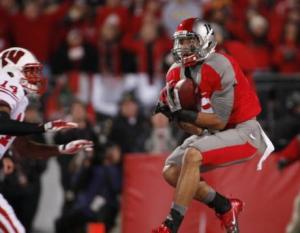 During a month of spring practices, the common refrain from Ohio State head coach Urban Meyer focused on the lack of offensive firepower. Quarterback Braxton Miller struggled, as did the wide receivers.
On the first full day of fall camp, the Ohio State offense was as impressive as it's been in two seasons. From Miller to wideouts Devin Smith and Evan Spencer, the Buckeyes looked like a much smoother, more competent group than the one that lost four consecutive games to end the 2011 season.
"Braxton had a really good day, and he feels good about it," Meyer said. "He made the comment to me that he knows what he's doing. Well, he doesn't know yet. There's still a lot more to go. I winked at him and said, 'Yeah, right, pal.'"
Throughout the summer, all the news out of the Ohio State camp revolved around intense weight-training sessions and drills between the offense and defense. Miller and his wide receivers worked especially hard to get their timing down and become more acclimated with one another.
"We were all disappointed, but when we evaluated it, we probably weren't that disappointed from early spring to later in the spring because it was all new for them," Meyer said. "I can tell you this: they did something in the summer.
"I just hope that someone steps up and takes control of one of those positions. The guy that stepped up today was Devin Smith. My gosh, do we need a guy like that to do something."
Hard work is one way to distinguish yourself to Meyer. But clawing along and refusing to settle is another. After a 6-7 season – not even mediocre by most standards – the hunger in the locker room is overflowing. The players on Ohio State's roster have never dealt with the type of adversity that was thrown their way the past 20 months.
There were on- and off-field controversies combined with sloppy play that led to a dismal overall and Big Ten record, this on the heels of six straight conference championships. Facing a postseason ban for 2012, the Buckeyes aren't complacent. Instead, the team has bonded closer than ever in search of redemption. What Ohio State won't settle for is being average. 
"Think about it, it's just so easy to be average," Meyer said. "It's so easy to just be an average guy. Greatness isn't exactly a first-rounder. Now, I wouldn't mind a bunch of first-rounders, but greatness means we're going to try to push you to maximize who you are.
"If you're a 2.0 student but you really should be a 3.0 student, we're going to grind you, and the same thing on the football field."
Defensive back C.J. Barnett is a player who drew headlines last season for his brashness. You could find him getting in opposing wide receivers' faces in nearly every game. The competitiveness has a way of taking over when the red light comes on. It's a quality Meyer is happy to see in players.
"C.J. Barnett is a guy that just does not accept being average," he said. "And then I looked at a couple guys next to him and they do accept it. So part of our jobs as motivators and coaches is to not allow that."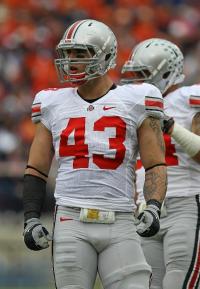 ON THE SIDELINES
There were several players not present OR out of action on Monday. One in particular caught the interest of those observing the Buckeyes: linebacker Curtis Grant.
The sophomore emerged from the shadows during the spring to secure a starting position. He struggled mightily his freshman season, saying he wasn't ready for college football and even thought about quitting the game all together. Now the former No. 2 overall recruit is a vital part of the Silver Bullets.
His absence led to rumors about a possible injury or discipline issue, but Meyer clarified that Grant's grandfather is having medical problems.
"(Grant) went back to Virginia to see him and our prayers are with him," Meyer said. "From my understanding, he's doing better, so hopefully we'll have him back at practice tomorrow."
Two major players on the sideline – defensive end Nathan Williams and running back Jordan Hall – were deemed to be ahead of schedule in their recovery. Williams missed all but one game last season due to a knee injury and underwent microfracture surgery. Hall suffered tendon injuries in his foot after stepping on a piece of glass in June.
"Both of their attitudes are fantastic," Meyer said. "Your heart bleeds for a guy like Nathan Williams, and I'm starting to really get to know that guy. He lives for football. It's been hard. It's not been an easy road."
Despite daylight in the distance, Meyer and his training staff are being guarded with the two projected starters. Rushing them back for non-conference games could lead to aggravated injuries that could be season-ending.
"We're being very cautious with (Williams) because we can't have a setback," Meyer said. "(The doctors) told me if there is a setback, that's 10 days backwards and we can't have backwards."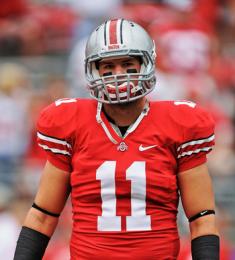 DUNN DEAL
Freshman running back Bri'onte Dunn has been the source of speculation since he was cited for two drug charges last weekend. The charges were eventually dropped, but a disorderly conduct charge is still pending.
Meyer said he'll let the legal process play out and if anything "sticks," Dunn will be punished just like any other player who is guilty of a charge.
"We gave him a series of tests," Meyer said. "I don't know if I'm allowed to give you everything, but everything came back (negative). He was honest with me."
The status of tight end Jake Stoneburner and offensive lineman Jack Mewhort has also been uncertain. The two were suspended from the team in June following an arrest for obstructing official business. They also were stripped of their scholarships. 
Both practiced with the first-team offense on Monday and, according to Meyer, are on track to be under scholarship when the fall semester commences.
"They're not good students. They're great students," Meyer said. "They're on my leadership committee and I think the code word there is 'stupid.' That is the word you associate, so are they less stupid now? I don't know. Right now we're going to do the best we can to help them be less stupid. If there was a bad guy situation, they wouldn't be playing."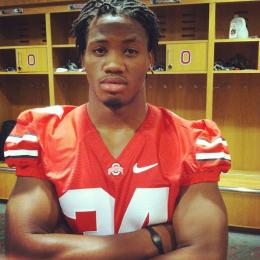 FRESH PRINCES
Meyer's first recruiting haul is making its presence felt. Prior to spring practice, he said the depth chart would be virtually set before fall camp opened. Meyer's company line centered on the spring being for position battles, while the fall is for preparation and winning football games.
That is still true, but several true freshmen have jockeyed their way into the conversation about playing. And if the season started tomorrow, a "good chunk" of them would be on the field.
"From what I've seen so far, there'll be a bunch of freshmen who'll play in that first game," Meyer said.
The defensive side of the ball, in particular, is loaded with talented freshmen: Adolphus Washington, Noah Spence, Camren Williams, David Perkins, Se'Von Pittman and Jamal Marcus.
It was Marcus, who practiced with the second- and third-teams, that was singled out by Meyer as someone who could play immediately. 
"There's a kid here named Jamal Marcus who doesn't know which way up is right now," Meyer said. "But he knows about going from Point A to Point B, and he'll run over anything in his way to get to Point B. We'll find a way to get him on the field."
Washington and Spence also made it known they were on the practice field. Defensive line coach Mike Vrabel was vocal with the two rookies, offering encouragement and generally praising their effort and performance.