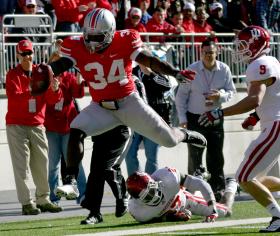 The 2011 football season was the best of times and the worst of times for Ohio State running back Carlos Hyde. There were 100-plus yard performances against Nebraska and Indiana contrasted with zero carries in the Wisconsin and Michigan games.
Hyde welcomed three-year veteran Boom Herron back into the fold with open arms after the fellow tailback's six-game suspension. But becoming invisible was a blow to Hyde's ego and confidence. It led the disgruntled Florida native to post negative remarks on Twitter that hinted at transferring, though he clarified on Friday that he never seriously entertained the idea of leaving Ohio State.
"Last year was like a roller coaster," Hyde said after the opening of Ohio State's fall camp. "Sometimes I'm out there, I have good games, then the next game I don't get in there at all.
"I thought I'd be in the rotation way more than what I was. It just taught me to be patient and not to get down on myself, sit back and wait because soon enough your time will come."
Once again, Hyde enters the season knowing the starting running back will be sidelined. This time it's because of a tendon injury Jordan Hall suffered in his right foot after stepping on a piece of glass outside his apartment. Hyde is the lone running back on the team who's started a game or played any substantial amount of time. Behind him is the fumble-prone Rod Smith and true freshmen Bri'onte Dunn and Warren Ball.
With Hyde all but guaranteed to be the starter when the season opens Sept. 1 against Miami (Ohio), head coach Urban Meyer has put the onus on him to live up to the hype that accompanied him to Columbus after a stellar high school career and one season at Fork Union Military Academy in Virginia. 
"It's time for Carlos Hyde to step up and take the baton and go as hard as he can," Meyer said. "This is the defining moment of Carlos Hyde's career. It's either yes or no. There can't be anymore gray area."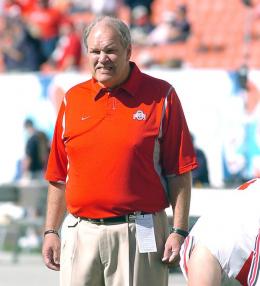 When he's been on the field, Hyde has displayed the rare skills of an elite runner and a bruiser – he has size, speed and durability. Hyde did tweak his ankle during the spring but has deemed himself 100 percent as the regular season looms.
In the eight months under the tutelage of strength coach Mickey Marotti, nearly every player on the Ohio State roster has a success story to ramble on about. Hyde is no different. His playing weight has dropped five pounds from 240 last season, but his results in the 40 are still head-turning – two 4.45s. The credit goes to Marotti. 
"He's slimmed down a little," quarterback Braxton Miller said of Hyde. "He got all that jelly fat off of him. He's got more muscle tone this year."
Slimming down and speeding up wasn't the only concentration for Hyde this summer. He also honed his pass-catching skills, earning the admiration of teammates for the work ethic he exhibited. Hyde went as far to say that he has the best hands on the team. Meyer's offense puts a premium on running backs that can catch in open space – the I-formation was only used in goal line situations during the spring – and Hyde took note.
"I'm excited," he said. "I'll be out in the open in one-on-one more. I won't have to worry about two or three guys chasing me. I can be one-on-one and make that guy miss and be off to the races. This offense is quick. It's hike the ball and go quick. By the time the defense reacts, I'll already have the ball in my hands and making moves.
"(All the running backs) came out here and we all did drills almost every single day (this summer). Working on jump cuts, pass blocking, just getting ready. So today's practice, Coach Drayton was surprised with how we came out looking so fresh and ready to go."
Hyde joined the chorus of offensive players raving about Meyer and offensive coordinator Tom Herman's revamped scoring attack. When he first got the playbook, Hyde said he was bewildered, "especially after last year's offense." More points and excitement will occur with regularity on Saturdays, according to Hyde.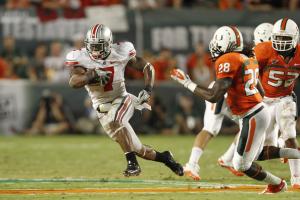 Accompanying the new offensive staff are heightened expectations, and the confidence doesn't only emit from the fans. After a 6-7 season and a year of tumult, Ohio State's locker room is busting at the seams – in a good way. After one day of camp, players were already pining for the games to begin. It's a season Hyde believes could result in zero blemishes.
"Our goal is to go 12-0," he said. "Even though we can't go to a bowl game, we still have to get out there and play. So we're just going to get out there and play and have a chip on our shoulder since we can't go to a bowl game and let the world know who the Buckeyes are this year."
Hall's injury has given way to names like Philly Brown, Devin Smith and Najee Murray. But Hyde says why not me?
"I have a little more weight on my shoulders since (Hall) is out," he said. "I'm not trying to be cocky, but I think I can play any position. Sure, I think I can execute at that position."
Meyer, however, isn't opposed to Hyde being a prototypical, ground-it-out Big Ten running back. A physical style back is something Meyer has never employed, but in October and November, he's aware that Hyde's panache is the epitome of Midwestern football.
"He's got the tools," Meyer said. "He's a big, strong, fast player. The body type (for a 15-carry running back) is Carlos Hyde, and the talent is Carlos Hyde. He's got to stay healthy and go get it. It's not the previous coaching staff's fault. It's not the offensive line's fault. It's not the dog ate his homework. It's time."
Hyde has embraced both the pressure and opportunity presented to him. He knows it's his time and felt like he performed at a lower level than what's customary during the spring– Hyde's career average yards per carry is 5.4.
"I wasn't as physical as I should have been," he said. "So in this fall camp, I'm going to show them what I'm really capable of. I don't want to say I want to hurt people because they're my teammates. But I want to make them not want to tackle me."