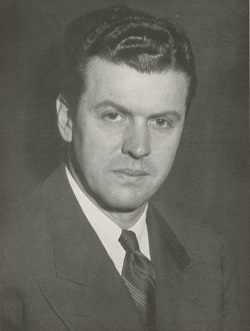 It is quite common for former athletes to go into coaching, in fact it's almost cliché. But every now and then the athlete in question transcends the athletic world altogether, and becomes famous as a person and not just a player. Sometimes this is due to his talent, sometimes to his determination or ambition, and sometimes it's just because he was in the right place at the right time.
Wes Fesler was a man who fell into that last category. He was a great player for Ohio State, and he also made his mark as a football coach in two different sports at six different colleges. And he is etched into popular culture forever as a result of being in the right place at the right time, not just once but twice. One of those occasions is more significant for Ohio State football history, and college football history in general, and the other is an iconic moment in the history of photography and science.
The irony of his Ohio State career is that, while his last hurrah as OSU's football coach is a game that almost all Ohio State fans are familiar with, it is more infamous than famous. Not only that, but it was more significant that he left OSU at that moment than it would have been had he stayed. Worst of all, to this day it continues to overshadow his outstanding career as a football player at Ohio State.
Wes Fesler came to Ohio State from Youngstown, where he had been a star in football, baseball, and basketball. He continued to play all three sports at Ohio State, earning nine varsity letters overall. His first season playing football was in 1928, a year that marked the end of an era of prosperity for the United States and the end of the line for current head football coach John Wilce. In a move that must seem strange to modern readers, Wilce announced his resignation in January of that year, effective at the end of the succeeding season.
Wilce left not because of any lack of success on the football field, but because he wanted to enter the medical profession and continue at Ohio State as a member of the faculty. At the end of the season, Wilce officially stepped down after 16 years at the helm, having compiled a record of 78-33-9 and having led the Buckeyes to their first-ever appearance in a bowl game, the 1920 Rose Bowl. Fesler played one season for Wilce, but that was long enough for him to develop some of the "intestinal fortitude" (a phrase coined by Wilce) that his coach was always preaching to his players.
The 1928 Buckeyes got off to a great start, vanquishing Wittenberg 41-0 in the opener and then going on the road to defeat Northwestern 10-0. Week 3 brought a home showdown with the Michigan Wolverines, against whom OSU had lost six straight games. But Ohio State prevailed on this day 19-7, as Fesler scored his first touchdown on a 16-yard pass from Alan Holman. It was OSU's first victory over Michigan in Ohio Stadium, which was only in its seventh season as the home of the Buckeyes.
OSU shut out Indiana in week four 13-0, which set up a showdown with the 3-0-1 Princeton Tigers, who had yet to give up a point on the season. The two defenses dominated the game, and it ended as a 6-6 tie. At the time, it was called one of "the most thrilling battles in Ohio grid history" by the Columbus Citizen-Journal. But the tie seemed to tilt the season in a negative direction, as the Buckeyes lost two of their last three to finish 5-2-1.
One bright spot for the team was Fesler, who was named both All-Big Ten and All-American at end. After a brief flirtation with Notre Dame coach Knute Rockne (Rockne had reportedly accepted an offer from OSU, but then ND gave him a raise and convinced him to stay), AD L.W. St. John named Wilce's top assistant, Sam Willaman, as the new head coach. In Willaman's more conservative game-plan, Fesler still played end but eventually his multiple talents would lead to more time at fullback so that he could have the ball in his hands more often.
Ohio State opened the 1929 season with wins over Wittenberg, Iowa, and Michigan. But on the Thursday of the week leading up to their fourth game against Indiana, the stock market crashed and the first events that would lead to the Great Depression had gotten underway. As a sign of bad things to come, the Buckeyes were unable to score against the Hoosiers and ended up in a 0-0 tie. They would lose 3 of their last 4 to finish 4-3-1 in Willaman's first season.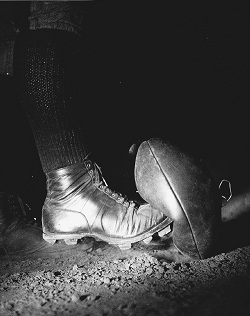 Fesler played the entire season without ever coming out, either on offense or defense. He was named All-Big Ten and All-American once again, and for the 1930 season he was shifted full-time to fullback on offense as OSU moved to running the single wing. With more opportunities to see the ball, Fesler ran and passed for touchdowns and was not only named All-Big Ten and All-American for the 3rd straight season, but he also became the first Ohio State player ever to be named Big Ten MVP.
Fesler stayed on at OSU as an assistant coach after his illustrious playing career ended. He was at OSU in 1931-32, but left for Harvard in 1933 to become their head basketball coach and simultaneously coach the offensive backfield on their football team.  It was there that he met a young professor from nearby Massachusetts Institute of Technology who was experimenting with taking photos in strange light settings. Fesler had no idea that he was about to help this young doctor make history.
Harold E. Edgerton had obtained master's and doctor's degrees from MIT, and started teaching there in 1928. By 1934, he had invented a peculiar lighting technology known as the stroboscope. This special tool allowed him to take photographs that made moving objects look as if they were standing still. He had Fesler come in to his laboratory and experimented with various football actions until he got what he was looking for. The result, a photo of Fesler's foot kicking a football, became an iconic example of Edgerton's marvelous achievement. 
Fesler eventually left Harvard to become head football coach at Wesleyan University, and later coached at Pittsburgh for one season. But he is now remembered most for coaching at Ohio State, and not in a good way. He became the Buckeyes head coach in 1947, during the period when OSU was known as the "Graveyard of Coaches". Fesler's first team finished dead last in the conference, but his next two improved to 6-3 and 7-2-1, with the latter of the two including a Big Ten co-championship and a 17-14 victory in the Rose Bowl.
Going into 1950, Fesler had every reason to be confident, but the pressure of leading a big-time football program was starting to wear on him. The Buckeyes were 6-2 going into the season finale against Michigan, and star back Vic Janowicz was on his way to a Heisman Trophy season. That game against Michigan became one of the most famous, or infamous, Ohio State games of all time, as a blizzard hit Columbus and the two schools decided to play on anyway. The "snow bowl" game, and the 9-3 loss that resulted from it, was the last straw for Fesler. He resigned after the season, citing the pressure of the job and the effect it had on his family.
Had Fesler stayed around to coach for at least one more season, history would have changed dramatically. The reason is that his successor was Wayne Woodrow "Woody" Hayes, the all-time legend who coached OSU for 28 seasons and defined what Ohio State football means for an entire generation. Hayes' legacy lives on today and probably will for a long time into the future. And so, as much as we have to admire Wes Fesler for his contributions to our football legacy (he was inducted into the College Football Hall of Fame in 1954, along with his former coach John Wilce), we are also probably just as happy that he stepped aside, thus making room for history to unfold as it should.