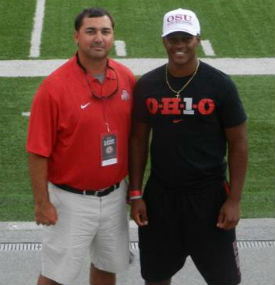 The Friday Night Lights camp on July 27 brought many big time prospects to Columbus. Perhaps the biggest of them all was Hinesville (GA) Liberty County 2014 LB Raekwon McMillan.
McMillan had already visited Ohio State once back in April and had a great trip, vaulting the Buckeyes to the top of his early list. McMillan decided to return to campus last weekend to see more of Columbus and get to know some of the current stars on the team to see how he'd fit in if he chose to don the scarlet and great.
Standing at 6-3/240 as just a rising junior, McMillan is a physical specimen that had 84 tackles (16 for loss) during his sophomore season. He is rated as the nation's fourteenth overall player and second best inside linebacker for his class by 247 sports and has offers from just about every big time program. 
We caught up with Raekwon to get the latest on his recruitment, how his latest visit to Columbus went, his feelings on a "super team", and more. Keep reading to find out more about one of Urban Meyer's top targets in the recruiting class of 2014, Raekwon McMillan.
You recently made your second trip to Ohio State. What did you get to see?
When I got there Thursday night, I met up with Ryan Shazier and Curtis Grant. They gave me a lot of good advice. Se'Von Pittman also came through. Braxton Miller stopped by as well, and we talked for a while. He gave me some really good advice. Friday, we chilled at the Woody Hayes Athletic Center before Friday Night Lights.
What was your favorite part of the visit?
Just getting to soak in the Ohio State environment and getting to see if the college is for me. I think really highly of Ohio State.
Which coaches did you speak to on the visit? What were they telling you?
I spoke with Coach Fickell, Coach Vrabel, Coach Withers, and Coach Meyer a lot. They were telling me I'm the number one linebacker on their chart and that they want me bad. I will look hard at Ohio State.
Which schools are standing out right now?
Ohio State and Georgia are tied at the top. After that it's Alabama, Clemson, and Auburn.
When would you like to make your decision?
I'll be announcing my decision at the 2014 Under Armour All-American game.
What will be the biggest factors in your decision?
Just my relationship with the coaches and if I feel at home.
Are you expecting any other big offers to come your way?
A bunch of coaches have told me they'll offer September 1. Schools like Oklahoma State, Oregon, UCLA, and USC.
You interact with a lot of fellow 2014 recruits over Twitter. Is there a chance a bunch of you end up at the same school?
I'm starting to get to know some guys well. Most of the guys are wanting to go where top recruits are going. There are about seven of us, we're liking one school a lot right now. I can't tell you which school, though. All in all, we're looking at three schools really hard.
Do you have any other visits planned before the season? Do you plan on attending any games this fall?
I might get out to Alabama before the season starts. I plan on going to a Georgia game, an Alabama game, and the Ohio State-Michigan game.
What goals do you have for your junior season?
My team goal is to win seven or more games. As an individual, 160 tackles.
HIGHLIGHTS:
Click for video interview with McMillan following return home from OSU visit