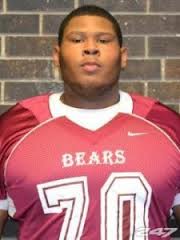 Evan Lisle has been the only offensive linemen in the recruiting class of 2013 since he made his pledge in late February, even leaving some to think it would be possible that the Centerville star could be the only player at the position come Signing Day. 
Things changed quickly this past Saturday when Ohio State extended a scholarship to and received a verbal commitment from Indianapolis (IN) Lawrence Central OL Timothy Gardner.
Gardner, 6-5/320, camped in Columbus on June 20, and even stated he had committed to the Buckeyes soon after. While that was a misunderstanding at the time, the big lineman had been told by Urban Meyer that he would receive an offer if he was able to lose a certain amount of weight by the time Friday Night Lights rolled along.
Meyer's words resonated, as Gardner worked hard, lost the needed weight, and received the opportunity to become a Buckeye, which he quickly accepted.
After nabbing their latest commitment, the staff could be done recruiting offensive linemen as the Bucks only have a few scholarships remaining and bigger needs to fill. If the coaches did take another lineman, however, it would likely be Cass Tech's Dennis Finley, who would give them a second tackle to go along with Lisle, as Gardner projects to guard at the college level. 
We caught up with newest Buckeye to find out how his offer unfolded, why he chose the Buckeyes, when he'll be back in Columbus next, and more. Keep reading to find out more about Ed Warinner's newest piece, Timothy Gardner.
You were recently offered by and committed to Ohio State. How did this go down?
I initially went to a camp back in June and also went to the Friday Night Lights camp. After the camp in June, Coach Meyer said if I lost a certain amount of weight that he would offer me and I did that. I met with Coach Warriner at the Woody Hayes Athletic Center this past Saturday [after competing at FNL] and then I met with Coach Meyer in his office where I was offered and made it official.
How did Coach Meyer react when you committed?
He already knew. I had told him this is where I wanted to be from the get go and would do whatever it takes. He set a goal, I reached it, and I'm sitting here today as a Buckeye.
Why did you choose the Buckeyes?
Tradition and Coach Meyer. When I say tradition, I mean all the great things that have come before me and what I can bring to Ohio State in future years.
Did you grow up rooting for the Buckeyes?
Always. Ever since I was a little kid I have rooted for them. It is unbelievable at Ohio State. Playing under Coach Meyer is any man's dream as well.
Did you have the chance to look around campus while you were in Columbus?
The first thing Coach [Kirk] Barton showed me was a place called Buckeye Grove, which was cool. I also got to see the buildings, the dorms I would be living in, and the Woody Hayes Athletic Center. It was a great experience.
Will you be attending any games this year?
I plan on making it to five home games. I will be there a lot this season.
Have you had the chance to speak to any fellow 2013 commits?
Only a few, but I'll be getting in touch with most of them in the next couple of days.
Will you be recruiting your teammate, 2014 LB Brandon Lee, to Ohio State?
I'm recruiting him right now (laughs).
Anything you'd like to tell Buckeye Nation?
There's work to be done!