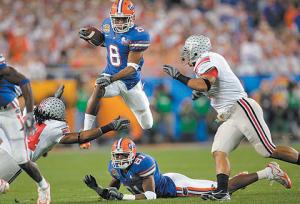 When Urban Meyer talks about the 2006 Florida Gators, his face lights up like a proud father. It was his first national championship team and they had a quality that Meyer appreciates: anger.
The Gators were irritated throughout the regular season, but it came to a head in in the lead up to the BCS National Championship Game against Ohio State. The Buckeyes were the overwhelming favorite and many people said Florida didn't deserve to be in the title game. Instead, there was an outcry for a rematch between Ohio State and Michigan. Everyone knows how the story ends – Florida 41, Ohio State 14. 
If all goes according to plan, the 2012 Ohio State Buckeyes will take on that same demeanor.
"The '06 team was very angry," Meyer said. "It's a coach's dream to coach guys who are angry and on a mission. A complacent, entitled group, that's a nightmare. I hope they have a chip on their shoulder."
That shouldn't be a problem after last season's 6-7 debacle that left players embarrassed and fans feeling cheated. Meyer said players have talked openly about last season's loss total, which equaled the most in school history, set during the McKinley Administration. For you non-history buffs, that would be 1897.
The offseason turmoil from 2011 carried over into the season and crept into the locker room. The Buckeyes were angry, but for reasons that didn't help inspire them on the field. With their "sacred brotherhood" completely shattered after Jim Tressel's ouster and Terrelle Pryor's departure to the NFL, motivation was hard to come by.
"Last year, we kind of took the offseason a little easy because everything came down," senior fullback Zach Boren said. "That was hard. We leaned upon each other but didn't really do anything about it.
"Going into the season, we said we were going to do something about it, but by then it was too late. "This time, I think we've worked to make this offseason the best we possibly can to make sure last season never happens again."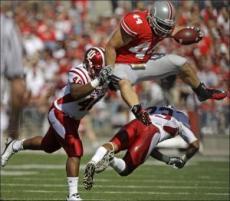 The team's mantra was "shock the world" and they spoke of playing for Coach Tressel. But the ploys didn't work. There was disorganization at Miami, offensive ineptitude against Michigan State, a late game meltdown at Nebraska and uninspired play in the Gator Bowl versus Florida. Ohio State ended the season with four straight losses.
It didn't matter what Luke Fickell conjured up during game weeks or who were the captains, the Buckeyes had checked out after a string of unprecedented success: seven consecutive wins over Michigan, six consecutive Big Ten championships and six consecutive BCS games.
"We couldn't close, whether it be games or the season," Boren said. "The only game we really lost was Miami. All the other losses were by less than a touchdown. They were all games we could have won. But we just didn't close."
A common question since Ohio State was slapped with a postseason ban for the upcoming season has been, what do they have to play for? Can a group of 100-plus players be motivated with no championship at stake? The obvious and resounding answer is yes.
"I didn't even realize we weren't going to a bowl game until I got around here and was asked questions about it again," Boren said. "We have never talked about it in the offseason. The only time we've brought it up was in December when they handed out those penalties."
The refrain year after year when camp begins, like last year, centers on coming together as a team and being driven to succeed for the season to come. Often times, it's a hallow talking point, but the sincerity and honesty seems more apparent as the Buckeyes approach kickoff Sept. 1 against Miami (Ohio).
"I think it's legit just because we've had one of the best offseasons in school history," Boren said. "With the new coaches, and the way they want us to do things, we've been doing it.
"I can tell we're hungry by how hard we have worked. We are definitely hungry from last season. I wouldn't say we are angry yet. You have to go through camp. Camp is when you build your personality as a team."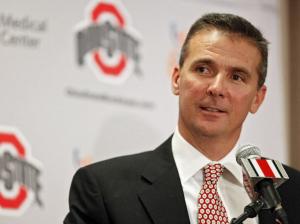 For Meyer, Camp also serves as a time to give the team a dose of reality. Chatter of going 12-0 or being undefeated entering the Wisconsin game has been rampant since he was hired. And it's not just coming from relatives.
"I think it's very realistic for us to win all our games," senior defensive end John Simon said. "The way we've been working, it's going to be an amazing experience for us. We just have to make sure we don't get ahead of ourselves."
The affection and back-patting will halt come Friday.
"If those kids hear that, I have to beat it out of them the first week of training camp," Meyer said of the summer-long praise. "I can promise you after day four, they aren't going to be worried about 10-0. They're going to be worried about getting through day five. It's going to be a really, really hard training camp.
"The better the team, the harder the training camp. Part of that is to get them ready, but also for that nonsense right there. Aunts and grandmothers are telling them, I hear you're going to be (good). It's going to be a hard, physical camp. I think they expect it."
The team Meyer inherits is similar to the one he had his first year in Gainesville. The Gators were experiencing their roughest patch in more than a decade, losing 14 games over three seasons under Ron Zook, after the program was a national title contender nearly every season during the Steve Spurrier era.
When Meyer was hired, expectations shot through the roof. He was coming off an undefeated season at Utah and brought with him an offense that was about to take college football by storm.
"It was a group of kids who struggled for a few years," Meyer said. "You come to places like Florida to go get a ring and they never had one. You can stoke that fire real easy. It's the teams you can't push you worry about. I still don't know enough about this team.
"My biggest concern, without a so-called target at the end of the season, is how they are going to react when we hit a speed bump. If they're competitive, I don't worry about that. If we start showing signs of being a non-competitive team, we'll have to do something motivational. You hear about it all the time. Some type of slogan or wristband, which I've done. It all depends on what type of team you've got. Indications are that we're very competitive."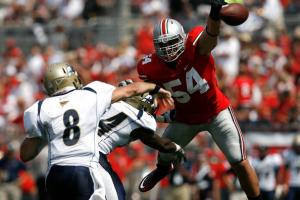 Ohio State's current roster may be a mystery now to its head coach, but come Friday, the cat will be out of the hat. Attendance at offseason workouts has been unprecedented, according to players, and the desire toward improving is at an all-time high.
At every turn, a fanbase has been reinvigorated by Meyer's hiring. But he and his staff have also roused a sleeping giant: the behemoth football program on the banks of the Olentangy that took a one-year hiatus from the spotlight.
"We've had guys in (the Woody Hayes Athletic Center) at 5 in the morning, and we've had guys in there at 10:30 at night," Boren said. "We've never had that before. We are out there on the field every day doing drills, we've never done that before. Guys just want to get better."
But the passion and vigor the opening week of drills isn't what Meyer is seeking. He wants them to channel that eagerness toward the dog days of camp and onward to opposing teams in the fall. 
"Don't ask me about the enthusiasm Friday," Meyer said. "There are 125 teams in the country, and I guarantee you 125 of them will be enthusiastic the first and second day of practice. Ask me the 10th or 11th day. The 10th day is the second or third two-a-day. They're tired, sore and maybe their girlfriend told them to go pound salt. I want to see who likes football then, because nobody likes two-a-days, except maybe John Simon.
"Do you appreciate the struggle? Football's not a fad, it's a struggle. You have to love the struggle. Everybody loves to play the game."