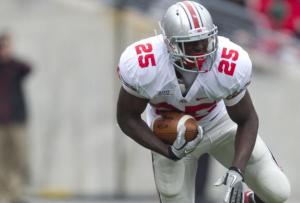 Ohio State freshman running back Bri'onte Dunn was charged with four misdemeanors, including possession of marijuana and possession of drug paraphernalia, after a traffic stop at 11:08 p.m. Saturday in Alliance, Ohio.
The officer's report says he spotted Dunn driving on E. Broadway Street when he "failed to stop behind the white stop line and traveled over the crosswalk…almost striking my patrol car and almost running the red blinking light."
Dunn was stopped for the offense when police found a wooden pipe used for smoking marijuana and less than 200 grams of marijuana on seat cushions and floor boards where he was seated, according to the police report. The report also indicates a small amount of marijuana was found in the driver's door pocket.
Along with possession of marijuana and possession of drug paraphernalia, Dunn was charged with failure to wear a seat belt and a tail-light violation. The report lists it as "illumination of rear license plate."
A female passenger in the car was charged with possession of marijuana, possession of drug paraphernalia and a seat belt violation.
Dunn was not arrested or booked in the Alliance City Jail or Stark County Jail. 
The drug paraphernalia charge, if convicted, carries a maximum fine of $250 and a maximum jail sentence of 30 days. If convicted of possession of marijuana, the maximum is a $150 fine. If Dunn is convicted of either drug charge, he faces an automatic driver's license suspension of a minimum of six months and maximum of five years.
The seat belt and tail-light violations each carry fines.
Urban Meyer and an Ohio State spokesman have not yet commented on the charges against Dunn. Meyer is on a retreat with coaches which is due to end tomorrow.
Five Florida players were arrested for marijuana-related charges during Meyer's tenure and each received at least a one-game suspension with none being more than three. Though it should be pointed out Dunn was cited and not arrested.
He does, however, become the sixth player to run afoul with the law since Meyer took over the program in November. Already this summer, offensive lineman Jack Mewhort and tight end Jake Stoneburner were suspended from the team and stripped of their scholarships after being arrested and charged with obstructing official business. Linebacker Storm Klein was dismissed from the team after he was arrested for misdemeanor domestic violence and assault.
Dunn enrolled at Ohio State during the winter quarter and took part in spring drills. He was already expected to see the field before Jordan Hall's foot injury sidelined him for up to six games.
Now Carlos Hyde and Rod Smith are the top-two running backs.