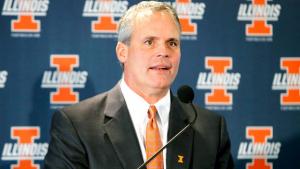 POACHERS
Penn State was bound to be a popular topic in Chicago. And that's exactly how it played out.
In some fashion or another, all 12 Big Ten coaches (obviously Bill O'Brien) were asked about the ongoing saga in State College. But one nugget was of particular intrigue: recruiting the Nittany Lions' current players.
When the NCAA and Big Ten determined that players would face no restrictions from transferring within the conference, opposing coaches were faced with the dilemma of whether to pursue Penn State players or not.
Asked about the issue, Urban Meyer simply said, "I have a problem with that." The Ohio State head coach isn't in favor of his fellow coaches actively searching the Penn State roster for transfers.
"I think if a player reaches out and says, 'I'm outta here and I'm gone,' a player has a right to do what he wants to do. But to go actively recruit, I have a problem with that."
Bret Bielema has taken the same stance. He gathered his assistant coaches after the transfer announcement was made and decided not to go down that road. For one, Bielema said, Penn State's senior day is against Wisconsin this season, which would create a very messy situation.
"I have a tremendous amount of respect for (Bill) O'Brien and everything that he's going through," Bielema said. "I think one of the things that I've loved and appreciated about being in this conference is there is a genuine respect for everybody in our league that you are a Big Ten brother and you're a guy that sits in our conference meeting rooms. You're a guy that listens to Jim Delany, and we're a group of coaches that have a network that's beyond anybody's expectations and helping us in recruiting."
Others, though, have taken the approach that the players are fair game. The biggest example of this has been Illinois and head coach Tim Beckman. His assistant coaches have been the most aggressive in seeking out Penn State players, going as far as to hunker down in Happy Valley. Beckman denied ever having coaches on campus, however.
"It was brought to our attention by two individuals prior to even any sanctions being granted by the NCAA that an opportunity might present itself for a transfer," Beckman said.
"We did not go onto their campus. We only talked to individuals that would be willing to meet with us. We did not go after them. They had the opportunity to come to us if they would like to come to us and speak to us, and that's how we handled the situation."
Purdue's Danny Hope has also openly talked about shadowing Penn Staters.
"The NCAA has established the rules and the guidelines and obviously because they're strong from an ethics standpoint," Hope said "As long as we're compliant, we're going to exercise every opportunity we can to enhance our own football team."
Don't expect Beckman or Hope to make many friends among the coaching fraternity on their viewpoints. 

THE DEFENDER
The Rose Bowl, on-field success of the Big Ten and the conference's academic prowess are topics Jim Delany enjoys sharing his opinion on. They were each mentioned Thursday, but the elephant in the room all day was Penn State.
Everyone seems to have an opinion on the sanctions handed down and whether the NCAA had the authority to rule. Delany believes the association had a "moral authority" to act.
"I don't really care if it's a precedent or if they had jurisdiction," he said. And if the NCAA didn't act, the Big Ten would have.
"I would say that this case is unique in the sense that it involved people with senior executive management responsibilities in a way I have never heard," Delany continued. "Penn State authorized the Freeh Report then adopted it. In addition to moral authority, it had a legal set of findings.
"If this is precedential, and I don't believe that it is, if you ever had senior executives and a set of findings that institution would have something."
The trickle down affect has an impact on the entire conference and in terms of football, it involves Penn State's current players. Delany did not sound thrilled about players going from one Big Ten school to another, but he said the rules have to be fair throughout the entire landscape of college football.
THAT TEAM UP NORTH
It's been a while since Michigan entered a season primed for success. The Rich Rodriguez era was an unmitigated disaster and Year 1 of the Brady Hoke tenure wasn't expected to yield the stellar results it did.
Coming off an 11-2 record, victory over Ohio State and Sugar Bowl win, Michigan is favored to win its first Big Ten championship since 2005. It also helps when you have one of the most exciting players in the country – Denard Robinson – to go along with 14 other starters. The preseason accolades have done nothing to excite Hoke, though. 
"Not much, to be honest with you," Hoke said. "I think we were picked fifth in our division a year ago.
"I think the 1997 team, I think pre-season was picked right inside the top 25 by a lot of people. And that ended up being a pretty good football team. We don't put too much stock in that. It's like anything in life; it's not where we start but where we finish."