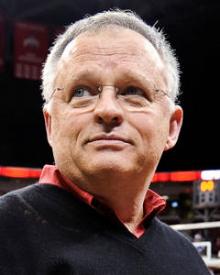 Jim Foster rarely shows emotion while he's on the sideline of an NCAA Tournament game. So it came as little surprise that the Ohio State head women's basketball coach merely shrugged his shoulders when he learned that he was a member of the Women's Basketball Hall of Fame Class of 2013.
Receiving praise and getting pats on the back don't come natural for the affable Foster. Those near and dear to him, however, have been offering congratulatory messages since the news surfaced. Ironically, Foster and his wife were visiting his son in Georgia when he first found out.
"The nicest thing about it is you hear from people you haven't heard from in a while," Foster told Eleven Warriors. 
He'll be formally inducted into the Hall of Fame on June 8, 2013 in Knoxville, Tenn.
It's not an honor Foster set out for in 1978 when he assumed the head coaching position at St. Joseph's after coaching at the high school level. But 34 seasons later, Foster has crafted a resume that has only been eclipsed by a handful of his peers.
"Generally, it's about the people," Foster said. "That's really always where it starts. I've worked with some great groups; I've had some very good assistants and terrific players. I think that's why you do what you do. The byproduct of that is I've had some success, and I don't think you can do that without all of the above."
Some of the assistants Foster has had by his side include Connecticut head coach Geno Auriemma and Notre Dame's Muffet McGraw. 
Foster is the 12th-winningest coach in Division I history and the only women's coach to win 200 games at three different universities (St. Joseph's, Vanderbilt and Ohio State). His career record of 765-294 includes 26 NCAA Tournament appearances in 34 seasons. In 13 seasons at St. Joseph's, Foster won 248 games and three Atlantic-10 titles. He tallied 256 victories in 11 seasons at Vanderbilt, leading the Commodores to the 1993 Final Four and winning three SEC Tournament championships.
After building near-legendary status in Nashville, Foster bolted for Ohio State, a program that was not a destination job for women's basketball. The ensuing facelift changed the culture of women's basketball at Ohio State forever.
"My initial feelings were I wanted to experience what it was like to be at a state university," Foster said. "I'd been at two private schools. I wanted to get the lay of the land at a big state school. I think there are a lot of people that grow up dreaming of going to Ohio State; I don't think a lot of people grow up dreaming of going to St. Joe or Vanderbilt. They sort of learn to appreciate their schools, whereas a lot of people aspire to be at Ohio State. And then the players in the area fit what you need to help you sustain what you are trying to accomplish. That's been the most intriguing part of the process, in my mind.
"I was sitting there at an age where you say, 'Are you going to stay or is there another challenge out there that I find attractive.' And I found a challenge that I found attractive."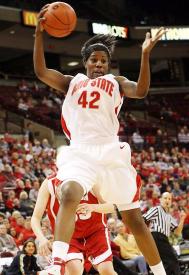 He has elevated the Ohio State women's program to new heights. From 2004-2010, the Buckeyes won an unprecedented six consecutive Big Ten titles. Foster has yet to miss the NCAA Tournament in 10 seasons as Ohio State's coach. The clip at which he has rattled off wins in Columbus rivals the storied football program. For all his accomplishments, Foster has been named Big Ten Coach of the Year four times.
The crowning achievement of Foster's career, however, is not a trip to the Final Four or a gold medal from international competition. It's the 100 percent graduation rate. For 34 years.
Yes, every single player that's come through Foster's programs has left college with a degree.
Foster's focus on academics wasn't something that was instilled in him at a young age, though. It came much later in life. Past experiences shaped Foster's beliefs. After a tour of duty with the U.S. Army in Vietnam, he came back to the United States and enrolled at a junior college. Foster eventually went on to graduate from Temple University.
"College was never a word uttered in my home (growing up)," Foster said. "Both of my parents didn't finish high school. I didn't start (college) till I was older and didn't graduate until I was 31. I just figured out if I could get this done then a bunch of folks could."
Foster understands the difficulties his players face and the challenges of being a student-athlete. But it's his own formative years that give way to the high standard that he holds players to – on the court and in the classroom.
"College is a great place to learn about yourself and a great place to grow," Foster said. "My point is you get to practice being an adult between 18 and 22 (years old) in this bubble and it's a little more forgiving here than it will be later. I don't see us heading in a negative direction."
At Ohio State, Foster's teams at times have been termed underachievers. They've never made it past the Sweet 16 and have only advanced that far three times. Still, he's been lauded by the university and supported fervently by the fans for his overall success – wins, Big Ten championships, NCAA Tournament appearances and academic numbers. The mantra is not winning at all costs.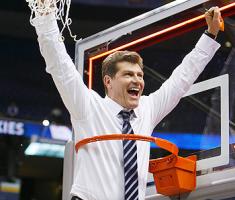 Quantifying success certainly includes on-court accomplishments, but the total picture isn't developed until later on down the road. 
"The light bulb for a lot of young people doesn't go on right away about what it is they just experienced," Foster said. "Four or five years down the road, past graduation, you start to hear and see some of the residual effects of what was a positive experience."
In the present climate of intercollegiate athletics, a successful team that is supported for all the right reasons is refreshing, yet foreign. For 34 years, college sports have been in a near constant state of change. The most recent examples have cast shadows from sea to shining sea. Almost every university is being deemed guilty by association.
"I think, essentially, when these problems surface, there's a tendency to group a lot of situations into the same context, and they're not," Foster said. "They're all sort of individualistic and specific to the nature of what's being talked about. But I don't think you can throw a blanket over the whole thing and say it's a negative thing. There is much more positive that comes out (of college sports). But positive doesn't sell in newspapers or sell TV time. So it takes longer to spin that story. The negative far outweighs the good and the positive ways in terms of how intercollege athletics is portrayed."
At a time when a coach molested young boys repeatedly over dozens of years while a cover up was orchestrated at the highest level by the head coach, university president and athletics director, it's hard to get positive vibes from college athletics. But a man who eventually followed Foster from Vanderbilt to Ohio State has managed to spin academics and athletics into a cocktail of coexistence: Gordon Gee.
In September 2003, during his stint as the chancellor at Vanderbilt, Gee famously eliminated the athletics department, dissolving it into the Division of Student Life. It raised eyebrows around the country and was viewed as a lack of commitment to athletics, especially in the notoriously competitive SEC. Vanderbilt, however, has experienced its most successful years on the playing field since Gee made his decision.
"I think Gordon is a very interesting person with a lot going on in his mind," Foster said. "At the time of what was transpiring at Vanderbilt, he felt change was necessary. But he's also astute enough and worldly enough to know and understand what works in the framework at Ohio State and the framework of Brown, an Ivy League school. Private schools and state schools are different, and because they're different you can govern it and change things maybe a little easier."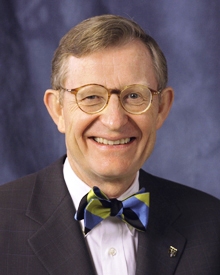 The same decisions haven't occurred at Ohio State. After all, the athletics department is a $100 million-a-year economic engine for the university and community. Gee did tag athletics director Gene Smith with the title of vice president, though. Among Gee's several initiatives involving academics and athletics has been the recent Digital First initiative which supplies each scholarship athlete at Ohio State with an iPad.
As Foster's 11th year at Ohio State and 35th year overall in college sports approaches, the challenge of another year is what keeps him motivated. It's not necessarily achieving an 11th consecutive NCAA Tournament berth, though that wouldn't hurt the psyche. Molding young people into contributing citizens after four years of college sits high on Foster's list of goals.
So far, he's batting 1.000.