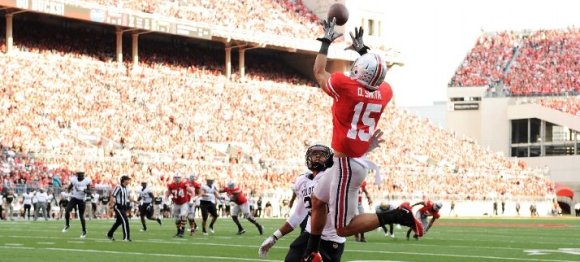 With roughly two weeks until the start of fall camp, my mind continues to vacillate trying to figure out which position group presents the biggest obstacle as Urban's inaugural Buckeye squad looks to take things to the next level following a 6-7 campaign that exposed more holes than a Ron Jeremy thriller.
While I struggle to definitively pin down the position group that poses the greatest risk to a table setting season in prep for things getting real in 2013, there's little question the wide receivers, offensive line and linebackers are on the clock.
Though I'm not sure they present the biggest obstacle to winning as a position group, the wideouts certainly come with their fair share of concern. 
First, with the installation of an offense that will actually try to score, the wide receivers figure to play a much larger role going forward even if a majority of the passes are of the safe and short variety.
Second, the wide receivers are extremely green. Sure, plenty of young guys saw action a season ago but Ohio State attempted just 245 passes last year – exactly 107 less than their opponents – while completing just 125, good for 89 less completions than Buckeye foes.
As of the July 10th two-deep, the corps features one true freshman, three sophomores and two juniors combined at the X, H and Z spots and only two of those guys, Devin Smith and Corey Brown, reached double figures in receptions a season ago.
So which wideouts will break out, giving Braxton and the offense a chance to make some noise in 2012? Let's take a look at the candidates.
corey brown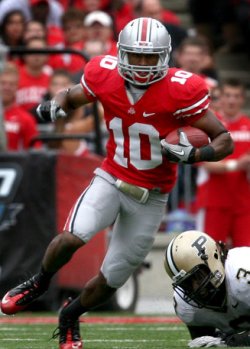 Somewhat shockingly (H/T: Urbz), Philly Brown was named to the 2012 Biletnikoff watch list. The 6'0", 186 lbs junior out of Pennsylvania lost four games due to a bad wheel in 2011 but still managed to tie for the team lead with 14 grabs, good for 205 yards and a score. 
Personally, I've not been high on Brown in the past, typically not feeling as if his wiggle after the catch is as dangerous as it should be for a player his size combined with everyone's gripe at his inability to consistently hang on to the football.
Still, Meyer was high on Brown this spring labeling him as one of his few sorta-playmakers, tabbing Philly as one of the top two receivers on the squad to that point.
Though the honor probably should've been shelved last year, Brown took home the Paul Warfield Award as the team's top receiver. To his credit, he did haul in a 54 yard TD in a 2/74 performance against Michigan and he also tallied 3/61 in collapse in Lincoln.
He was also teamed with Guiton's Gray squad this spring and collected seven catches for 90 yards – most of it coming late in the 2nd half.
Against my better judgment – though somewhat by default – I'll say it's all but certain Brown will be a top two receptions/yards wideout provided he stays healthy. 
devin smith
A true sophomore, Smith led the Buckeyes in receptions and yards last year with 14 and 294, respectively, with four TDs. He's got decent size at 6'1", 196 lbs but trusted observers in the press box often noted he struggled to gain separation from defenders.
Like many receivers working in an offense that had no identity, limited pass blocking and a true freshman quarterback scared into not making a mistake, Smith disappeared at times recording zero catches in four games and just one grab in four others.
Smith does possess great leaping ability (remember that high point TD against Colorado) and four of his 14 grabs went for at least 32 yards including a 40 yard TD grab on the play of the year against Wisconsin.
It would've been nice to see Smith teamed with Miller in the spring game but he did have a 28 yard TD grab on a crossing route hookup with Guiton.
I expect Smith to make a big leap this fall.  He plays taller than 6'1" and could effectively use it to shield defenders, especially on the slant – a route that's actually in Urban's playbook but was a foreign concept to the Walrus. Plus, as noted, he's got a penchant for the big gainer.
Finishing as a top two wide receiver in both receptions and yards is highly feasible and personally expected.
Michael thomas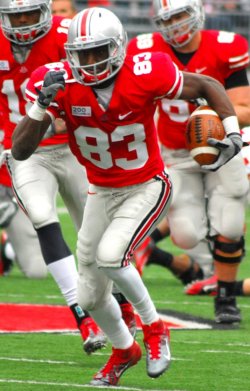 Listed as Smith's backup, Thomas exploded onto the scene as Braxton's main target with 12 catches for 131 yards in the spring game.
The kid from LA went the prep route where he starred at Fork Union playing alongside current OSU teammate Cardale Jones. He averaged nearly 22 yards per catch at the Academy, earning him the distinction of being Rivals' 4th ranked prep performer last year.
Thomas had a field day running crossing routes in the spring scrimmage and while he wasn't ultra-slippery after the catch, at 6'2", 193 lbs, Keyshawn's nephew could have an extremely bright future in Columbus.
Meyer seemed to temper his enthusiasm following spring drills, maybe just to try and keep the pressure off the kid, but you have to believe he feels like he's got a player in Thomas.
I want to believe Thomas will shine from game one but with such a small sample size it's easy to get sucked in.
That said, I'll take the bait when it comes to receptions – he could have plenty because he seems to find the open area and catches the ball – but I don't know that the YAC will be what Urban aspires to see from his wideouts.
evan spencer
Tabbed as the starting Z receiver despite missing the last two weeks of spring with a shoulder injury, Spencer sits just above Verlon Reed on the depth chart.
He's got nice size at 6'2", 205 lbs but is even more unproven than most of his peers after a 2011 campaign in which he caught three balls for 78 yards. Two of those were memorable however as he made the circus catch of the year with a 33 yard, one-handed whirling dervish of a grab in the season opener against Akron and later a 33 yard TD reception for the lone score in one of the most retina-singing disasters of all-time, the 10-7 loss to Sparty. 
He's got the pedigree thing going for him in addition to playing the Z spot that made Riley Cooper famous so he couldn't ask for a better opportunity. It's up to him to make the most of it. Despite his starter status, I still think it's likely he'll finish no better than 4th amongst his fellow non RB/TE pass catchers and will find it extremely difficult to hold on to his starter status.
verlon reed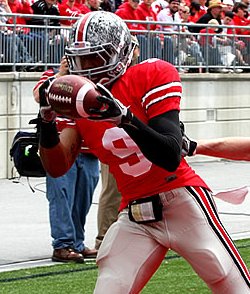 A quarterback in high school, the redshirt sophomore out of Marion-Franklin is still working his way back from knee surgery following the Michigan State game.
In seven games, Reed totaled nine grabs, averaging about 15 yards per pop. He's listed at just 6'0", 200 lbs but from the small sample size, Reed showed some physicality, specifically strong legs after the catch.
It's easy to forget Reed was actually a starter before his injury and I think it's likely he'll regain his starting job once he's all the way back from injury.
That said, a slow start will drag down his full season numbers but I look for him to likely solidify himself as a top three wideout in Urban's attack toward the latter half of the season.
fighting for reps
Chris Fields is the lone remaining wideout in Urban's two-deep as the fourth year junior backs up Philly at the H spot. I don't see him as anything more than a depth option, ranking at the bottom of all receivers currently in the two-deep. He saw spot duty on kickoff and punt return teams however I look for his role to diminish going forward.
Tyrone Williams remains an enigma despite his 6'6", 229 lbs frame. With a strong reputation as a guy with stone hands, Williams could be a huge mismatch in the red zone but there is currently no reason to believe he's in the current plans. Things could change but I'm not holding my breath when it comes to Williams being a factor. It's amazing to think that a 6'6" wide receiver is a total afterthought. 
True freshmen Frank Epitropoulos and Ricquan Southward didn't take part in spring drills and figure to be on the outside looking in when it comes to 2012. Epitropoulos has nice size at 6'3", 195 lbs and Southward was a late bloomer before becoming the last recruit to commit to Fickell. Redshirts seem very likely for both.
Bottom line, there appears to be some decent talent at wideout but it's so incredibly unproven that there is most assuredly cause for concern. The good news is that some of these guys have shown flashes, specifically Smith and Brown, and if just one more guy can prove serviceable, that should be more than enough as Urban's attack directs an increased number of throws to the tight ends and running backs.