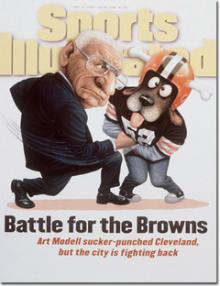 In Central Ohio, there are few things more dreaded than a fall wedding. As soon as a niece, nephew or family friend gets engaged, people begin fretting that the wedding will take place on a Saturday in the fall. For in college mad cities and towns across America, Saturday is sacred.
Tonight at 6 p.m. in Miami Beach, Fla., I will make the next step in my life – marrying the woman of my dreams (OK, I'll stop the sappy love story). Marriage is one of, if not, the biggest undertakings in a person's life. Till death do you part, you and your significant other – even if they're a Michigander – will be a team for life.
The story is similar for sports fans. They are connected to their team for a lifetime, living and dying with every game, trade and spurning. Art Modell's villainous act of moving the Cleveland Browns to Baltimore and LeBron James' jilting of Cleveland for Miami in front of the world was akin to your wife leaving you for a better man.
The championships – the Ravens in Year 5 and LeBron in his second season with the Heat – didn't exactly help smooth matters, either. It was as if Modell and LeBron had to show up to every party you were at with their new squeeze – how can an average Joe from Columbus compete with George Clooney?
When Jim Tressel was implicated in Ohio State's year-long saga with the NCAA, a dagger went through the heart of Buckeyes – a 10-year courting ending in heartbreak. But along came Urban Meyer and an instant infatuation began. Everything about him was dreamy: the cool new offense, the attitude, the intensity. The relationship has hit new levels in recent months, with an engagement possibly on the horizon.
Terrelle Pryor's acts could be compared to cheating on someone who was just a summer fling – here one day and gone the other, but during those few months, it sure was a good time. He was someone you could get over quickly. After all, another pretty blonde – Braxton Miller – was flirting with you for a couple years.
The love stories of fans and their teams are reminiscent of your grandparents' marriage – a relationship that lasts some 50-plus years. There are highs – the 2002 national championship or the birth of your first child – and lows – loses to Michigan or the death of a family pet. They are situations that put people in a funk and take months to recover from.
A day in the life of a sports fan, like those of every other living person, can offer every emotion in the book.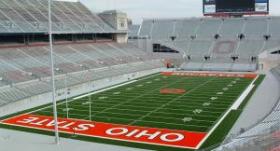 Then there is the real-life complication of sports and marriage trying to coexist. Some are lucky enough to marry a sports nut, while others are saddled with the unpleasant conundrum of how to sidestep their wife on Saturdays. The term "sports widower" has caught on in recent years, the definition being one that spends weekends alone as her husband is gallivanting across the sports landscape.
Almost unbelievably, sports have ruined countless marriages. The theme is common: husband sits on the coach, turns on the 52-incn flat screen and watches football, basketball, baseball, etc. night after night. Occasionally, he'll get up from the couch – to use the rest room, dance when his team has scored or yell obscenities when all has gone wrong.
The middle ground, of course, would be cutting back on sports and spending more time with the Mrs. That includes doing the fun activities she enjoys, like, you know, shopping, going to candle stores and scrapbooking.
The United States has more than 62 million sports fans and at least 19 million of those are described as "sports addicts," people who consume sports several hours per day. Ninety-two percent are males, ages 18–54. With numbers like those it's no wonder the divorce rate in the United States has topped 50 percent. Then again, what would you rather do on a Saturday – sit in Ohio Stadium or spend the afternoon at Easton?
We fall in love with people, like our sports teams, because of the joy that person or team brings to us. The good-looking blonde with a happy-go-lucky personality can be just as striking as a drum cadence and an accompanying ramp entrance. Your home, where so many memories are built, is your comfort zone. That same feeling washes over people when they walk under the mammoth arch walkways of Ohio Stadium.
Tonight, take a moment to let that special someone know why they mean so much to you. Maybe cook a nice dinner, bring them dessert or send flowers. The reassurances and surprises are nice; at least that's what I always hear.
But let them know Saturdays from September to December are off limits.