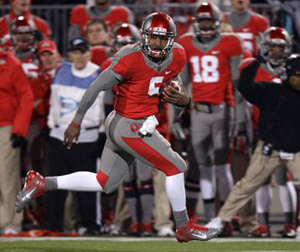 He was never supposed to see the field last season. Clipboard duty, learn the offense, and be Terrelle Pryor's shadow. Those were Braxton Miller's projected first season tasks. 
That plan was kicked to the curb the second this news dropped, and what was supposed to be a season as understudy quickly evolved into a gig playing the leading role.
Braxton stepped in and made plays, so the fact he was never supposed to sniff playing time in his first season is forgotten by fans and pundits alike. Number 5 dazzled us to the point of making the preseason Maxwell Award watch list but believe it or not, he's still a work in progress. If he wants to take the next step, he's going to have to improve in the following three areas.
1. Throwing Mechanics
At times last season Miller's throws lacked what the French like to call le spirale (BREAKING that's not French) fake translation: a spiral. Often his passes would float on him and I couldn't help but think of this little number after some replays. 
But, for every wobble wobble there were times where he would shake it shake it and step into a throw, releasing a crisp pass. (See what I did there?)
Miller must become more consistent with his mechanics if he wants to take the next step in his development as a gun-slinger. Last year his ability to keep a play alive with his legs spread opposing defenses and left receivers wide open. In said cases, it didn't matter if throws lacked a tight spiral because he didn't need to fit them into a small window. Unfortunately, Braxton wont be able to get away with that forever. 
To be fair Tressel was gone so Miller's only tutelage came from Nick Siciliano who seemed far from up to the task of grooming raw talent. 
Couple that with Miller's extreme lack of in-game attempts, which are incredibly important in a QB's growth, and Braxton was caught in a perfect storm of stagnant mechanics development.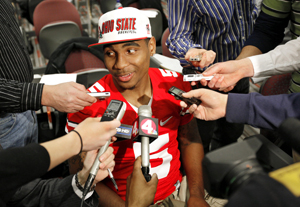 The arrival of Tom Herman and the implementation of a new offense not dead-set on running "Dave" should help Braxton's mechanics improve dramatically. While I believe his throwing motion is more polished than Pryor's at the same point in their careers, Miller must put in the time to develop this part of his game.
2. Rapport with A WR
All great QBs have at least one receiver they turn to in pressure situations; the guy who will always be where the QB thought he'd be when he has a defensive lineman breathing down his neck.
Such a relationship is not fostered overnight, but rather during hours of working after practice, tirelessly running and throwing a myriad of routes and patterns.
Last season, whatever the reason (a lack of a serviceable QB coach, a lack of in-game attempts, a young receiving corps without Posey, a run first offense or a very real lack of offensive direction…BOLLMAN!) Braxton never seemed to develop much of a rapport with any of his receivers.
The Spring Game showcased a step in the right direction with the Miller/Michael Thomas connection hooking up for 12 completions and 131 yards, but was the chemistry real or a Bam Childress ruse? The answer remains to be seen.
Whether it's Thomas or another receiver (there were reports of Miller working out with Stoneburner before his arrest and suspension), Miller must find his go-to guy in the fall.
3. Leadership
As Meyer has shown, he doesn't shy away from calling it like he sees it. His starting QB is no exception. This from Meyer back in April:
"He's an average leader right now," Meyer said. "We need to make him a great leader. You have to raise the level of play of those around you. This summer, he has to do it. He hasn't done it to this point. He's been at Ohio State for a little over a year, and his leadership qualities are not where they need to be." 
All things considered, Braxton was thrown into an unenviable position last season: a freshman signal caller on an offense rife with upperclassmen. It's hard to step in and be a vocal leader in that situation and Miller said as much himself:
"Coming in as a freshman, there are guys like you said that are 22-23 years old, they already have their leaders going on. So I was just taking everything in, trying to know what I had to do."
But those days are gone.  Now Braxton has the caché of nearly a full season under center and it's evident he's learning what's expected of him. This from Offensive Coordinator Tom Herman:
"He's getting better every day (as a leader). Getting better every day," Herman said of Miller. "Still has a long way to go… But he has a great work ethic. He likes to work, he likes to learn, he likes to study. Now it's just getting that quietness maybe out of him and being a little bit more vocal as a leader and saying these guys need you to really be vocal and really pull them with you where you're going and where you want to go."
In order to move forward as a player, Miller has to become more consistent in his mechanics, develop a rapport with a wide receiver and embrace his role as a leader. All of this must be done under the umbrella of a completely retooled offensive system.
It's a tall task for any QB, but if Miller understands the need to improve in these areas it will lay the groundwork for a successful 2012 campaign and beyond.