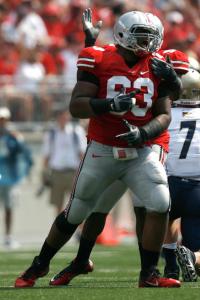 Everyone is well-versed in Rodney Dangerfield and his famous "no respect" line. It's a part of the American lexicon, forever etched into the minds of millions.
It could also play in the halls of the Woody Hayes Athletic Center, where a certain player gets little notoriety despite his lofty statistics and unlimited potential: Michael Bennett.
Prior to last season, Braxton Miller was the freshman gunslinger everyone talked about. The boy wonder who had achieved so much in high school and entered Ohio State with much acclaim was almost certain to start at least one game at quarterback. On the other side of the ball was linebacker Curtis Grant, the No. 2-ranked recruit in the entire country.
At season's end, Miller had the typical ups and downs a freshman signal caller can expect, while Grant's year was a major flop. Not only did he never start, he rarely even played a meaningful snap. Instead, Grant was relegated to special teams duty, covering kickoffs and punts. Not the bright lights a five-star recruit expects.
Bennett, however, lived up to his billing and then some, recording 17 tackles, four tackles for loss and three sacks.
Entering the spring, though, when it came to the defensive line, a unit among the best in the country, John Simon and Johnathan Hankins were the names that continually spewed out of pundits' mouths.
No respect.
When it comes to Simon, though, even Bennett is effusive in his approval. 
"I think everyone has had that time with him where they've said, 'Man, this guy just doesn't stop,'" Bennett said. "He makes you step up your game so you don't look like a slacker. John comes back two hours later to lift again by himself. It's just a matter of how relentless he is. He loves what he does more than anything."
He may not have been called "Tebowish," but Bennett finally earned his respect card after a dominating spring. Head coach Urban Meyer took time to single Bennett out when the two-deep was released and it featured Bennett as a backup. Make no mistake, he'll be an integral part of the defensive attack.
"That may not necessarily be the case this fall," Meyer said about Bennett's position on the depth chart. "We will rotate him in and our four best guys will be on the field at one time. It's hard for me to say he's not one of our four best."
With a smile constantly stuck on his face, Bennett's sunny disposition makes him an easy figure to like. But he's not looking for any compliments. It doesn't hurt ones play, though, when the head coach offers pats on the back. Bennett has transferred the kind words into motivation, as well. Once the coach talks in a positive tone, you want that trend to continue. 
"It feels good," Benneett said. "It is a sense of accomplishment. It's not a set position. I have to come in here and earn it. I want to be a big contributor to the team. I want to make plays and do whatever I can. You just have to take it for what it is. If I'm on the second team, then they put me there for a reason. They have a plan for it. It gives me a reason to work hard."
The sophomore from Centerville embarrassed his offensive counterparts throughout the spring, camping in the backfield to harass running backs and quarterbacks. The constant image of Bennett - and Simon and Hankins - barrelling over an unsuspecting teammate became a defining image.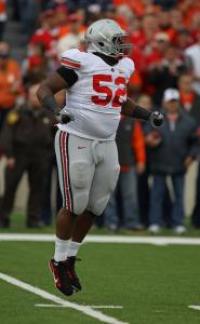 Praise from Meyer is well-earned and not to be taken lightly. His honesty makes him somewhat of an anomaly in the p.r. savvy world coaches now reside. Most tell the media what they want to hear and rarely step out of bounds with controversial statements. Meyer is different – curt and containing an abundance of truth serum. And you'll hear no complains – from the media or players.
"One of the best things about the new staff is they are blunt with you," Bennett said. "They are not trying to coddle you or make you feel good. They will make you feel good if you do a good job."
Bennett hasn't let up since the summer session began. When the team was told to have "the best offseason in college football history," they decided it was to be listened to.
"We have to be ready by the time the coaches get back to coaching football, so that we're physically ready and they don't have to start from scratch again," Bennett said.
"We have to make sure everybody knows it's a short summer. I think everybody does understand that. When the coaches do get to talk to us, they make sure we are grounded."
Bennett's eagerness comes on the heels of a lost summer in 2011. A high school All-American,  Bennett broke his arm in the U.S. Army game in San Antonio last season, limiting the amount of work he could partake in as his freshman season approached. Still, he was able to make an immediate impact. 
"Last year, a lot of it had to do with the fact my left arm was not as strong," Bennett said. "I couldn't build up my strength. I had a brace on (my left arm) all last year. It hurt when I got hit. This spring, I was able to go without the brace and it was fine. I'm not thinking about it all." 
There are other changes entering this season that have piqued Bennett and his teammates' interest: the coaching change, a loss to Michigan and a bowl ban. But the biggest looming presence is the 6-7 record and four-game losing streak the Buckeyes carry into the 2012 season.
A year of constant criticism will eat away at most people, and last season's final record may be proof of that. But Meyer's troops aren't about to wave a white flag. Bowl ban or not, Ohio State is out to prove its worth and march along the comeback trail with its head help high. While some outside the program view it as a lost season, the mood inside the Buckeyes' locker room is decidedly different.
"Personally, I look at this as a statement year," Bennett said. "If we come out and go out 12-0, like it should be every year, I think everybody in the country will have to stop and take a look at us. The biggest thing is improvement and coming together as a team. I haven't noticed anybody thinking that this is a year to rebuild. I don't think anybody is looking at it like that. We all came here to win.
"We have to show we're still Ohio State, and we're a top-notch team."
Do that, and they'll earn everyone's respect.