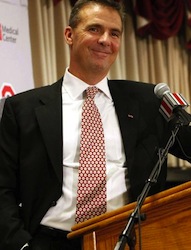 The honeymoon in Columbus is getting a little rockier. After a recruiting haul reminiscent of a 49er during the Gold Rush and a successful spring practice, Urban Meyer's Ohio State Buckeyes have been snake bitten this summer.
First, Jake Stoneburner and Jack Mewhort ran afoul of the law on June 2. Each has been suspended, stripped of their scholarships and sentenced to performing an array of tasks before reinstatement be considered, though both are expected to rejoin the team for fall practice.
Then came Jordan Hall's freak injury last week – stepping on a piece of glass. He received stitches and also had to undergo surgery for a cut tendon. His prognosis is a full recovery, but it could take up to 10 weeks before he is cleared to play football. His absence leaves a giant void for the hybrid running back-receiver position.
"That was a tough injury, especially for a guy who's turned the corner academically," Meyer said Thursday on a conference call for the American Century Championship golf tournament. "He had a 3.4 GPA last quarter and a 3.0 our first quarter together, he's on my leadership committee, he's come forever – the guy's tremendous. We're not exactly loaded at that position right now– offensive skill. Some guys will have to step up and play.
"Who's going to take his place, I don't know. We're not loaded at that spot. I hope Philly Brown continues to improve, but he got banged up in the spring. He has some minor injuries issues, but he should be fine. I don't know. That's one of our dilemmas right now."
Since the injury occurred, Meyer has had some sleepless nights, and rightfully so. Hall was a bona fide big play threat – one of the few Ohio State has on the roster. Not only is he eliminated, but an entire set of plays could be in jeopardy.
"I spend almost all my time thinking of that," Meyer said of Hall's inability to suit up. "I was so excited because I thought (Hall) had an excellent spring practice. He has a lot of the skills we're looking for in that hybrid position. I was really anxious, we actually started the mental part of it this summer, studying some plays and working with Braxton Miller, so that was a shot."
Meyer said Hall's toughness could allow him to come back sooner than expected, but the 10-week window is probably safe for an estimate.
"I've been in this long enough," Meyer said, "(Hall's) the kind of warrior who will come back rather quickly if he can. We're moving on. I'm planning on him coming back for the season, or certainly after the first couple games."
That wasn't the only shockwave to go through the football program. Another sent the entire college football universe on its head – the announcement of a four-team playoff. Meyer has been an outspoken supporter of the Bowl Championship Series for years and it's easy to tell why.
He was the first BCS Buster in 2004, when Utah stormed through the regular season undefeated and followed it up with a thrashing of Big East champion Pittsburgh in the Fiesta Bowl. The Utes finished 12-0 and No. 4 in the final AP poll. He followed that season up with two national championships at Florida, one at the expense of Ohio State. Now, though, Meyer has adapted to the inevitable change across the sport's landscape. 
"I'm excited about it," he said. "I kind of liked the old (system) the way it was. But the more I hear about the way it's going to work in the bowl system, (the more I like). My biggest concern is I still don't know the logistics of it for the players or coaches. If we play in the Rose Bowl or the Sugar, Fiesta or Orange, all of a sudden the games over and we have one more.
"How much time is there to prepare and how much class are they going to miss? And for the coaching staff it's going to be a tremendous grind. I'm anxious to see how it all finishes up. But I'm excited for college football. It's great. The fans wanted it, and we got it."
The 2014 regular season, Miller's senior year, will be the first the playoff is in use. The signal caller has morphed into the traditional Meyer QB – dual-threat, physical and smart. From Josh Harris all the way to Miller, Meyer has been able to get every last ounce out of his quarterbacks. The passion and confidence that flows so freely from Meyer often ends up running through the veins of his quarterback.  
"With Coach Meyer, I think the thing I learned pretty quickly, and I liked it, obviously he's going to push you," former Utah quarterback Alex Smith said on the conference call. "When he came into Utah, he really changed the attitude around there – the entire team, the work ethic the practice habits. The first year he pushes you to points, maybe, where you are a little uncomfortable. For me, he pushed me in different ways. All of a sudden I'm running the football and running for 1,000 yards. If you would've asked me that before Coach Meyer came, I would've laughed at you if you said I'd run for 1,000 yards. Now that's one of my strengths.
Smith stressed, though, that Miller can't just be a good player or act like a leader, it all has to come together in Ohio Stadium or wherever the Buckeyes might be playing that day.
"It has to be real," Smith said. "It all happens on the field. You can talk about it and be as rah-rah as you want. But if you don't go out there and prove it and prove with your actions and the way you play, no one is going to believe you. That matches up with Coach Meyer. You have to put in the time, you have to put in the work, and your teammates have to see that; that's where leadership comes from. I don't care what kind of speeches you give or how vocal you are, if you aren't putting in the time, no one's buying it."
Miller's first real audition comes Sept. 1 in the Horseshoe.