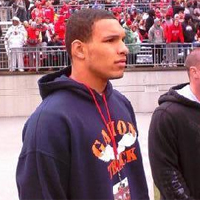 One of Urban Meyer's biggest tasks as the Buckeyes' head coach will be to keep the top Ohio high school players inside the state borders to play their college football.
In the recruiting class of 2014, the Buckeyes have only offered four in-state prospects thus far. Those lucky four players include WR Thaddeus Snodgrass, OL Jimmy Byrne, LB Dante Booker Jr., and LB Michael Ferns. One of those prospects, Ferns, is no longer considering the Buckeyes and has named a final three of Penn State, Michigan, and Notre Dame.
One of the top football talents in the state of Ohio for the class is Galion ATH Dareian Watkins, who is receiving early interest from the Buckeyes, and could be the next in-state prospect to land an offer from the OSU staff.
Standing at 6-2/185, Watkins has the ability to play all over the field, whether it be quarterback (where he primarily plays for Galion), wide receiver, or safety. The rising junior can make plays anywhere you put him on the field and is willing to play wherever his college coach feels he can best put his team in a position to win. Aside from his football talents, Watkins is one of the nicest and most enjoyable prospects to speak with, showing the glowing personality any college program would like in their future stars.
Watkins has visited Ohio State multiple times,  most recently for the spring game and then for summer camp at the end of June. We caught up with Dareian to find out more about his camp stop at Ohio State, which positions the Buckeyes like him at, what other teams he likes right now, and more. Keep reading to find out more on rising 2014 athlete Dareian Watkins.
You recently camped at Ohio State. How did it go?
OSU camp was awesome! I almost didn't go because of the knee injury [suffered in 7-on-7]. The night before my dad said, "Do what you think is right, but remember that in real football we play through injuries." I went as a quarterback even though they wanted me to play wide receiver. I had a great day as a quarterback and according to them, I went way up their board.
Did any other campers stand out?
(Caleb) Henderson is big and strong, not as mobile, but he has a cannon and is perfect with mechanics. Jonathan Lloyd has been my friend since eighth grade and I think J-Lloyd is as good as any wide receiver in the nation, just my opinion. Thad Snodgrass is another good friend. I was very happy for Snodgrass when he got his offer and he will be a great Buckeye if he goes to OSU. Jordan Morgan caught everything I threw him, maybe everything anybody threw him. [Damon] Webb is a good corner and I played receiver against him at West Virginia's camp. I think he got me once for an interception and I got him once for a touchdown. OSU attracts the best.
What have the Ohio State coaches been telling you?
The week before the camp Coach Gillum suggested to my dad that I come as a wide receiver, because I was not high on OSU's board as a quarterback. I was liked more as an athlete but because of my sore knee/leg I went as a quarterback. I was completing all the tough routes and deep balls in tight spaces. Coach Gillum went up to my dad and said, "Dareian is not the same kid he was last year. We didn't see this arm strength and accuracy. We have him in our top two at the camp today (the other being Henderson)." They were impressed with my passing skills. I still need to work on my footwork and mechanics because I have only played quarterback for less than 12 months and most of the top guys were born playing quarterback. I didn't even get to show OSU my best abilities at quarterback, which is to run and make plays with my feet as well as with my arm.
What did the coaches tell you about a potential offer?
Unfortunately they did not tell me anything about a potential offer. I think they will need to see me run. I didn't run the forty yard dash or participate in any tests. I also think they may want to see another year of high school football at quarterback, since I've only had one year and less than 12 months practice. The coaches did say my upside is big, though. I don't know for sure, but I think I have a better chance at an early offer as an athlete, and if I continue to improve at quarterback who knows.
Who is your primary recruiter at Ohio State? What is your relationship with that coach?
My primary recruiter had been Coach Gillum since my freshman year. He was my dad's coach at Galion High School and he knows everybody in Galion so it was a great fit. Now I think I may be talking more with Coach Herman, Coach Hinton, and hopefully Coach Pantoni. Coach Pantoni is great and I want to get to know him better.
Did you visit campus while in Columbus?
Yes when I got there I signed in and they asked me to wait for a coach. I didn't know they wanted to show me around, but they took my dad and I on a tour. Coach Herman introduced himself and told me he had heard a lot about me. We talked for a while and then Coach Hinton introduced himself. Coach Hinton told me stories of when he coached high school against my high school team. They took me on a private tour of the weight room, locker room, players lounge, film room, etc.
Are any schools standing out? What do you like about those schools?
Well the schools that offer me are first on my list no matter where they are or what conference they play in. Illinois was the first to step out and offer me, so they are an early first for me. I will take my time and look at all of my opportunities, though. Obviously any Ohio kid would be thrilled to be a Buckeye and my family loves OSU. I'm interested in Michigan too, and they seem to be big on Ohio kids. Things can change but right now I like everything about Illinois and I could see myself there easily. I like the coaching staff they have there and the chance to be a part of building something special.
Do you have a timetable for your decision?
I do not have a timetable, but I would like to have a decision made by July 2013, although that may not be possible. If I felt 100% sure about a decision in 2012, I would do that too and start recruiting for my team.
What will be the biggest factors in your decision?
It will be a family decision with my parents. They will be as much a part of it as I am. They would support any decision I make, but I want them to be comfortable and I trust their advice. The challenge for me is to pick a position and base the school choice on that too.
Which positions could you potentially play at the next level?
Illinois offered me as a quarterback, but said that if something else was better for me they would move me to wide receiver or defensive back. Bowling Green offered me as a defensive back, but said that if I wanted to play offense to not eliminate them. Akron offered me as a wide receiver, but said they would accept me as a quarterback or defensive back.
Do you have any other planned visits this summer?
Maybe some last minute things that aren't planned. We will definitely go to Georgia Tech on July 14. I like Georgia Tech a lot and I want to earn an offer at quarterback from them. I have Cincinnati on the schedule, but it might not happen due to high school stuff. OSU has a Friday Night Lights camp that I would like to compete at playing wide receiver. Northwestern has asked that I make an on campus visit and they have a BBQ for top prospects.
What are the strongest parts of your game? What would you most like to improve?
My strongest asset is my versatility. Not just at multiple positions, but I think I can be a running or passing quarterback. I think I can cover well at defensive back and hit hard too. I want to be a better student of the game. I need to get better at film study and mechanics. I also need to become a better route runner at wide receiver.
What goals do you have for your junior season?
I have one goal: 15-0, no personal stats. Whatever stats I need for us to be 15-0 is what I will be happy with. Awards would be nice, and if we go 15-0  I'm sure I will get some. I would like to have some good choices for college, which I already do, so 15-0 is it. I want Galion High School to be state champions, and I would like to see some of my teammates get a much deserved opportunity to play after high school.
HIGHLIGHTS: