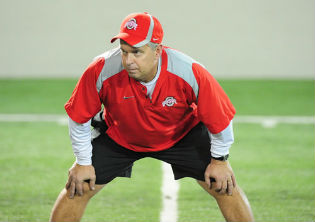 We sat down with new fullbacks/tight ends coach Tim Hinton and talked about college football's new postseason, a lifetime love of high school football and his 26-year relationship with Urban Meyer. 
Eleven Warriors: We'll start out with the topic Du jour: the new college football playoff. You were a high school coach for a long time, where playoffs are king, and now you've been a college coach for nearly a decade. What are your initial feelings?
Tim Hinton: Well, I'm always in favor of what's best for college football. I'm a little bit of a traditionalist, personally. I think sometimes, no offense, the media gets too carried away with the wrong parts of sports. The reality is we have been crowing a national champion, and it's been a very positive growth of college football. The bottom line is not every change is always great; I hope this one is. What are we making all these changes for, to get a national champion? Well, we've had one.
College football is the second most popular sport in the United States. I'm a little bit of a skeptic because I've been involved in my share of bowl games over the years, and I know the positive impact they can have on kids. I also know that you can have a 10-3 season and not win the national championship and people think you had a lousy season. That's not fair to the players or the people around. It creates unfair expectations for everyone, and obviously at Ohio State we expect to compete for it every year. In reality, there are a lot of people who play college football and they aren't going to be in that game every year. Unfortunately, we've created a scenario where that's the only goal. There are coaches that will be fired because they go 10-2. I don't know if that's the criteria that we need to have in college football, but that's what your profession really wants (laughs).
11W: You were directly involved in arguably the most controversial season of the BCS, when there were five undefeated teams, Cincinnati being one of them. That year heightened the criticism for the BCS. Looking back at that season and knowing you would possibly have a chance now if that scenario played out again, does that ease some of your concerns?
TH: Yes and no. Obviously we wanted to play in the national championship game, and I thought we were when the clock hit 0:00 in the Texas (-Nebraska game). That's what everyone wants to get out of the experience and that's what we are here to do. I don't want to downplay that. That's what we're here to do at Ohio State and what Coach Meyer wants to get accomplished.
The other end of it, by golly, when the Rose Bowl isn't one of the semifinals, what does that do to the Rose Bowl Parade, one of the great traditions we have in this country? Is the parade going to be on a different day than the Rose Bowl? I don't think people care about other things like that. But, really, those things are very important to the people at the Rose Bowl. And you look at the relationship the Big Ten and Pac-12 have had with the Rose Bowl for years and years and years. Are we now going to downplay that game? What's that mean to not play in the Rose Bowl? I don't know if that's a good for the Big Ten. But, obviously, we're in it, and here we go.
11W: You're from Ohio, were a graduate assistant at Ohio State in the 80s, how much are you living out a dream right now?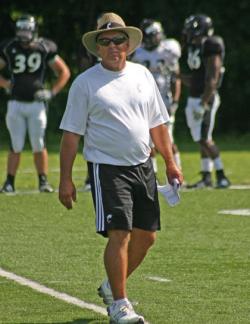 TH: I'm the luckiest guy in the world. There's no doubt about that. I tell people that on a consistent basis. I mean, who does this? Nine years ago I was a high school coach in Ohio. I really had no intentions of leaving. Coach (Mark) Dantonio and I had a talk, and I actually called him to try and help him get the (University of Cincinnati) job because I knew some people down there. In the same conversation he told me, "I think I'm getting it, are you coming with me?" Wow, the conversation really flipped. It was a very tough decision. I loved high school football. But I went to Cincinnati, worked with a great man like Mark Dantonio. I had an opportunity to really see Cincinnati grow under him. Then Brian Kelly came in and took it to another level, back-to-back Orange Bowls and a Sugar Bowl. Who would have ever thought that would happen? Then I had an opportunity to work at a place like Notre Dame.
What are the odds when we played against Coach Meyer in the Sugar Bowl two years later he wouldn't be working at Florida, Jim Tressel wouldn't be at Ohio State and, by golly, I'll be working at Ohio State with Coach Meyer? What are the odds of that? That's living a dream.
11W: What are your memories of Coach Meyer from your time at Ohio State in the 80s?
TH: We were very good friends and did a lot of things socially. It was great. We kept in touch with each other through all the years. To be honest with you, I never knew if this day would come around. I had an opportunity to work with him when he was at Bowling Green and I was at Marion (Harding). At the time, it wasn't right for me personally and chose not to do that.
It's been great to have that relationship. He's a tremendous football coach, has a great mind for the game and a work ethic that just doesn't end. We're going to win a lot of games at Ohio State University. We're really excited about it.
11W: At your introductory press conference you said, "I'm a high school coach who coaches college football." What do you mean by that?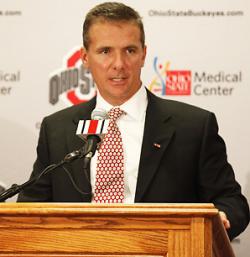 TH: There are some guys who are institutionalized college guys. They grew up in it; they played Division I college football, they were graduate assistants in college football and then their next job is in college football. There's nothing wrong with that. Obviously, there are a lot of great college coaches who have gone that route.
I went a different route. I taught high school for 17 years and was a head high school coach for 14 of those years. I think I come from a different perspective than a lot of guys who have only been around college football. You kind of lose touch with the process of recruiting high school kids, as far as what it means to the kids and the coaches and the relationship with the parents. Sometimes we dehumanize that a little bit and forget that these are real people with real problems. High school coaches have a lot more going on than just that one recruit that we want. They have their own programs to run and lives to take care of.
I'm a high school coach, I have a great relationship with the high school coaches in Ohio and they are very important to me because I'm one of them.
11W: You were very-well liked when you were a high school coach and were the president of the high school coaches association. Coming back, you were at Notre Dame and then Cincinnati before that, your relationships never really ended. How big of an asset is that at Ohio State, the big state school university?
TH: To be honest with you, I don't think I would've been hired if I didn't have it (laughs). Hopefully I would have been, but I think that's a great sell for Coach Meyer. He can tell people, "Listen, I have a guy who came up through the ranks. He coached in the Big 33, coached in the North-South game, went to all the league meetings and knows all the coaches in Ohio." To me, that should be a strength of mine and an asset for Ohio State and our program. I enjoy those relationships. They are sincere relationships. I go to that national football convention, and I don't enjoy it near as much as the big high school clinic in Ohio. There's nothing like getting down and rubbing elbows with a guy from the ranks. I absolutely enjoy it and very sincerely love it.
I know there are a lot of guys who never want to do what we do. College football isn't easy, as far as the time, travel and recruiting you do away from your family. But I hope there are some guys in high school football that want to be college coaches. Wherever you are, you do the best job you can and people always notice. It isn't about finding the next job, it's about doing the best job you can at the job you have. If you're the right guy for that job, you may get other opportunities, and if you aren't the right guy for that job, that's ok, too. Do a great job where you are.
11W: It's unique. Obviously, Ohio is known for high school football. But there is you, Coach Meyer and Coach (Kerry) Coombs, all three of you coached at big time programs in the state, and now you're all on the same staff at Ohio State.
TH: It is. I think that's what Ohio is. Woody did it, Coach Bruce kept it alive, even Coach Cooper had Coach Conley on his staff. There are Ohio coaches that have come up through the ranks for the years. It's something that's important for the fabric of Ohio and the fabric of Ohio State coaching. This is college sports and everything has a different perspective, and I think when you come up through the ranks you see the world maybe a little bit different than the guys who've never been high school coaches.
11W: Fullbacks and tight ends, the two positions you're focused on, are undergoing a 180, just a complete overhaul. For the better part of a decade, both positions have been glorified linemen and have not been instrumental in getting the ball down field. It looks like that's going to change dramatically.
TH: It's going to change a lot, and it's going to change for the better. Hopefully, we're able to recruit very athletic tight ends. We have some great ones on campus now. We're excited about the type of play we're going to have from our tight ends and the things we're going to ask them to do. And I think our tight ends are excited to be asked to do them.
11W: I'm sure you were aware of who played for Ohio State. But when you get to campus and see up close what a Zach Boren can do out of the backfield and what Jake Stoneburner and Jeff Heuerman can do downfield, does that make you smile?
TH: Well, sure. Anytime you have great players like that it makes your job easier. When I was coaching at Cincinnati and Notre Dame, I'd always try to watch Ohio State's games. My family has been season ticket holders since 1950. Everyone has that team that they loved growing up, and that sticks with people.
But when you see how hard those players work and how much they try to improve, that's great. We made a lot of progress in the winter and spring, and hopefully we can put something together this season.
11W: Looking ahead to Sept. 1 and the season-opener against Miami. What's it going to be like running out of that tunnel and through the band?
TH: Ahh. I don't get to. I'll be up in the press box. But even running out with 80,000 people there for the spring game was great. When Coach Tressel was here I told him that someday I was going to run out on that field, I didn't care if they had to arrest me. Now I'm coaching at Ohio State and I don't even get to run out (laughs). No, it will be OK. Just being in that stadium to see everything is going to be something else.
It's never an easy to decision to leave a coaching job, but this one was easy.
11W: I hate to end on bad news, but obviously Jake Stoneburner was arrested recently. How disappointing it to see someone like Stoneburner, who is a leader, get into trouble?
TH: It is very disappointing. I know Jake feels bad for what happened, but I'm sure he'll do what he needs to do to get back on the team. Anytime you see a kid let himself down and the team down is difficult.