Where did it all go wrong? This isn't how Jared Sullinger's draft week was supposed to go. Instead of a glorified funeral procession for his yet-to-begin NBA career, Sullinger's week should have been a coronation.
His dream of playing professional basketball will still be realized, but he won't have that lifelong memory of hugging family members before strolling across the stage in Newark, N.J., to shake Commissioner David Stern's hand, as nearly all lottery picks do. It's an indelible image that provides the first portrait for a prosperous career – or bust.
Sullinger will be at home in Columbus surrounded by family, feeling the burn of the NBA, which opted against inviting him to the draft after doctors red-flagged "back issues (that) could shorten his NBA career." Some even took the step of advising their team not to select Sullinger in the first round. Sullinger steadfastly denies any rumors of injury.
His agent, David Falk, who is known for being the agent of Michael Jordan, said Sullinger met with a back and spine specialist and that he must "maintain vigilance with his flexibility. And if he does that, and keeps his weight at an appropriate level, then he should have absolutely no problems over the next 15 years."
It's dramatic news when you consider a year ago Sullinger was a shoo-in to be a top-five pick. He passed up untold NBA riches to stay at Ohio State, though, and helped lead the Buckeyes to the Final Four in his sophomore season. While Sullinger's stat line – 17.5 points and 9.2 rebounds per game – was similar to his impeccable freshman campaign, he didn't do it with the same authority, that of Albert Belle running over Fernando Vina, and he looked raged at times. Now Sullinger might not be drafted until the top five of the second round. The latest projections on NBADraft.net have him going 23rd overall to Atlanta.
"If I came out last year, I probably wouldn't be as good of a basketball player as I am now," Sullinger said. "My shooting ability wouldn't have been the same, my conditioning; you never know what could happen.
"So if you want to do 'what if?" I always do 'what if' with the negatives and not the positives."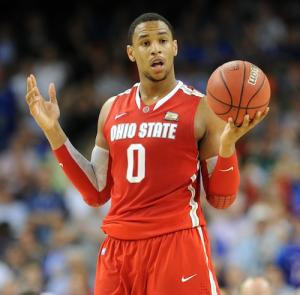 The first sign that something could be amiss came after Ohio State humbled Duke in late November. Sullinger missed the following two games citing a back injury. His father, Satch, said he suffered from the painful foot condition plantar fasciitis. Jared, however, played it off and never confirmed his father's diagnosis.
But throughout the season, Sullinger seemed to labor and play more timid around the basket. The absence of a perimeter scoring threat no doubt played a role in how opponents defended him, treating Sullinger like unwanted in-laws during the holidays. Still, Sullinger was named a first team All-American for the second consecutive season.
Thirty franchises have put Sullinger's collegiate exploits out of vision. In the high stakes world of professional sports, health concerns become a liability – ask Greg Oden. Another recent example, though, is last year's No. 1 overall pick Kyrie Irving. In only one season at Duke, Irving played in just 11 games due to a foot injury, and then missed 15 games of his rookie season with the Cleveland Cavaliers as he battled various ailments. He still went on to win Rookie of the Year honors and does not have Cavs management breathing down his neck, worried about future health problems. 
General managers have talked themselves out of such injury risks before. In 2009, DeJuan Blair went from a lottery pick to second-round selection because team officials were worried about his knees, which do not contain ACLs. Blair has since developed into a starter for the San Antonio Spurs, the team that drafted him, and has only missed three games in three seasons. Danny Granger was red-flagged in 2005, slid to the 17th pick and is an All-Star.
In his first series of workouts for NBA scouts, a process similar to beauty pageants, Sullinger's anemic performance started a drumbeat of questions about his athleticism. In the myriad of tests for agility, speed and strength, Sullinger put up numbers that would have earned him Ds on his report card.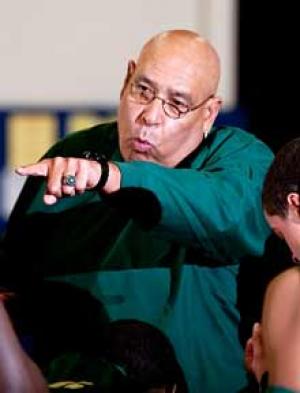 He responded to critics by declaring, "I don't test well" and "I just produce."
In another workout, this time for the New Orleans Hornets, he again delivered less than desirable results, Sullinger said, "I apologize to everybody that thinks I didn't do well. That's just me. I'm a basketball player. I know how to play with a basketball."
So here sits Sullinger, once again, in a position to prove legions of cynics wrong.
In middle school, they called him fat. After a stellar high school career, he was told he wasn't good enough to succeed at a school like Ohio State. Each time he did more than just answer the call – he did so emphatically.
"Everybody says I can't do this, I can't do that," Sullinger said. "Everybody points out all the negatives. There's a lot of positive things I think I do."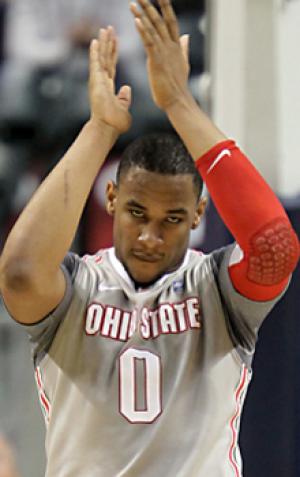 He's taken his plight to Twitter, changing his avatar to the cartoon character Underdog. He followed it with a tweet that read, "I guess I got another ladder to climb. It's nothing new."
Earlier this month in Toronto, Sullinger spoke to reporters about his lifetime of adversity.
"Since day one, I've been an underdog," he said. "It's life. I like it."
Sullinger says all the right things, but underneath his outer shell is a clear sense of frustration. In recent weeks, the questions about his physical shape, back injury and other poking and prodding have led to the usually cerebral Sullinger to become abrasive.
"I couldn't care less," he said when asked about his draft status. "Half of y'all have never played basketball a day in your life. Maybe in an open gym or around the rec or something, but never organized basketball. So it is what it is. If I'm slipping, I'm slipping. That's fine with me."
There are several aspects of his game that executives should pay attention to, though. One is Sullinger shedding 20 pounds before last season and developing more of a perimeter game, something the 6-foot-9 brute must use to his advantage against taller competition in the NBA, to go along with his high-level back-to-the-basket play. Sullinger also exhibits a high basketball IQ, excellent passing skills and provides good camaraderie in the locker room.
Sullinger's case could make GMs wary about repeating past draft day mistakes. For Sullinger, what might be a letdown could be a boon after his rookie contract expires. It's the second contract where players make their money. If Sullinger proves he can stay healthy, a Brinks truck could be at his door step in a few years.
What city the house is located in is the question.