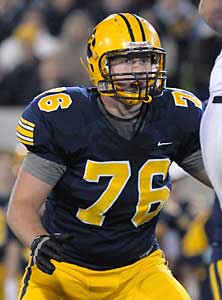 The first offer to an in-state 2014 prospect by the Ohio State coaching staff took place almost five months ago.  Some of the Buckeye faithful may have forgotten about him but Urban Meyer and company have not.  
Standing at 6-4/275 and already without having played a snap of football for his junior season, Jimmy Byrne has the size and athleticism to excel as a stalwart on the offensive line for a premiere college football team.  Throughout the upcoming year many head coaches of the midwest programs will be dreaming of the last name Byrne being stitched on the back of the jersey for their respective schools and rightfully so.  
The Buckeyes are currently sitting at only one commitment on the offensive line for the class of 2013 in Centerville product Evan Lisle.  With a lot of targets already off the board for this year, the focus could turn to next year's high school juniors, making Byrne that much more of a priority.
In addition to Byrne, 2014 offensive line offers have been extended out to Damian Prince, Orlando Brown Jr, Demetrius Knox, Mason Cole, K.C. McDermott, Donell Stanley, Braden Smith, Sam Mustipher, and Jamarco Jones. While all of these prospects are nationall recognized talents, Byrne may garner the most attention from Ohio State, as the staff will not want to let a star leave home.
We caught up with Jimmy Byrne to see how his camp experience went at Ohio State, how his contact with the Buckeye staff has been, and when a decision on his college destination could come.  Keep reading to find out the latest on one of the top offensive line targets for OSU in the class of 2014.
How was your time in Columbus for the Ohio State camp?
I had a great time.  I was there for two days.  I thought I performed very well, and I'm pretty sure the Ohio State coaches would agree.  My performance the second day was an improvement from the first day.  I talked to Coach Warinner for most of the visit and he and Coach Meyer were both impressed with my footwork.  I also spoke with Coach Barton.
You spent time with Urban Meyer. How did that go?
I enjoyed it a lot.  It was my first time actually getting to meet him.  He just wanted to know how I got to where I am now and my journey along the way.  He told me where I could fit in with the Buckeyes and that he would continue to recruit me very hard.
Outside of this visit, what has your contact been like with the Ohio State coaching staff?
I talk with Coach Drayton about every two weeks.  He recruits this area and we have a nice relationship.  
How is the rest of your summer going to be spent?  Are there any other visits that you have planned?
Ohio State was my last camp of the summer.  I just want to get ready for the season now as it will leave me time to figure everything out.  I'm keeping all of my options open, but I thought Ohio State was impressive.  
Are there any schools beginning to stick out for you?
I do not have a final group as of now.  Other schools can jump into the mix still at this point. I would say I am focusing on Ohio State, Michigan, Notre Dame, and West Virginia currently though. 
Do you have any idea on when you would like to make your college choice?
I do not have any set timetable or anything like that.  I just know I would like to end my recruitment before my senior season.
HIGHLIGHTS: