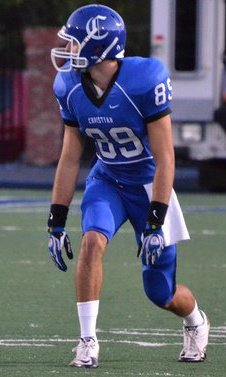 With Urban Meyer as the head coach in Columbus, tight end has become one of the most important positions on the field when it comes to making plays in the Buckeyes' new offense.
In years past the position was used mostly as a defacto sixth offensive lineman, who occasionally went out for a pass when the time called for it. This is no longer the case and there are some big plans for the tight ends currently on the roster, as well as those set to come to the program in future years.
The only tight end commit in the 2013 class is Riverside (CA) John W. North's  Marcus Baugh and while the original plan was to take two tight ends in the class, it appears that this will no longer happen. 
Because of this, the Buckeyes will definitely take one, and maybe even two tight ends in the class of 2014, with the top target being Charlotte (NC) Christian's Jeb Blazevich.
The 6-5/230 target is one of the country's premier tight ends regardless of class, and has already earned nearly 15 scholarship offers, as well as garnering a 4-star ranking according to 247 Sports.
Blazevich was in Columbus this past weekend for the first time, taking the opportunity to visit Ohio State's campus, as well as participate in the Buckeyes' summer camp where he even got a bit of one-on-one instruction from Urban Meyer himself.
We caught up with Jeb to find out how his visit went, when he may visit again, when he would like to make his college decision, and more. Keep reading to find out the latest on rising 2014 tight end, Jeb Blazevich.
How did you like your first trip to Columbus?
It was great. It was really eye opening for me. Going in I didn't know too much about Ohio State, but I learned a lot over the visit.
How was your camp experience? ng>
At the start of camp they did some testing. My coach told me not to do it, so I skipped out on that part. After that we did some quick drills. Then Coach Meyer pulled me out and put me through a workout himself. It was really cool to be able to learn from him.
Did you have the chance to see campus?
Yeah, I did. I got to speak with the coaches and see the football stadium which was nice.
Do you plan on visiting Ohio State again at some point?
Yeah, that is the plan. We're probably going to get up for a game in the winter (November). I really want to get a taste of what a winter in Columbus is like, because it's very different than it is in North Carolina.
Who are your recruiters at Ohio State?
Coach Withers is my main guy. Also Coach Hinton, then Coach Meyer as well.
What have the coaches been telling you?
Of course they're going to say things like, "we really like you," but they told me they really like my route running abilities, and the things I do with my hands. They also told me they think I have 15 years of football left in me, which was really great to hear.
How would the coaches use you if you went to Ohio State?
They're saying I would be split out a lot, but would also play some as a traditional tight end.
Have you recently taken any other visits?
I visited Clemson last week. It went really well, as they offered me. I will be visiting Georgia, and LSU this summer. Maybe Virginia, and Alabama.
Are any schools standing out right now?
Yes, but until we get the list narrowed down and I tell the coaches at the schools I eliminate thanks but no thanks, I can't come out with a list of top schools. There are a few schools I really like though and their coaches know that.
When would you like to commit to a school?
Honestly as soon as I can, but I want to look at all my options before I pick a school. I'm looking to commit after my junior season, sometime in between February and June of next year.
What will be the biggest factors in your decision?
I want a good coach, with integrity, and I also need to get a good education, so academics will be a factor. Winning will been important too. I want to go to a school that will compete for national championships.
What goals do you have for your junior season?
I haven't really thought too much about individual goals. My main focus is doing whatever I can to help my team win a state championship.
HIGHLIGHTS: