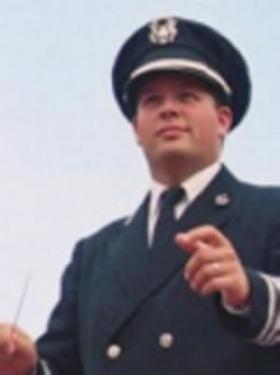 We spoke with incoming Ohio State marching band director Jon Waters about leading an iconic pillar of the university, memories from dotting the "i" in the incomparable Script Ohio and replacing the legendary Dr. Jon Woods.
Eleven Warriors: Obviously at Ohio State the band director position is a historically significant job. You're just the ninth director in 135 years. The small fraternity of people over a number of years – similar to the U.S. Presidency – adds to the prestige of the position.
Jon Waters: Absolutely. In the 135-year history of our band, it really speaks volumes that we've only had nine directors. Some schools have had great changeover with the band director position and the marching band director position in particular. At Ohio State we've just not had that. The people that have directed the band have been here a long time and built that direction. I think that certainly is one of the elements that makes the OSU marching band very unique.
The directors have not just maintained that tradition but also thought of new things. One of my guiding principles and mottos is tradition through innovation. If you think about those three words, it harkens to maintaining the traditions that we have while still being innovated. Script Ohio at one time was new and innovative and then become a wonderful tradition. The same can be said for the ramp entrance and "Hang On Sloopy." We've constantly been looking for new and innovative ways to remain on the cutting edge.
11W: College football fans across the country are familiar with "The Victors" and "Rocky Top," and then you have Script Ohio, the ramp entrance and "Hang On Sloopy." Those are all identified as great band traditions, but they are also totally ingrained and a part of the fabric of college football and Ohio State. To be a band member or director, it has to be special to have such an important impact each Saturday in the fall.
JW: It's great to be part of that fabric and the color and pageantry that is collegiate football. The band is the special element that makes our game day experience in college football very unique. It just is something that makes a college game so very special and especially special at Ohio State. It's our brand. Script Ohio is certainly associated with college football and Ohio State football, but it's more than that. It's the signature for the university and the state of Ohio. It goes even beyond football.
11W: There are a lot of parallels between the Ohio State football team and the Ohio State University Marching Band – the head coaching job and band director position are both highly sought after and prestigious positions, kids in Ohio grow up wanting to play football for Ohio State, but there are also kids who want to be a part of the Ohio State marching band.
JW: That story is mine exactly. I feel almost like pinching myself because I'm at a point in my life that I've dreamed about for many, many years and always hoped to have an opportunity to achieve. With all the wonderful people out there who could do this, I'm just very fortunate to be chosen. I think everyone in this position as director of the band is a steward of a tradition, whether you're here for 38 years as Jon Woods was or one year, I view it as a personal responsibility and one of great stewardship to maintain a tradition and give a quality student experience to generations of students who will fill our ranks.
My story is very similar to many of the students in our band. This summer, we'll have students try out for the band who've wanted to be part of us for many years – I was the same way. I was a junior high student who played the tenor saxophone, and my band director told me, "If you want to go to Ohio State you can't play tenor sax, the band is all brass." So I picked up the sousaphone, and it was a dream of mine to come to Ohio State and dot the "i". My journey was interesting because I was cut from the band the first time I tried out. For the past 10 years as the assistant director I've been giving that speech to a room full of students who are in tears because they haven't made the band. I've been giving that same speech about my own life experiences.
One of the things I tried to do in my time as assistant was to develop our athletic band so program, so those students who don't make the marching band the first time do indeed have a place to play and something to be proud of at Ohio State.
As I did, and many before me and many others after me did, I tried out again and dedicated myself to making the band and was fortunate to make it. It's been a wonderful ride ever sense. Had I guessed 15 years ago that I would be in this position; I think that would have been very idealistic.
11W: You dotted the "i" at the 1998 Michigan game. Put that experience into words. 
JW: I think it is somewhat similar to the experience I find myself in now in that I felt at the time a great responsibility because there were so many wonderful people that had gone before me and dotted the "i". On that day the "i" was going to be on me to continue a tradition. It is similar to how I feel now taking over the band.
It was a surreal experience. I remember it was a perfect November football day in Ohio: a bit overcast with a cool snap to the air. I remember very distinctly getting to the top of the small "o" and hearing the crowd swell. I'm not sure how many steps I took to the top of the "i", but if I could have flown I'm sure I would have been at the time. It was pretty cool to be part of that. To be out there singing the alma mater with the whole stadium singing was really special, too.
11W: Jim Tressel and Urban Meyer talk about how unbelievable it is every time they run out of the tunnel. You've experienced the ramp entrance countless times as a member of the band and assistant director. Even now, after you've experienced it so many times, what is it like when the drum line comes down and they say, "Ladies and Gentlemen, the Pride of the Buckeyes, the Ohio State University Marching Band?"
JW: I get chills every time the band comes down the ramp. To see the precision, to see up close the care in their eyes, the desire and the continuation of tradition, especially on alumni band day. I see our current students come down the ramp and I see the alumni band members, and the look is the same even though they are separated by decades in age. Last year we had a 95-year-old trumpet player march down the ramp one more time and I saw the look in his eyes, and it was the same as an 18-year-old wide-eyed freshman coming down the ramp for the first time.
Then you turn and look to the crowd and you see a father with his young son for the first time in the stadium showing him the traditions of Ohio State, and that's a special thing. What's so wonderful about it is our traditions have been maintained over the years, so we get those parents who have graduated from Ohio State and they pass it on.
When you think about the responsibility we have, it's tremendous. We wrap Saturdays up, win or lose, with "Carmen Ohio" and the stadium, players and band singing together. It's a surreal thing. I still take for granted some days that my key opens the front door to Ohio Stadium. It's just a wonderful thing to be a part of.
11W: Dr. Jon Woods is a revered figure within the university and the state of Ohio. I'm sure you learned countless things from him, but his status as a legend makes replacing him daunting.
JW: I feel a great responsibility, especially to follow in Jon Woods's shoes. One of the great things about Jon was he surrounded himself with good people and he's always been very inclusive in the decision-making process. I think that has helped me to step in this position a bit easier. Jon always asked my opinion on things and always vetted every situation fully. Over the years, the change that the band has undergone has been slow and steady. He has never reacted in a knee-jerk situation. Any disciplinary situation has been methodical and business-like. Jon is very soft-spoken and will drop absolutely everything to talk to you. That is a great thing about him. He could be loud and boisterous, but he is quite the opposite. He has a calming presence, and I appreciate that about him.
11W: Ohio State, in regards to athletic facilities, is the gold standard. But the university also has, arguably, the best band facility in the world in the Joan Zieg Steinbrenner Band Center. How big of an asset is that, and how meaningful was it to know the university gave the band its full support in that project?
JW: The question of if a facility makes a difference; the answer is a resounding yes. It was (former athletics director) Andy Geiger's vision to include the band in the stadium renovation, and that has been a wonderful thing for us. We are able to recruit with it, do public outreach and, most importantly, rehearse the band in very efficient ways. We have the latest and greatest in audio and visual technology that allows us to teach more quickly. We have amenities that many other bands don't have. The facility, technology and outdoor practice field really makes a difference and creates efficiency in learning and teaching that we otherwise would not have if it wasn't for a commitment from the university and athletics department.
11W: From Woody Hayes on down to Earle Bruce, John Cooper, Jim Tressel, Luke Fickell and Urban Meyer – they all understand the importance of the band. There are countless famous Woody stories involving the band, Jim Tressel started the tradition of singing "Carmen Ohio", at the spring game Urban Meyer talked about "Hang On Sloopy" almost moving him to tears. The football program and band program have been inextricably linked.
JW: It's such a unique relationship, and I think that relationship has been passed down through the coaches. Even though the coaches have varying backgrounds, they all understand what the band brings to the game and they understand our great tradition.
The day we got back from the Gator Bowl, Urban Meyer called me and wanted to talk. I was absolutely blown away by that gesture. First of all, he has his whole program and philosophies to implement. But the first call he makes is to the band director on the day we get back from Jacksonville. We landed at 7 a.m. and a 9 o'clock I had a phone call. It was amazing just to know he cared about the band. So I spent a good hour talking to him about the band, the traditions and what we do. He told me about one of the great moments he had with his dad. At the 1987 Michigan game in Ann Arbor, he snuck his dad out of the stands and on to the field. There's a picture of he and his dad holding up the number "4" on their hands while the band is in the background playing "Hang On Sloopy." Those kinds of moments are impossible to even write about it or speak about it without being there in the moment and capturing the energy and passion.
Earle Bruce loved the band and passed that love on to the stuff. Urban said he would watch the band at pregame or halftime. He wasn't needed necessarily as a grad. assistant, and he would sneak off and watch the band. That tradition and relationship with the band has been passed down. Woody Hayes was the founder of that tradition. He coined the phrase "The Best Damn Band In The Land." Jon Woods tells a story that Woody came by band practice one day and wanted to know how everyone was, what the band was doing and what the recruits looked like. He really cared when he could have had a million other things to do, but he took the time to recognize the band.
11W: One thing I've always loved doing ever since I was a young kid is watching the opposing band or fans during the ramp entrance and Script Ohio. They're always standing, clapping and kind of looking on in amazement.
JW: We're very fortunate to get feedback pretty often from fans and band directors. We hosted a national symposium of national band directors at Ohio State over the summer. They were so complimentary of everything that we do. We see some great bands, but what we do and how we do it is so unique. That is recognized around the country, so there is a great appreciation for what we do.
I also think we're great hosts. We make bands feel welcomes, and I think our fans treat bands with open arms. Unless the band performs a Block M on the field, our fans will applaud the visiting band.