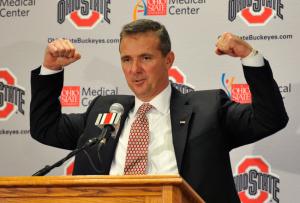 Some six months after his introductory press conference, Urban Meyer is officially under contract as Ohio State's head football coach.
The contract, released Monday, is for six years and pays Meyer $4.4 million per year, ranking third in the country behind Texas' Mack Brown and Alabama's Nick Saban. The contract includes several provisions, including an out clause for Meyer if Ohio State receives more major NCAA violations relating to the past 18-month scandal. Not only would Meyer be able to leave, he would also receive $1.5 million for every year left on the contract.
There is no evidence or reason to believe Ohio State would be pegged with more violations.
"I am honored to be head coach at The Ohio State University," Meyer said in a statement obtained by Eleven Warriors. "I understand and accept the tremendous responsibility to lead one of the most prestigious programs in college football history. It's great to be back home in the state of Ohio. I have made it my personal duty to ensure that the football program reflects and enhances our academic mission here at Ohio State, and our program goal is to always make the Great State of Ohio proud."
The contract is loaded with incentive bonuses, including a $250,000 signing bonus and retention bonuses for 2014, 2016 and 2018 that total $2.4 million. Several bonuses were thought to be out of the question this season due to Ohio State's postseason ban, but that is far from the case.
Meyer receives $50,000 for winning the Big Ten Leaders Division, a feat that will be accomplished in 2012 by having the best record in the division. A $100,000 bonus comes Meyer's way for winning the Big Ten Championship game. This season the Buckeyes need to finish with the best or tied for the best regular-season record in the conference. A BCS bowl berth nets Meyer a $150,000 bonus. He can achieve it this season by being ranked between third and 10th in the final BCS standings. With the BCS National Championship Game being an impossibility, Meyer will receive $250,000 this season if Ohio State finishes No. 1 or No. 2 in the final BCS standings.
All told Meyer will be able to add a seventh balcony to his multi-million dollar house along the seventh fairway of Muirfield Village Golf Club. 
"Coach Meyer's contract reflects our expectations for success in the classroom and performance on the field, while establishing incentives to keep him here through the length of his contract," Ohio State athletics director Gene Smith said. "As we said at the time we introduced him as our new coach, his compensation and benefits package will be among the top five coaching contracts in the country, consistent with his proven track record and what we expect of him at Ohio State. Coach Meyer joined our program at a very challenging time and I am pleased with what he has done over the past six months to develop our student athletes and continue our compliance culture."
The contract is also detailed with termination clauses if there is wrongdoing. If there is a "significant or repetitive or intentional violation" as determined by Ohio State, Meyer or anyone under his supervision, including players, that Meyer knew about or "should have (in Ohio State's determination) reasonably known about," Meyer can we held responsible and relieved of his duties.
The scenario offered in the contract is similar to what former head coach Jim Tressel experienced, which led to his eventual resignation.
---