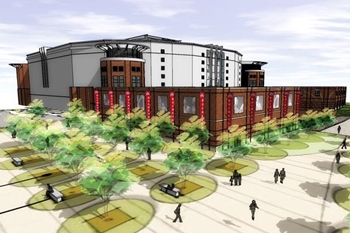 Good things come to those who wait. For the past six years, that tired refrain has been David Egelhoff's reassuring grace.
Egelhoff is a man behind the curtain of Ohio State basketball. A former student manager for OSU, he's now in his sixth season as Director of Basketball Operations under Head Coach Thad Matta. Egelhoff is responsible for anything from coordinating practices to the tedious negotiations of scheduling; and if curing cancer were in the job description, he'd be doing that too.
In 2006, he sat down with Matta to embark on what seemingly has been his biggest challenge: sketching out a vision to build a dedicated practice facility for the basketball program.
"We knew we needed to push forward," he told Eleven Warriors this week in an interview, "to make sure we were going to be at the same level as our opponents."
For a few years, it seemed, that vision may as well have been sugar plumbs dancing in his head. It was always one step forward and two steps back, as progress was marred by one setback after another. His vision was tantamount to doodles on a cocktail napkin or aimless lines on an Etch-A-Sketch.
Initially, the plan gained traction with Ohio State. The university was set to go forward in 2007 with plans for a $22 million facility extension that would be completed in 2010. But before it ever got off the ground, the economy went kablooey. Athletics donations had dried up and the doodles were on the backburner collecting dust without funding.
While Matta was busy selling his visions of success to a plethora of highly-touted recruits, since backing it up with five Big Ten Titles and a pair of Final Four appearances, the quest for a practice facility seemed like an elusive final frontier. It's one that separates college basketball's men from the boys. Or for women's Head Coach Jim Foster, the women from the girls.
 
The Schottenstein Center, home of OSU basketball since 1998, has been and remains among the finest in the country as a gameday facility. The amenities, however, are slipping behind the times. Of bigger concern, the space is a bit constrictive for two basketball programs to share while dodging American Idol concerts, Smurfs-on-Ice and the plethora of multipurpose squatters popping in for a cup of coffee.
For the past 10 years, the one thing it truly lacked that elite programs had at their disposal…its own room; one it didn't have to share with pop idols and cartoon caricatures.
"This is our way of saying we don't just want to be in the top," said OSU women's assistant coach Patrick Klein on the need for a facility. "We want to be the top."
Michigan State set the bar for the Big Ten in 2002 with the Berkowitz Basketball Complex. The Breslin Center extension offered two auxiliary gymnasiums, state-of-the-art training resources and space galore. Built at $7.5 million, the investment was the first and only of its kind for the archaic, aging league that was struggling to compete nationally at the time.
Eventually, the Spartans' domination of the league in the late 90's and early last decade prompted others to up the ante.
In April 2010, Indiana raised the bar a bit more by opening Cook Hall – a 67,000-foot castle built for basketball royalty. With all the bells and whistles imaginable for a cost of $16.5 million, the new facility included meeting rooms, player lounges and a shrine to memorialize Indiana basketball. About the only thing it doesn't do is help Tom Crean manage scholarships. 
This past year, even notoriously frugal Michigan opened up the wallet and their 57,000-foot William Davidson Player Development Center outside of Crisler Arena for $23.2 mil to finally take part in the facilities' arms race. The world's first pizza boy-turned-athletic director helped to deliver a meat lover's special of basketball delight.
It's not that Ohio State was lacking…far from it.
Until recently, OSU could match its facilities with most. But the recent erection of basketball-specific buildings has forced Ohio State to dip down deeper into its resources to regain an upper-hand it had even five yeras ago.
According to the 2011 Equity in Athletics Disclosure Act, filed annually by every institution with the Office of Post-secondary Education, OSU ranked No. 8 nationally in basketball-specific revenue at $17 million for 2010-11. But with a lone auxiliary gym and multipurpose video room, the space has been cramping the style of the men and women's basketball programs. When the main arena is used for a concert or another sporting event, teams must coordinate basketball practice times or otherwise be relegated to St. John Arena or even the student rec center.
what's old is new again
After several years of soliciting donations and dropping pennies in the piggy bank, Ohio State announced this March it had raised enough money to go forward with a facility.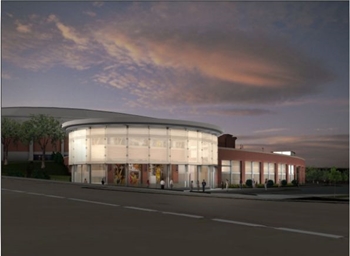 The University opened up bidding to the project, with designs from the building's original architect firm Moody/Nolan, with a deadline of April 24. The project provided a budget of $13.77 million for construction management as of a March 14 RFQ listing, according to the Ohio OAKS database. Although it's a downgrade from the initial plans of $22 million, beggars can't be choosy.
Construction will come in two phases and has already begun in earnest. 
The first phase will renovate nearly 15,000-feet of existing space on the basement level of the facility where the locker rooms, training rooms and weight rooms are housed. According to bid documents, the project is expected to be completed within 120 days of commencement notification. Egelhoff said they were expecting to be in their new digs within "six or seven months."
"What we're doing right now is moving out," Egelhoff said. "We spent the last couple of weeks getting stuff out of our locker room"
Ohio State received bids from nearly 10 companies, though they have not yet announced who is managing the project. When the phase is complete, OSU will have its locker rooms, training area, weight room and a video room condensed to just locker rooms and training area. The weight room has been set up in a temporary location for the next year.
When the locker rooms undergo their renovations, each will be complete with its own video room. The training area will be expanded to include a rehabilitation well, which currently requires basketball players to visit the Woody Hayes Athletic Center to utilize. 
"Anytime somebody is injured, about 95 percent of the things we'll be able to handle right here in the facility," Klein said. 
Following the season, the second phase will begin. Although OSU Sports Information Director Dan Wallenberg said they could not release any specifics about construction at this time, a bidding entry in the Ohio DAS vendor database describes the addition of 40,000 feet to the external structure for a practice facility and coaches' offices. In October, the Columbus Dispatch had reported 25,000 feet, although it's unknown if the recent listing includes the 15,000-foot interior renovation. A third phase, according to Klein, will involve renovation of the upstairs coaches offices on the Lane Avenue side of the building after the 2013-14 season although he believes it's technically considered part of the second phase.
Facilities Operations Manager Don Patko also told Eleven Warriors the university was not able to release any current renderings or fact sheets at this time, but he did say there continually have been adjustments made to the plans.
raising the bar
When the I's are crossed and the T's dotted, or something like that, what is known is that Ohio State will be able to keep up with the joneses. While Ohio State goes forward with plans for a $13.8 million budget, more play toys could be always be added later on.
The second phase is when the Schottenstein Center exterior will really get itself a makeover.
During the phase next summer, OSU will add a new gymnasium, weight facility, additional coaches' offices and video room. Currently the coaches have offices in the Southern corridor of the building, as well as additional space downstairs. The men's coaches will move to the new portion next summer for their permanent daily operations.
Moreover, Ohio State will have new location to pay homage to OSU basketball programs.
"I don't know if too many people know where the 1960 National Championship Trophy is located," Egelhoff said rhetorically. "When the new gym and weight room is built, the corridor that connects everything will be able to showcase trophies, memorabilia and other things that will showcase the story of Ohio State basketball."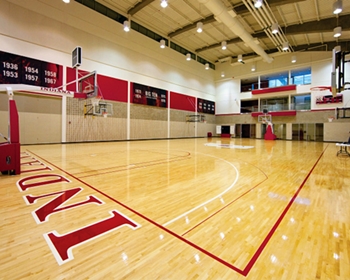 That corridor will be open for public viewing. Finally, the program will have a more centralized space to boast about its tradition and achievements on top of the extra room to stretch its legs.
The new structure will be built over the loading dock on the Western side of the building. When all is said and done, the new facility will include a host of new amenities; the kind of bells and whistles that will put it back in front of the arms race.
Among some of the additional features include built-in Wi-Fi, high-definition television available in the video and coaches rooms and flat-screen video monitors. With OSU athletes being provided iPads, student-athletes will have the ability to access internet within the confines of the locker rooms during downtime. That means access to cheesy YouTube videos by Miley Cyrus fans.
Of most importance to the coaches of both programs, though, is the scheduling flexibility.
"When we sat down in the fall of 2006 and saw the semesters were likely coming, guys will take more classes and women take more classes, it was going to be tougher to make these schedules work," Egelhoff said.
Because of NCAA rules mandating athletes must be "on-progress" to graduate, students are generally enrolled in more classes during the semester system as opposed to quarter system where credit hours can be spread out slightly more. Accordingly, it would be increasingly difficult for the men and women's programs to share a practice gym.
"What this does is allows us to practice at the same time so with academics it's a really big deal," Klein added. "Instead of making sure practice fits around schedules of 30 players, it will be just our players."
And worse yet, if a player wants to work out in the weight room or gymnasium on his or her own time, currently a coach must come down with keys to let them in and turn on the lights. In the new facility, players will have unfettered, 24/7 access. If a player wants to hoist 500 shots at midnight, they'll now have that ability without having to pester a coach to meet at the gym.
"Being a student-athlete is a 24-hour gig," Klein noted.
As such, that kind of access is a giant leap forward for Ohio State, especially to sell recruits.
"(T)o show prospective student-athletes we're dedicated to the best," Klein added, "it's big. Everyday Coach Matta and Coach Foster are going after the top kids in the country; not just locally but nationally as well."
Klein also commended the department for soliciting so much input from both coaching staffs. He said the probject has constantly evolved with feedback on wants, needs and how the facility could make their lives easier. 
The second phase is tentatively scheduled for completion prior to the 2013-14 season. The original documents show an August, 2013 timeframe. Until then, the program will continue to make the most of what it's got.
"We'll have to make it through what appears to be one year," Egelhoff said with a hint of excitement in his voice, "but I think we'll reap the benefits."
After this long, what's one more year? For Ohio State, that year means everything.