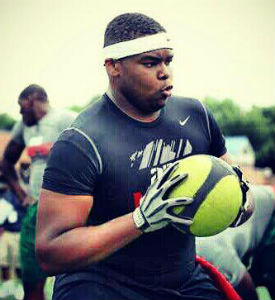 We already brought you updates on offensive linemen Sean Welsh, Tate Leavitt, and Nick Richardson, all of whom attended Ohio State's summer football camp last weekend. Now it's time to bring you an update on another big time offensive lineman that was in attendance, Christian Morris.
Morris made the trip from his hometown of Memphis, Tennessee in order to earn an offer from the Buckeyes. While he continues to await word if that will happen, he still holds the Bucks in high regard, putting them in his top three before the trip and cementing them there afterwards.
At 6-6.5/292, Morris is ranked as a four star recruit and the 24th best offensive tackle in the nation by Scout.com. He currently holds 19 offers and is looking to grow that list on the camp circuit before cutting his list down to take official visits in the fall.
We caught up with Christian to hear the latest on his recruitment, how he feels his performance at OSU's camp went, what is in store for the rest of the summer, and more. Join us after the jump to hear more about one of the southeast's top tackle prospects, Christian Morris.
How did the Ohio State camp go last weekend?
The camp went well. I feel I did a good job for the most part. There was one defensive end that gave me some trouble (Tyquan Lewis), but I think I had a pretty good day in the technique, mirror, pass protection, and run blocking drills.
What was it like working out in front of the Ohio State coaches?
They were great and one thing you notice is just how energetic they are.
What did the coaches say to you regarding a scholarship offer?
Every coach told me I did well and that they would have to meet up this week and see what they were going to do. I'm really hoping to get an offer from them and feel I have about a 65% chance of doing so.
What did you think of Columbus being that it was your first time there?
Columbus is a big city. The campus is huge as well and I really liked it there.
Where would the Buckeyes sit on your list if they offered you a scholarship?
They are already on the top of my list, but obviously if I get an offer that plays a big factor.
What schools have currently offered?
I have a bunch of offers right now. They are from Arkansas, Arkansas State, Arizona State, Clemson, Illinois, Louisville, Memphis, Ole Miss, Mississippi State, Missouri, Nebraska, North Carolina, Purdue, Tennessee, UCLA, USC, Wake Forest, and Vanderbilt. 
Do you have any favorites at this time?
My favorites right now are Ohio State, UCLA, Mississippi State, Tennessee, Clemson, Alabama, and Nebraska. All have offered except for Ohio State and Alabama thus far.
What visits do you have planned the rest of the summer?
I have been to Alabama, LSU, and Ohio State. I just finished a visit to Tennessee this week and am planning to visit Vanderbilt, UCLA, and Nebraska.
What position are schools recruiting you for?
Most of them had said tackle, but Nebraska is thinking I might be able to play guard as well.
When would you like to make your college decision?
My plan right now is to take all of my official visits and decide after my senior season.