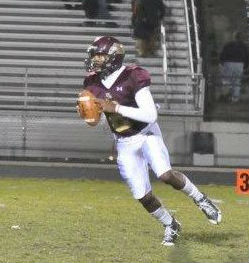 The Buckeyes' coaching staff hosted a wealth of talent this past weekend at their first summer camp of the year, with many prospects from both the 2013 and 2014 recruiting classes in attendance.
One of the more talented players in the 2013 group that came to camp trying to earn an offer was New Albany ATH Darron Lee.
The 6-3/205 Lee, originally from Tennessee, is a versatile player and lines up at safety, quarterback, and receiver for his high school, while also returning kicks at times. At OSU's camp on Sunday he showed that he could be a player to help the Buckeyes out in multiple ways, working out on both offense and defense throughout the day.
We caught up with Lee to hear how his experience at camp was, as well as what the process is regarding a scholarship offer from Ohio State. Join us after the jump to get the latest scoop on Darron Lee's trip to Buckeye football camp.
You were at OSU camp this weekend. How did it go?
It went well. We had a lot of fun and competed non-stop throughout the day. I got to catch up with a hometown friend in Vonn Bell and also competed with him throughout the day so that was cool.
What positions did you work out at and how do you feel you performed?
I worked out at receiver, cornerback, and safety. I didn't get to warm up my arm properly for quarterback so I didn't risk it on that end. I felt that I preformed pretty decently. Coach Coombs had us working the corner drills extremely hard, but I felt that I held my own.
What coaches did you get to speak to at OSU?
I got to speak to Coach Fickell, Coach Coombs, Coach Withers, Coach Drayton, Coach Smith, and of course, Coach Meyer during the day.
What did the coaches tell you and what did they say about a scholarship offer?
The told me that they were impressed and loved me. They talked this morning about an offer, but they are all talking with Coach Meyer tomorrow and then going from there so I should know something then.
If OSU offers where would they sit on your list?
They would automatically shoot up into the top three or four for sure.
What other schools have offered?
Arizona State, West Virginia, Boston College, Illinois, Purdue, Cincinnati, Minnesota, Duke, Bowling Green, Kent State, Marshall, Miami (OH), and Toledo.
What other visits/camps do you have lined up?
I will be at Illinois this Friday, but other than that I have nothing else planned at this time.
When would you like to make a college decision?
Definitely before the season starts this fall for my senior year.
HIGHLIGHTS: