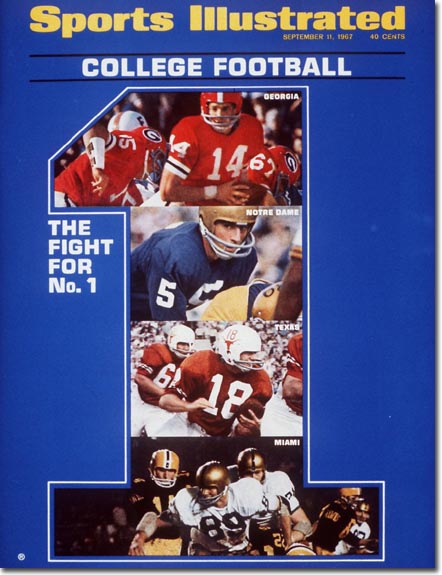 You might not realize it, but the chiseled musculature of Ohio State football is being picked clean from the university's skeleton right before your eyes.
Vultures are already circling the Horseshoe, with predators like academics, the economy, recruiting regulations, growing apathy amidst too many imperfect seasons, war and - perhaps worst of all, a predictable and boring offense - all to blame for the Buckeyes' demise.
With campus interest in football rapidly shriveling, the scavengers have descended to fatten themselves up at the program's expense: Sports like hockey and golf stand to benefit from football's downfall.
Slowly but irreversibly, Buckeye football is not burning out: It's fading away. That's much worse.
The year is 1967.
Sportswriting is equal parts historical storytelling and fortune telling. At the dawn of Woody Hayes' 17th season in Columbus, Sports Illustrated sent noted critic and novelist Robert Emmett Cantwell to Columbus to profile the state of Buckeye football for its season preview issue.
The mid-1960s were unkind to Ohio State. The Buckeyes entered 1967 having failed to win the Big Ten crown in five consecutive seasons. The 1966 campaign was especially brutal: A dismal 4-5 record that included three home losses, among them a 17-3 loss to one of Bump Elliot's typically mediocre Michigan teams. 
A half-decade without a conference title should have resulted a pink slip; Hayes' predecessors were drummed out of Columbus for lesser crimes. There was not a single bowl bid during that span. A 3-2 record against Michigan and three second-place conference finishes were the "highlights."
Cantwell descended onto campus commissioned to pen the eulogy for Brutus while his body was still warm. Almost 45 years later, his farewell to Buckeye football is among the worst sports predictions of all time.
He matter-of-factly reported that archery, cricket and rugby pushing football out of Ohio Stadium was all but a reality as widening student interests and the stern demands of modern academics signify the passing of a frenzied football era at Ohio State.
Harsh, isn't it. That was just the teaser.
While it doesn't take much deliberation or daring to print ridiculous stories for the sake of magazine sales, this happened 45 years ago. Ohio State wasn't even the cover story. SI could have paid a less-respected author than Cantwell (even the late Ernest Hemingway had been an active member of his fan club) to script the eulogy for Buckeye football.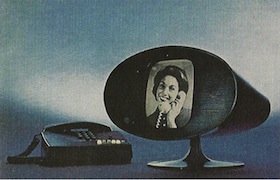 If you believe that, you also have to believe Cantwell's tone was serious. Reading it line by line you'll uncover expert prose and storytelling wrapped around a fatally flawed, paradoxical premise: College football - in the land of college football-as-religion - was about to slip away.
What makes the piece all the more fascinating is that he supplies all of the evidence that his premise is wrong right in the column but still fails to convince himself of it.
It's as though he intended to write a story with a conclusion he had already predetermined, then hunted around campus for support of that narrative but was unable to construct a convincing enough argument which led to the pathetic inclusion of an absurd 30-year old football camp raffle rumor that added, um...what was I saying...
Anyway, Cantwell is not the last writer to come to Columbus to sensationalize Buckeye football. But this is probably the best time you'll ever have reading such a piece. It is absolutely loaded with unintentional humor. To wit:
The credit rating of Columbus is Aa in Moody's Municipals; the financial structure stands firm regardless of victories or defeats.
Hopefully Cantwell is referring to Ohio State football's victories and defeats, since Columbus' credit rating definitely hinges on its success with finances. Anyway, the city of Columbus has had an upgraded Aaa rating for quite some time now. 
This allows the city to borrow money at significantly lower rates than an Aa rating would merit, saving Franklin County millions every year. It's a really weird statement to make and an even weirder factoid to include in a story about the demise of Ohio State football.
There are even gloomy predictions that the whole Big Ten will break up because high academic standards and the strict enforcement of recruiting regulations are making it increasingly difficult to attract the best athletes.
Yes, the entire conference could have gone the way of the University of Chicago, but the thought of all those gigantic, empty stadiums hosting science fairs just seemed silly.
The beautiful old gray stadium beside the Olentangy River was first sold out for a home game during the days of the administration of that Ohio favorite son, Warren Gamaliel Harding. For the past 13 years attendance at Ohio State games has averaged better than 80,000, a figure the pros cannot match.
Remember, the Big Ten is on the verge of breaking up while Ohio State is pulling in paying customers in numbers professional teams envy. Also, with that unsolicited Warren G mention we can now confirm Cantwell is DJ's long lost great uncle.
But football's dominance on the campus is over. The dissolution of the Big Ten, or even the end of college football, can be discussed as calmly as any other current campus topic: the draft, Vietnam or the question of whether women visitors ought to be compelled to get out of men students' apartments by 2 o'clock in the morning.
Despite booming business and systemic sunk costs like giant riverside stadia, college football - which is on the cover of the magazine you're reading and is explicitly the reason for your purchase - is coming to an end. Welcome to the grand illusion. Population: The author.
On a game day 35,000 cars converge on the stadium…. They park over some 50 acres of intramural playing fields—including 24 for football—on the giant pastures of the agricultural college across Olentangy River and at the base of the two new dormitories beside the stadium.  

Crowds on foot move out High Street and Neil Avenue, cross the Oval, and wander down the narrow one-way streets past Mirror Lake, where grass-lined banks are favored for campus romances.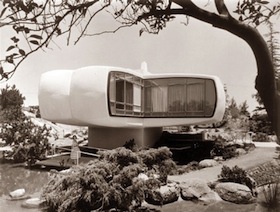 The more things change, my friends. The only flaw is the low number of automobiles, and we should have had flying cars by now anyway so Cantwell gets a pass.
Also, herein lies the reason you commission classic prose merchants for the odd sports column: The poetry.
Skillfully implanting imagery into otherwise bland bits like stadium attendance figures and parking lots is how writers have maintained job security since Aristophanes was writing dirty jokes with serpent's blood and a carob branch.
So Cantwell has established that Buckeye football is still a hot ticket, even as Woody's boys have failed to bring any rings or roses home recently.
Through the historical gloom you get such football scores as one from the 1892 season: Oberlin 50, Ohio State 0. Or 1902: Michigan 86, Ohio State 0.
TOO SOON, YOU HEARTLESS BASTARD.
That loss to Michigan directly resulted in the creation of the university alma mater, making it the only loss to Michigan in history that resulted in something worthwhile. Curiously, Cantwell found it relevant to include Columbus' credit rating but felt compelled to leave out the birth of Carmen Ohio following The Game in 1902? MEDIA BIAS, YOU GUYS.
Ohio State first played Michigan in 1897, losing 34-0, and except for two ties it lost every Michigan game until 1919. Ohio State's first touchdown against Michigan was not made until 1904. The next came in 1908.

There was a 3-3 tie in 1910, which was hailed as a great victory until the undergraduates drank to celebrate it and were roundly censured in Columbus. The first Ohio State success against Michigan did not come until 1919.
Important: Gordon Gee was all over those celebrations of 1910. Also, that multi-decade stretch of futility is singlehandedly responsible for the current margin of wins in the Michigan series. It's the same reason Satch Sullinger has a winning record over Jared in driveway basketball: Jared spent the first ten years of his life losing to his old man.
Sometimes visitors could hardly get out of town fast enough. "No team of mine will ever again play Ohio State," said a Wisconsin coach once.
It's unconfirmed, but that coach is believed to have been Millard Jebediah Bielema, ancestor of a certain corpulent appletini drinker known to show up at Big Ten Media Days smelling like Taco Bell and Drakkar Noir.
Each football season Columbus has grown a little quieter. They no longer bother to take the furniture out of the hotel lobbies for a big-game weekend. It is even possible to find a room in Columbus on a football Saturday. Things have changed. Perhaps the lack of student interest has proved infectious.
In exactly one school year, Ohio State will go on a 27-2 run to end the decade. But fortune telling is an art, not a science.
At press time, American casualties from the Vietnam War were rapidly climbing and totaled near 20,000. Perhaps that, coupled with Ohio State's flirtation with merely being in the top half of the conference contributed to Cantwell's perception of declining interest. 
The average age of the Vietnam combat soldier was 19. Paul Hardcastle taught me this and I have never forgotten it.
There is the contention that the entire Big Ten (bear in mind that the Big Ten is an athletic conference, not a confederation of academic institutions) is breaking up...Ohio State's stadium is still filled, but the crowd now comes from Columbus and Cleveland, not from the student body.
They lived in interesting times: Disposable income dollars from non-students was apparently more valuable than that same money from students. Pound of feathers; pound of bricks.
It gets worse for the apathetic student body:
Including all 16 Ohio State intercollegiate sports, one of every eight varsity athletes is an honor student.

Arnie Chonko, Ohio State's 1964 All-America, made Phi Beta Kappa with a 3.6 accum. Last year's quarterback, Don Unverferth, has an accum of 3.4. Ray Pryor, last year's All-America center, was a premed honor student.

Steve Arlin, who pitched Ohio State to two Big Ten baseball championships and was signed by the Philadelphia Phillies for more than 5100,000, was an honor student. Bill Hosket, the starting center on the basketball team, has a 3.6 accum.

Gary McDavid, a guard on the basketball team and a walk-on—that is, he was not recruited—arrived at Ohio State unknown, made the varsity and happens to have the highest college entrance board test ever recorded by an Ohio State athlete: 30 of a possible 36 on the American College Test measure.
Go ahead and say it. You want to.
Surely academic and athletic prowess could coexist in Cantwell's world view. Granted, a program that only recruits Ray Small and Duron Carter-caliber academics might march unencumbered to multiple football titles, but there's only so much pride a school can take in being XBox 360 champions.
Which leads us to the best passage in the entire 45-year old masterpiece:
There is a theory proposed by the hardcore of Columbus football fanatics that Woody Hayes is responsible for the student disinterest in football, that 16 years of his three-yards-and-a-cloud-of-dust game made football an unbearable campus bore: hence low student attendance, the decrease in the number turning out for pep rallies and the fact that so many of the students hurrying across the Oval would not know the team's quarterback if he dropped a football at their feet.
Jim Tressel knew back in 2001 that this proposed theory of hardcore Columbus football fanatics was ABSOLUTELY TRUE. His sinister plot to play home games in an empty stadium mercifully failed.
It's time for the grand finale, Mr. Cantwell. Say something even crazier. We challenge you - it's can't be done!
With each grant-in-aid awarded for hockey, each golfer lauded, each crack of a cricket bat on ball, one can almost feel Columbus—the town of stadium builders—flinch.
/faints
/holds up lighter in appreciation
/checks to see if Ohio State's giant athletic department includes varsity cricket. Nope. Football is saved!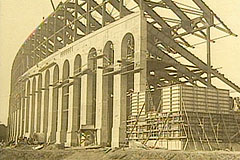 If there's a lesson to be learned from Cantwell, it's that you should never predict anything unless you enjoy being ridiculed decades later.
Or more conservatively: Don't cling to the ending to your story if the beginning and middle don't support it. The world already has one too many George Dohrmanns.
Cantwell passed away in 1978, exactly three weeks before Woody punched his retirement ticket against Clemson. Buckeye football - and the Big Ten - are still somehow around, clinging to life and barely sustaining on infusions of Rotel and multi billion-dollar checks.
But remember: It's only a matter of time before widening student interests and the stern demands of modern academics signify the passing of a frenzied football era at Ohio State.