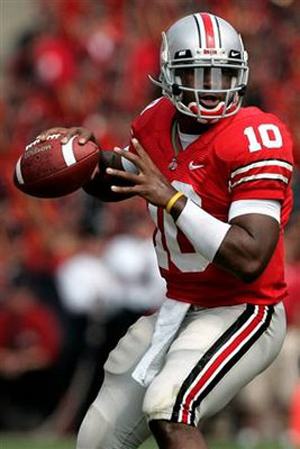 Note: Putting aside any bias you might have toward either or both of these individuals will be helpful in viewing this comparison with a clear head…and a full heart. In keeping with this theme I've decided to compare the greatness of both players based solely on how they performed on the field, not on any intangibles or lacktherof they exhibited off of the field of play.
With that said, let's do this.
Even before Terrelle Pryor signed his LOI to play for Ohio State, parallels were being drawn between his game and that of Buckeye Heisman Trophy winner Troy Smith. Both were mobile quarterbacks, but in reality that's where most of the similarities ended. 
Pryor was the most highly touted recruit in the country and started almost immediately. Smith accepted the last scholarship in the '02 recruiting class and mostly fielded punt and kick returns until his third season with the Scarlet and Gray.
Smith molded himself into a precision passer during his time at Ohio State. Pryor's throwing mechanics never seemed to reach their full potential.
Pryor's frame was massive (6'6'', 233 lbs) allowing him to run through potential defenders. The diminutive Smith (6'0'', 217lbs) eluded defenders with okie-doke freak-shows like this and this.
Earlier I said mobility is where MOST of the similarities ended and I meant it in the truest sense of the word. That's because the two did have one additional thing in common: both knew how to win, specifically when the opponent was wearing sun maize and blue. Smith ended his career with a 26-4 record and a 3-0 record against dem boys up North. Pryor left Ohio State with a 31-5* record and enjoyed a 3-01 record against the enemy.
So the question remains, who was the better QB? I have to admit when I sat down to write I thought it would be Smith in a landslide, but a closer look at the stats might surprise you.
Career Passing Stats
|   | Yds | TD | INT | Yds Per Attempt | Completion % | Efficiency rating |
| --- | --- | --- | --- | --- | --- | --- |
| Smith | 5,720 | 54 | 13 | 8.5 | 62.7 | 157.1 |
| Pryor | 6,177 | 57 | 26 | 7.9 | 60.9 | 144.6 |
Pryor started 5 more games than Smith, so it makes sense that his totals are higher. But, when you start to dice the numbers Smith's quality over quantity begins to surface. Troy was deadly when he stood in the pocket (or scrambled out of it) and delivered, especially in 2006. Often Tressel would go five wide and let Smith pick apart an opposing defense to the tune of a 65.3 completion percentage in 2006 (the highest season percentage in Ohio State history). 
While Pryor was efficient in his own right, he simply did not develop into the pure passer that Smith turned out to be. 
ADVANTAGE: Smith
Career Rushing Stats
|   | Yds | TD | YDS per Attempt |
| --- | --- | --- | --- |
| Smith | 1,168 | 14 | 4.0 |
| Pryor | 2,188 | 19 | 5.0 |
The rushing game is where Pryor may have had a leg up. Again, it's important to keep in mind that Pryor started in five more games, so his numbers were bound to be larger. However, he rushed for over 1,000 more yards than Smith and five more TDs.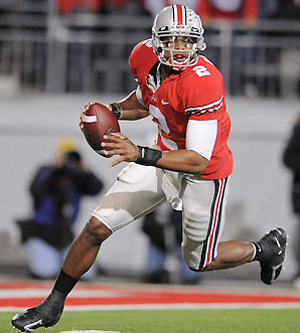 Simply put, Pryor would run over or past the opposition. He was/is incredibly fast (clocked a 4.38 40 at his pro day). So when things got hairy, Pryor would rely on his legs, putting his head down to make a play.
This was Smith's mentality throughout the 2004 and part of the 2005 season, but eventually he evolved his game to the point where scrambling became the fourth or fifth option instead of the second. Smith's ability to keep his eyes down-field and find a receiver in 2006 may have more to do with this disparity in rushing yards than anything. But, on paper and maybe even in reality, Pryor was the better rusher.
ADVANTAGE: Pryor
Michigan Performance
Any judgement passed on a Buckeye QB must be filtered through a "how'd he do against Michigan" lens. Both Smith and Pryor were Michigan killers, never losing to UM during their time at OSU. So, a deeper dive into their career Michigan game statistics should help to shed some light on who performed better during THE GAME.
Career Michigan Game Passing Stats
|   | Yds | TD | INT | Yds Per Attempt | Completion % | Efficiency Rating |
| --- | --- | --- | --- | --- | --- | --- |
| Smith  | 857 | 7 | 1 | 8.5 | 68.3 | 160.48 |
| Pryor | 407 | 5 | 3 | 7.1 | 56.1 | 134.5 |
Arguably (or maybe unarguably) no QB in Ohio State history showed up more ready to pound the maize and blue into oblivion than Troy Smith during his career. His Michigan games were a thing of beauty and his career passing stats reflect that. His 68.3 completion percentage and 160.48 efficiency rating are off the charts. In his last two seasons, (2005 and 2006) Troy threw for over 300 yards in The Game, including a 316 yard 4 TD performance against No.2 Michigan in 2006 that propelled him to the Heisman Trophy. Pryor's Michigan games were solid, but Smith was playing against better competition and slinging the ball around at a much higher level (possibly higher than any other OSU QB in history.) 
ADVANTAGE: Smith
Career Michigan Game Rushing Stats
|   | Yds | TD | Yds Per Attempt |
| --- | --- | --- | --- |
| Smith | 194 | 2 | 5.9 |
| Pryor | 116 | 0 | 3.0 |
Surprisingly, Smith also performed better than Pryor in the rushing game against the maize and blue. Nothing much else to say here other than Smith was possessed by the ghost of Woody Hayes during these games. If you weren't wearing Scarlet and Gray, you were going to get the hell out of his way.
ADVANTAGE: Smith
Additional Accolades
Lastly, I believe it's important to point out the hardware that each collected during their time at Ohio State. 
Smith: In 2005 Smith was listed as an All-BigTen Honorable Mention and then went on to nab the Fiesta Bowl MVP. In hindsight, the Fiesta Bowl was Smith's warning shot to the college football world. The following season he came out guns blazing. By the end of the 2006 season, Smith had claimed nearly every award a QB can collect including the Heisman Trophy, the NCAA QB of the year, a consensus All-American nod, the Walter Camp Award, the Davey O'Brien Award, and the Archie Griffin Award. Smith was also voted to the 2006 All-Big Ten First Team and was given Big Ten Offensive Player of the Year accolades.  Not too bad...not too bad at all.
Pryor: In 2008, Pryor was voted as the All-Big Ten Freshman of the Year and was given an All-Big Ten Honorable mention. In the team's bowl game against Texas, Pryor earned the Tostitos Fiesta Bowl Sportsmanship Award to finish out the season. In 2009, Pryor earned another All-Big Ten Honorable Mention, and began 2010 with a Rose Bowl MVP Trophy for his  superb performance against the ducks. In Pryor's final season, he racked up yet another All-Big Ten Honorable Mention, a Big Ten MVP runner up, and another BCS bowl MVP after roasting the hogs in the 2011 Sugar Bowl. 
While Pryor's bowl performances were memorable, a Heisman Trophy is game over in terms of this comparison.
ADVANTAGE: Smith
Regardless of what you think of Smith or Pryor, both were excellent Buckeye QBs. Their careers were linked due to talent comparisons early. Ironically, their exits (which were not the same at all) gave fans a similar hollow feeling late. While Pryor's career stats are higher than Smith's in many categories, Troy was more efficient especially in The Game (I'm talking to you Lloyd!). 
Smith was the better QB and he may be the greatest OSU signal-caller in history. End of story. Unless Braxton wants to rewrite that book of course.
1 This includes wins forfeited from the 2010 season.