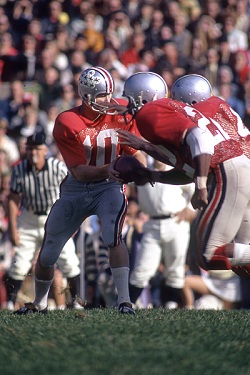 The 1968 Ohio State football team was one for the ages. Led by the "super sophomores", they rolled through the Big Ten season and all the way to a National Championship, demolishing hated Michigan along the way. And the leader of the leaders was a quiet young man from Lancaster named Rex Kern.
Kern was not supposed to start at quarterback for the Buckeyes in 1968, as they had 2-year starter Bill Long returning for his senior year. Furthermore, veteran coach Woody Hayes hated playing sophomores, saying "You're bound to lose a game for every sophomore you start". But the sophomore class at OSU that year had 11 high school All-Americans, and so Hayes changed his mind on that subject.
Ironically, Kern had never intended to play football at Ohio State.  He starred in 3 sports in high school, and the baseball scouts were excited enough about his skills that he was drafted by the Kansas City (later Oakland) A's. But Kern longed to play basketball, and despite offers from powerhouse programs North Carolina and UCLA, he decided to come to OSU to play for Fred Taylor.
Woody Hayes saw the potential in Kern, and convinced him to also play football for the Buckeyes. As a freshman, he played both sports but injured his back playing basketball. Later that year he had surgery on the back, and decided to focus on football. It was a wise move, as he quickly won the starting QB position over the senior Long.
Ohio State had struggled through a mediocre (for them) 6-3 campaign in 1967, finishing 4th in the Big Ten. But they had ended the season with a flourish, winning their last four games including a convincing 24-14 victory at Michigan, where his Buckeyes had forced 4 UM turnovers and committed none themselves. Hayes had now won 6 of his last 8 games against the hated Wolverines, and 11 of 17 overall in his tenure as head coach.
Still, the team had gone six straight years without a conference title and their last title had come with some bitterness at the end as the school's Faculty Council had voted not to send the team to the Rose Bowl because they felt that the school needed to focus more on academics. About those who voted 'No' on the question, Hayes famously said "I respect the integrity of the men who cast them if not their intelligence." That was 1961, and after 7 long years OSU fans were thirsty for another taste of Rose Bowl glory.
With massive offensive tackles Rufus Mayes and Dave Foley doing the blocking, and brusing fullback Jim Otis carrying the ball, the OSU offense was a classic of Woody Hayes smash-mouth football. Halfbacks John Brockington, Larry Zelina, and Leo Hayden were also capable runners, and even Kern could be dangerous on the run. But the passing game had mostly been kept under wraps until now. Kern's abilities allowed Hayes to be a little more daring (for him), and he was ready to open things up a bit with pass-happy SMU (coached by future Iowa head man Hayden Fry) coming in for the season opener.
Kern passed for 145 yards to lead Ohio State to a 35-14 victory, but it was his daring audible at a critical juncture that stood out. With Ohio State leading 19-7 late in the first half, the Buckeyes faced a 4th and 10 and Hayes was about to send the punting team in. But Kern had other plans. The very green starting QB playing for one of college football's most conservative coaches decided to hurry the team up to the line and run a play.  Calling his own number, Kern snapped the ball before Hayes could protest and converted by taking an option play 15 yards for a first down. The coach was unhappy but later had to admit it was one of the key plays of the game. OSU ultimately scored and took a 26-7 lead into halftime.
After being briefly benched during a turnover-prone home win over Oregon (OSU played only 3 road games that season), Kern was back at starter for a showdown with #1 ranked Purdue. The Buckeyes pulled out a 13-0 win that was called by some their "greatest victory ever", but Kern did not see the field after being knocked out of the game in the 3rd quarter. Instead, he watched Bill Long run 25 yards for the clinching score. Kern was injured late again the next week at Illinois and helplessly watched as 3rd string QB Ron Maciejowski drove OSU 70 yards for the winning score in a 31-24 victory.
Hayes still had confidence in his sophomore quarterback, so much so that he designed a different sort of gameplan that was built around Kern's ability to make audible calls. In the next game against 16th ranked Michigan State, Hayes had the team start out on offense running plays without a huddle on the first drive. The move fooled the Spartan defenders and Kern audibled his way down the field, mixing running and passing plays, to the tune of an 83-yard drive. This put the Buckeyes up 7-0 before MSU even saw the ball. Unfortunately for Kern, he sprained his ankle and once again had to watch as Maciejowski, now dubbed the "super sub", led the team to victory.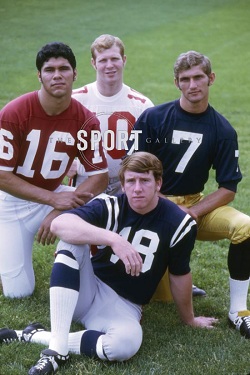 Kern sat out the next week as OSU pasted Wisconsin 43-8 in Madison, but he returned to the line-up for a sloppy win at Iowa in week 8. Playing in rainy, muddy conditions, Kern mostly handed off to Otis and the defense held on for a 33-27 win that set up a huge confrontation the next week in Columbus with Michigan. Ohio State was now ranked #2 and the Wolverines #4.
UM took a 7-0 lead to start, but it was all OSU after that. Kern hardly had to work as Otis and the rushing attack overwhelmed Michigan on the way to a 50-14 demolition. Hayes called only 3 passes in the 2nd half and his team outscored UM 29-0 in the 2nd half to pull away. Undefeated and now ranked #1, the young Buckeyes headed to Pasadena for a final showdown with the #2 USC Trojans.
USC boasted Heisman Trophy winner O.J. Simpson, and he led them to a 10-0 lead to start the game. Unflappable, Kern led OSU back and handed off to Otis for a score to make it 10-7. After an OSU field goal, the game went to halftime tied at 10. In the 2nd half, Kern tossed TD passes to Leo Hayden and Ray Gillian and the Buckeye defense prevailed as they cruised to a 27-16 victory.
With the win, OSU captured the National Championship, a feat they would not repeat until the fabled 2002 season. The win was extra sweet for Hayes, who had quieted his critics and proved that his team could win with sophomores in key positions.  Kern not only walked away a winner on the field, named MVP of the game, but off the field as well as he met his future wife (a Rose Princess) during the lead-up to the game.
Kern's final two seasons with Ohio State were full of triumphs, mixed with a little tragedy. The 1969 team was one of OSU's best ever, but they were upset at Michigan and stayed home for the holidays. The 1970 team gained a measure of revenge by crushing the Wolverines 20-9, but they were then upset by Heisman Trophy winner Jim Plunkett (see picture at left) and the Stanford Indians (they became the "Cardinals" in 1972).
Kern had become Woody Hayes' first All-American quarterback. He finished 3rd in the Heisman voting in 1969, and 5th in 1970. But NFL teams had no interest in him as a passer, and he was passed over until the Baltimore Colts drafted him as a safety in the 10th round.  Kern made the team and played in all 14 games as a rookie, but injuries hobbled him the next year and eventually forced him to retire. Having been drilled on the importance of education by his years with Hayes, Kern went back to school and got his Masters and PhD in education.
In 2000, Kern was named to the Ohio State Football All-Century team, and in 2007 he was inducted into the College Football Hall of Fame. In 2001, he established the Anne and Woody Hayes Endowment for the prevention of child abuse at Children's Hospital in Columbus. He now makes his home in California, but here in Ohio he will always be a legend. And as he watches the multiple options available in the Urban Meyer offense this fall, I wonder if he will think to himself "I could have run that one."