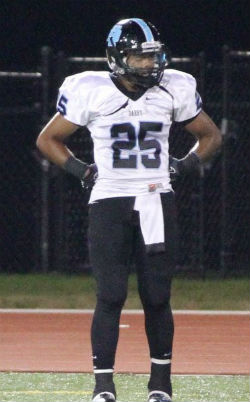 After being introduced to two of the star 2014 prospects in Drew Barker and Dominique Booth over the weekend, it's time to bring you the goods from another rising player in that class who was in attendance for the Spring Game, Hilliard Darby's Devon Rogers.
Rogers is a 5-10/185 athlete who transferred to Darby after playing his freshman season at Westland High School. While he is capable of starring on both sides of the ball, he primarily played defensive back this year as he got used to the new system and the new surroundings of the school.
While he currently holds no offers, that could change very soon, as some big time programs have shown interest in him, including Ohio State. He was recently down on campus for the Spring Game with teammate Caleb Day and both players enjoyed their visit to the Horseshoe.
We caught up with Devon to hear how his visit went, the latest on his recruitment, what position he may play at the college level, and more. Join us after the jump to hear the latest on a 2014 star in the making, Devon Rogers.
You were in Columbus last week for the Spring Game. What did you do while on your visit?
When I first got there we went to the recruiting room and had lunch. We talked to the other recruits that were up there, as well as the coaches. Next we went down on the field to see the team warm-up and watch the Spring Game. Afterwards, we spoke to the coaches again before heading home.
What did you think of your experience at the Spring Game?
I went down with my teammate Caleb Day and we both had a great time. It was a really fun visit and the coaches made us feel comfortable and welcome there. I really liked how the coaches spoke to us often throughout the day.
What coaches did you speak with while there?
I spoke to Coach Fickell, Coach Withers, and Mark Pantoni. They asked me if I was coming to camp in the summer and also said they'd be stopping by one of my practices. They told me to keep doing what I'm doing and to continue to work hard.
Will you be going to the OSU camp this summer?
I will be attending one of their camps. I'm not sure which one just yet, but I will be going.
Did OSU talk to you about a position at all?
They did not mention that this time. I spoke to the safeties coach Everett Withers a lot so I'm guessing they are looking at me more as a safety though. I didn't play offense this past year because I was new to Darby and only played defensive back. I am capable of playing offense though and will be in the running back/wide receiver role this year in our triple option offense.
You mentioned speaking to other recruits while you were there. Who did you speak with?
I spoke to Frank Epitropoulos, Warren Ball, Drew Barker, and William Houston from Dublin Scioto who Caleb is pretty good friends with. The committed guys like Frank and Warren were just trying to get everyone to come to Ohio State and were very welcoming to us. They were all very cool guys and I could definitely see myself playing with them if I end up going to Ohio State.
Do you have any offers right now?
I don't currently have any offers, but many schools are showing interest in addition to Ohio State. Some of those schools are Illinois, Wisconsin, Tennessee, Texas, Nebraska, Oregon, Akron, Toledo, Oklahoma State, and Michigan.
Have you taken any other visits yet?
I have not, but Illinois was just in my school and I plan to make it out there soon. I am also thinking about going to summer camp at Michigan and heading to Wisconsin some time this summer. Nebraska is somewhere else I plan to get out to.
What are you looking for in the school of your choice?
I'm still trying to figure that out. Things that stand out though are academics, the athletic program, the general surroundings and environment of the program, the coaching staff and if I can make a bond with them, and if my family likes the school and feels comfortable with it.
Do you have any favorite schools or schools that stand out early on? Would Ohio State be hard to say no to?
Yeah, Ohio State would be really hard to say no to, but I'm going to look at all my options. The schools I am getting a lot of interest from that I would say make up my top five right now are Ohio State, Illinois, Oklahoma State, Wisconsin, and Oregon.
HIGHLIGHTS: