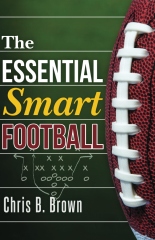 Today's interview picks up where we left off last week with Smart Football's Chris Brown.  Today I focus with Brown upon Urban Meyer and what he believes his impact will be at Ohio State and where he sees the 'spread' offense going.
RRF: The first article in your book regards Urban Meyer's philosophical development, and you have often written about Meyer.  How has Meyer's philosophy developed since your article, and what do you think Meyer's offense will look like at OSU?
CB: Well, the first place I'd suggest to find that answer are all the great pieces you've written for 11W. But I think what I basically foresee is that Meyer's offense will look pretty much like his offense always has, in that it will be spread but multiple-formation with a heavy focus on the run, but with two slight variations. First, think he'll use even more "power" personnel at Ohio State than he did at Florida (and certainly more than Utah), both just because of the personnel and because I think he almost envisions himself running a Woody Hayes or Lou Holtz type power offense, albeit from the spread. Second, in contrast to that -- and to balance it out -- I think Tom Herman's influence will be to help Meyer package a lot of simple quick screens and short passes with the run game, both to give Braxton Miller easy throws and to help serve as "constraints" for the run game. Other than that -- and aside from the fact that Braxton Miller, while a great talent, won't be running as many quarterback dives up the middle as Tim Tebow did -- I think Meyer's offense will look very similar to what he did at Florida.
RRF:  In your study of Meyer's time at Florida, what were the issues when Meyer's offense failed?  In other words, what are the necessary predicate conditions for his approach to succeed?
CB: The first predicate condition is Meyer needs a mobile quarterback, and he has that at OSU When his offense didn't do as well -- in his first year and in his last -- he did not have Tim Tebow, instead working with Chris Leak and John Brantley. This isn't to say that Miller needs to lead the team in rushing like Cam Newton did a few years ago for Auburn, but the entire theory behind Meyer's offense is that an athletic quarterback changes the fundamental arithmetic of the game by occupying a defender and being a threat to run the ball on any play, even if he only runs it a few times a game.
The other issues they had on offense at Florida -- and look, he won two National titles there, which isn't too shabby -- largely were focused on a couple of areas. One was, somewhat inexplicably, Florida's red zone touchdown percentage cratered after Dan Mullen left. In 2008, when Tim Tebow was a junior and Meyer won the BCS championship game, against conference-only opponents Florida scored touchdowns over 70% of the 43 times they were in the red zone. The next year, in 2009, again only against conference opponents, they scored a touchdown only 29% of the 41 times they went into the red zone -- and this was still with Tebow as their quarterback! That drop in touchdown percentage explains almost all of Florida's drop from 43 points per game to 26 points against conference opponents from Tim Tebow's junior to senior seasons. (I'm excluding non-conference opponents since we all know that a few games versus directional U can really skew the stats. And all stats are via the invaluable cfbstats.com.)
The other area of concern is that it seemed Meyer had a difficult time developing playmakers at the outside wide receiver spots. They had great slot receivers and space players like Aaron Hernandez and Percy Harvin, but never got great production from those outside guys despite many of them being top-flight recruits. This was a bit more of a mystery to me (especially since Meyer was a long-time wide receivers coach) but I think much of it may have had to do with the focus on the running game and maybe the limited package of passing plays they used at Florida. This is something I'll be watching from Ohio State this fall, especially since, despite his talent and ability, Braxton Miller is still developing as a passer.
RRF:  Where do you think the "spread" offense is going?
CB: The term "spread" has been disabused to the point that it is almost meaningless, referring to everything from Meyer's offense to Mike Leach's to any time the New England Patriots use the shotgun. So it's difficult to predict the future of something so hard to pin down, but I'll hazard a guess. Right now the arithmetic of the game remains in the spread offense's favor. This is why offensive numbers at every level seem to go ever higher, and defenses are still playing catch up. Spread offense's like Meyer's -- which can run the ball with power, use the quarterback as a true dual-threat, but still use multiple receivers who can spread the field horizontally on quick routes or vertically on longer throws -- force defenses to make a variety of unpleasant choices. If they try to double down on the run game and match the offense's numbers in the box versus essentially option football with the quarterback as run threat, they are susceptible to these quick outside throws and downfield passes, particularly in the seams.
But if they use two deep safeties to stop the passing game, they are hopelessly outnumbered in the run game and will struggle to stop a determined spread-but-power-based run game like Meyer's. This is why, despite the fact that the mentality he wants to bring is essentially a smashmouth power run-game one, Meyer believes in the spread.
Yet defenses develop answers. This isn't the same thing as simply saying "things go in cycles." I don't really think they truly do. In a very generic sense, sure, sometimes the run or the pass or umbrella or press type defenses are more in vogue than at other times, and in that limited sense things are cyclical. But the specific strategies take leaps forward, often incorporating those older ideas but always in new ways. Right now, we're still in the age of the spread, though maybe we're getting towards the end of it. Football history, however, is replete with examples of devastating offensive attacks that suddenly, often without warning, simply stopped working. The T-formation blew teams out by forty, fifty, sixty points a game -- until suddenly no one ran the T-formation anymore. The wishbone was unbelievable, until every team was using the Miami 4-3 and was "spilling" the option from the inside to out to the sideline, where it could be hemmed in and contained.
Eventually, some intrepid defensive coach will figure out how to match the spread's arithmetic, and when it happens it will hit the spread offense like a ton of bricks. But no, it hasn't happened yet; for all the hand-wrining about the spread, the math remains in its favor, and the statistics back up its success.
But if you want a clue to where the antidote to the spread might reside, I'd suggest looking to the defense run by Alabama's Nick Saban. His team -- and more specifically, his defense -- is the obvious counter example to the above narrative of spread-as-dominating force. And a big part of that is the math: Through a combination of man coverage and some sophisticated pattern read techniques that enable him to play a Cover 3 yet not give up those easy throws to the seams, he can put only a single safety deep against run-first spread attacks and therefore still stack the box for the run game. Meyer and Saban traded wins and losses back and forth when the two of them were in the SEC, and the games were tough, hard-fought games.
And, if Meyer wants to win a National Championship at Ohio State -- and given what a coach he is and the kind of talent he has and will bring in, that's clearly within reach -- it's highly likely he'll need to go through Saban to do it.