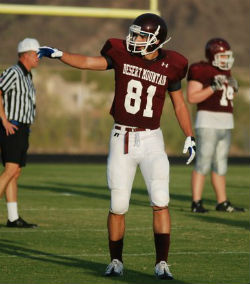 The day 6'5" wide receiver Jake Stoneburner of Dublin Coffman committed to Ohio State, fans envisioned a player capable of changing the offense by leaping over defensive backs to bring down balls or using his blazing speed to beat slower linebackers and safeties.
Of course, that's not how things went for Stoneburner, now a tight end, who has just managed 37 receptions for 445 yards and 9 touchdowns in his three years on the field in Columbus. That is all expected to change as Urban Meyer has big plans for the local product and fans may soon be missing Stoney's on-field results rather than "what could have been" expectations.
The good news for fans is that "the next Stoneburner" could be on the way to Columbus, as the Buckeyes have recently offered 2014 WR/TE Mark Andrews of Scottsdale (AZ) Desert Mountain.
The 6-6/225 Andrews lines up at receiver for his high school, just like Stoneburner did, but many project him to move to tight end at the next level. Regardless of position, Andrews can play, as he is extremely tall in helping him to grab balls over defenders, but also has the speed to beat fast. defensive backs
We caught up with Andrews to hear the latest on his recruitment, what his thoughts on Ohio State are, what position he will play in college, and more. Join us after the jump to hear about one of the more intriguing prospects in the class of 2014, Mark Andrews.
How did your sophomore season go? How did your team do and how did you perform?
My sophomore season went pretty well. My team ended up 4-6, but it could have easily been 8-2. I had 1,058 yards on 58 catches with 10 touchdowns.
I know it's early but how is recruiting going so far? What offers do you have right now?
Recruiting is really just so new and surreal to me that I'm just trying to take it all in right now. My offers have been from Ohio State, Michigan, Nebraska, Arizona State, Arizona, Utah, Oregon State, and UCLA. 
Ohio State was one of the latest to offer you. How did that offer and just your recruitment with them go down?
I had been talking to Coach Tom Herman, the offensive coordinator at OSU. He told me he really liked me and sent the receivers coach [Zach Smith] to one of our practices to evaluate me. After that practice I was informed by my coach that I had an offer from Ohio State.
How do you feel about Ohio State and their program?
Ohio State is an amazing football program with a lot of history and tradition. I am very interested in what they have to offer.
What visits have you taken so far? What visits do you have planned?
I haven't taken any visits yet. I'm still trying to figure out everything of what trips I will take as it is all still very new to me.
Do you plan on visiting Ohio State? 
Yeah, I think I'm definitely going to have to make it out there and check it out, but once again I'm not sure when that will be.
When would you like to make a college decision? Do any schools stand out to you right now?
It's so early that I really don't have an answer to that question and can't judge what schools really stand out right now.
You're 6'6" and some have you as a receiver, while some have you at tight end. What are colleges looking at you as and what do you prefer to play? What is OSU recruiting you as?
I'm mostly being looked at as a wide receiver, but some coaches have mentioned tight end. I would much rather play wide receiver in college and I believe I can be successful there. Ohio State is recruiting me as a wide receiver.
What are you looking for in the school of your choice?
I am looking at the coaches that I interact with, the academic opportunities for athletes, where I see myself fitting into the offense, and then just where I feel the most comfortable. 
What do you feel are your strengths on the field? What are some things you want to improve on?
My strengths are definitely my speed and size combination, as well as my strength. My weakness would be the mental aspect of the game. I only started playing football my freshman year of high school so every day I go out on the field I am always learning a bit more of the mental aspect of the game.
HIGHLIGHTS: