We are back with another addition of 11W Recruiting Mailbag and this time I am here to answer all your basketball recruiting questions from the last few weeks.
There has been a handful of news regarding the 2012 Ohio State recruiting class which seems yet to be finished.
With three spots still open for the 2012 season, the staff still has plenty of options to fill them, even with the official national signing period over.
The Buckeyes have already locked down a shooting guard for 2012 in Amedeo Della Valle, but have the flexibility to add transfers or any other late additions.
As we approach June 18th, the start of summer classes at OSU and the first day new basketball recruits usually enroll, many loose ends should be tied which brings us more recruiting news.
Also, with the 2012 class finishing up, we also turn our attention to the future with the 2013 targets looking to make moves and the 2014 prospects starting to create short lists.
Will Ohio State try to lock down a few more players for this upcoming year?
Ohio State currently has three open spots for next year's roster including the April commitment from G Amedeo Della Valle. The Buckeyes are currently in the running for Rodney Hood, who is transferring from Mississippi State, and are apparently interested in 2013 big man Tony Trocha, who is waiting for his test scores that could make him eligible for the upcoming 2012 season.
What is the current status of Rodney Hood?
Hood, who is from Mississippi and friends with current Buckeye LaQuinton Ross, is said to be down to Ohio State and Duke. He is scheduled to visit Duke during this week's K Academy Fantasy Camp and is looking to visit to Ohio State soon as well. Hood may be visiting Columbus June 1-3.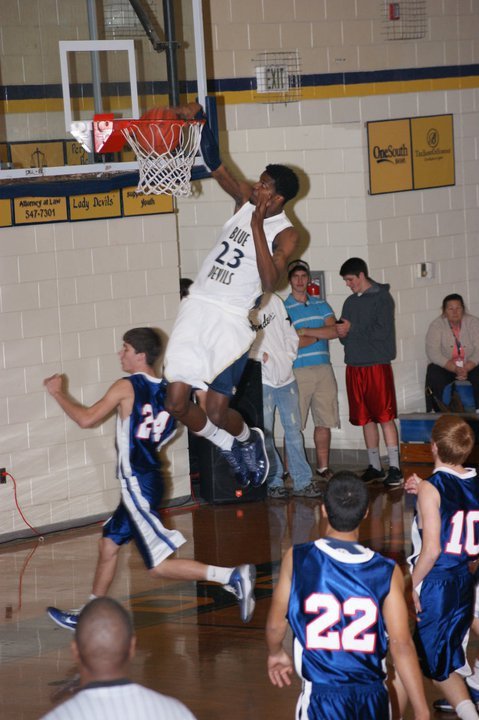 If Ohio State lands Hood, how does he fit on the Buckeyes?
Hood will actually have to sit out the 2012-2013 campaign regardless of where he ends up due to NCAA transfer rules. If he picks Ohio State, he could fit in right away and have an immense role on the Buckeyes after he sits out for a season.
Hood (6-7/190) is a former 5-star McDonald's All-American who would definitely play the wing on the Buckeyes. He averaged 10.3 points and 4.7 rebounds as a freshman which shows he is ready to be an everyday contributor. Hood is long, athletic, and can get to the hoop with the ball in his hands. He is also a very efficient defender, so he fits the Buckeye wing mold perfectly. Hood will have three years of eligibility remaining.
Who would you say has the best chance to land Hood?
Hood has kept the transfer process relatively quiet, especially regarding who he is favoring. Obviously, transferring is entirely different that committing as a high schooler. 
If the competition is really between Ohio State and Duke, it may be tough for the Buckeyes to make a solid case over Duke because of depth. When Hood is eligible, the Buckeyes roster will most likely have a lot of competition on the wing with Sam Thompson, Marc Loving (2013 commit), LaQuinton Ross, Lenzelle Smith, and DeShaun Thomas all able to play in that spot, although many fill other roles as well. Duke, on the other hand, does not have the same depth on their wing, for now. Duke's only true wing from last season, Michael Gbinije, is transferring and the Blue Devils brought in Amile Jefferson for this coming season.
Do the Buckeyes have any shot at Jabari Parker (#1 player for 2013)?
It seems like every school has a fair shot at Jabari Parker (Simeon H.S.) right now but he obviously has mid-sized list of schools that he is considering. Ohio State actually has a very decent chance to land him. Parker is from Chicago and the OSU staff has had some decent success recruiting the area. Also, you can guarantee that Thad and staff is selling OSU to Parker using success stories like Evan Turner to increase Parker's interest.
Ohio State is currently on Parker's list along with other major programs such as Illinois, North Carolina, DePaul, Duke and several others.
Who is Tony Trocha and do the Buckeyes have a chance to get him to Columbus?
Tony Trocha is a center out of Houston (6-10/190), Texas who is in the 2013 recruiting class. He has recently let the world know that he is waiting for his test scores that may make him eligible to be in the class of 2012. 
So, with three open scholarships, Thad and staff thought why not reach out and see if he's interested in Ohio State. So far, Trocha has not mentioned too much interest in Ohio State and will most likely make quick visits to Oregon, Kentucky and a few Texas schools before deciding. If the staff can get Trocha to visit, the chances OSU has another big man for the coming year could be much higher. A visit could change everything.
Where do the Buckeyes stand scholarship-wise after the 2012 season?
Well, there are plenty of "unknowns" that need to be answered after the 2012 season including early departures for the NBA, transfers, and commitments among a long list.
Currently, and assuming OSU doesn't land a transfer or another player for 2012, the roster will be at 10 players for 2012. Evan Ravenel will graduate, leaving OSU with 9 guys or 8 if DeShaun Thomas leaves a year early. Marc Loving is committed which makes a whopping 9 scholarship players for 2013, so far.
I do expect the staff to recruit hard for the 2013 class and the Buckeyes to have four or five commitments when it's all said and done. There is already a ton of interest among the top players in the 2013 class and a commitment by a top player could create an instant domino effect. Thad and staff should have another class similar, size-wise, to the 2011 class which had 5 members. The staff has already been hitting the 2014 trail knowing that there will potentially be many open spots for the class.
Who are the must haves for the 2013 class?
The Buckeyes badly need big men. The squad is set for the next few years on the wings and add even more with Loving already committed. Adding depth to already thin position (Amir Williams, Trey McDonald, Ravenel graduates) at power forward and center is beyond necessary.
Florida C Chris Walker (6-10/205) is a big time prospect who often says he's interested in Ohio State, Florida, and Kansas and falls on everyone's top 10 list. Along with Walker, Maryland C BeeJay Anya (6-8/255) could be another prospect to fit in at the four or five for the Buckeyes. Anya has a long list by Indiana may have emerged as a favorite after Tom Crean hired Towson assistant Kenny Johnson, who is strongly tied to Anya's AAU program.
Along with big men, the Buckeyes could use some depth at every position besides the wing. Aaron Craft will already be a Junior this coming season with Shannon Scott a year behind him. The team could use another point guard and a few shooters. SC Sindarius Thornwell (6-4/175) and NV Allerik Freeman (6-4/210) are both highly recruited shooting guards that have the Buckeyes high on the list. Freeman attends Findlay Prep with recent OSU commit Amedeo Della Valle.
What are the chances the Buckeyes land 2014 prospect JaQuan Lyle?
It is too early to tell for this 2014 prospect. Lyle, who is from Evansville, Indiana, seems to be only looking at local schools and has stated that he speaks to the Louisville and Ohio State staffs the most. This can only be positive as he'll most likely develop a good relationship with Dave Dickerson (his main contact at Ohio State) and Thad Matta. Lyle visited Ohio State back in February for the Michigan basketball game and the staff promptly offered him a scholarship.
What definitely could change the game is Kentucky's passive interest in Lyle. If Lyle expresses more interest in UK, I would not be surprised if Calipari swoops in at the last minute and scoops up Lyle during the signing period. It seems that Calipari has that power.
When it's all said and done, this will be a battle between Louisville and Ohio State with Indiana, Michigan State, and Illinois. However, another major program could easily step in as Lyle still has quite some time until he has to make a decision.
That's all for this edition of 11W Recruiting Mailbag. Thanks for all the questions and if you have any more, feel free to send them my way.