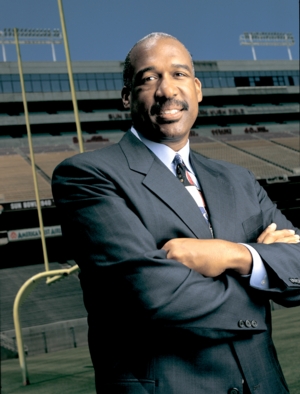 When life hands you lemons, make lemonade. When Ohio State Athletic Director Gene Smith hands you those lemons, you hop online and blog about the bitter taste on thy tongue. 
This Wednesday, Smith gave reporters and bloggers the gift that keeps on giving in an interview with The Lantern: diarrhea of the mouth. Facing intimidating student reporter Pat Brennan, Smith managed to allow an innocuous comment turn into a tsunami of more unwanted publicity for OSU athletics. 
Such is the Midas touch of Smith. 
The latest tidal wave began last week when the Cleveland Plain Dealer found that Ohio State self-reported 46 violations in the past academic year. Smith was in the process of describing the nature of those violations, as well as 12 "pending" possible mishaps the NCAA is currently examining. The savvy Smith added a contextual goldmine by noting the violations, "may turn out to be secondary. (They) may not."
Before the virtual ink had dried on the interview, the sharks smelled blood in OSU's violation-infested waters. ESPN linked the fools gold on the front of its website. Before Brooks Melchior of Sports by Brooks fame could quickly concoct an additional twist on evil OSU athetics, Brennan had gone into full-on defense mode proactively releasing the audio of his conversation to prove he was not misquoting Smith. 
No one ever needed audio confirmation of his ineptitude, but Brennan gave it to us anyhow. 
The implication of Smith's comments was that Ohio State might be facing more major sanctions by the governing body. As it turns out, the audio confirmed Brennan wasn't in the business of being an aspiring shoddy hack, although his future with the Worldwide Leader in Sensationalizing Sports might be bright. Smith said what Brennan claimed, but in the defense of the lame duck P.R. blunder robot, he likely could have meant they might not even be violations at all. 
It's his skillful craft at making a story bigger than it is in reality as to why OSU needs to cut bait. 
The most ironic part of the Gene Smith story is that he was hired by OSU to guide the university through the complexity of ongoing NCAA sanctions in 2005. The former Arizona State AD had formerly served on the infractions committee, and allegedly his contacts within the NCAA hierarchy would keep OSU from being lined up in front of the NCAA firing squad. 
Oops.
As it turns out, either his influence was embellished or he needs to cash-in the warranty on those faulty connections. 
Head coach Jim Tressel was fired resigned last spring over the snowballing media impact of learning he had been privvy to possible violations committed by six players in a tit-for-tattoo scandal. In literal terms, the players received cash or discounted tattoos in exchange for autographs and persona memorabilia. A tipster, now known to be attorney Christopher Cicero, alerted Tressel of the players' items turning up in a raid of the apartment of then-alleged criminal, Edward Rife. 
The players had been suspended for five games in the previous December, although much to the public's chagrin, they were allowed to play in the now-vacated Sugar Bowl victory against Arkansas. A month later, the grim reaper of NCAA violations -- Yahoo! Sports -- found that Tressel knew about the possible violations and did not report them. Tressel survived the initial onslaught of unwanted attention with President E. Gordon Gee going so far to add, "I hope he doesn't fire me." 
Eventually, though, pressure mounted. SI's George Dohrmann published a stunning exposé on Tressel rigging ticket raffles and preaching the Gospel from his ringside seat in baby-snatching. The non-revelations from the Pulitzer-winning author, though, was enough for OSU to part ways with the man that Dohrmann concluded could not part the Red Sea.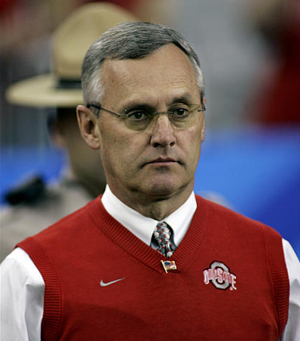 Tressel was out. Eventually, Urban Meyer was in.
Unfortunately, one can't even really give Smith too much credit for the hiring of Meyer as he was mostly a figurehead (reportedly). Smith's contribution to the hiring of Meyer consisted of signing a dotted line, showing up at the press conference and memorizing a rehearsed timeframe for when contact was [allegedly] first made. It was a simple task that even Smith could not screw up. The deal had been put together by OSU trustees and couriers, most especially billionaire Leslie Wexner.
OSU returned monies generated from the Sugar Bowl appearance and imposed scholarship restrictions in hopes the NCAA would not punish them further. That appeared as if it was going to work, until they were slapped with an additional Failure to Monitor charge by the NCAA in November on account of $2,405 in impermissible benefits provided to athletes by ex-booster Robert DeGeronimo. Smith and Ohio State procrastinated with their response to the NCAA on the allegations, causing the entire timetable of the simultaneous case to push late into the football season.
It was at that time Smith needed to hedge his bets and self-impose a bowl ban for the 2011 season while there was still time. Instead, he relied on his keen intuition and impeccable sources within the NCAA expecting OSU would be in the clear. This was in spite of some experts believing a bowl ban was at best a coin flip, if not a mathematical probability. 
Smiths' game of roulette backfired. Ohio State suffered a self-inflicted gunshot wound and was given a bowl ban in December. Because it was so late in the process, the penalty would not be enforced until this upcoming season. 
When Urban dons the Scarlet windbreaker for the first time this fall, he'll do so without any hope of a postseason appearance. 
While blaming Smith is as fashionable as blaming ESPN, the Illuminati or Kim Kardashian, it's hard not to justify doing so. He has an ability to urinate into a brush fire with gasoline and turn it into a raging forest inferno. Major universities, not unlike major corporations, are supposed to have gifted spokespersons capable of downplaying and minimizing a public relations nightmare. Instead, Ohio State has people skilled at turning an ordinary daydream into a such a nightmare. 
To this day, some levy allegations that Tressel fell on a sword to protect Ohio State; namely Smith and higher-ups in the athletic department knew of the allegations well before they were ever made public. Such allegations would be damning and it implies severe institutional culpability. Fortunately for Ohio State, no such insinuation has ever been substantiated. Nonetheless, either on purpose or by accident, Smith shares a large portion of blame in this mess. 
Perhaps that he still has a job is an indictment that he knows where the bodies are buried. Maybe Gee just hopes Smith doesn't fire him either. Whatever the reason for his continued employment, OSU is losing a daily battle against public perception. As long as perception is reality, Smith is turning into a flesh-eating virus and is helping create what he was hired to avoid. 
When seasoned spin doctors of the national media manipulate a story, one can understand if Smith is seen as a victim. After all, the press can be a vindictive, hungry pack of wild animals. But when student reporters begin to create mountains out of molehills, it's clear Smith is overmatched. Teenagers aren't supposed to take down the AD of the second-largest athletic budget in America. 
Things will only get worse before they get better. As long as Ohio State is a nationally recognizable brand and moving target, they'll be in perpetual state of despair. In a world where social media is ready to prey on its next victim with any minor snafu, OSU needs an athletic director that can minimize the damage rather than add to it. This latest blunder is proof positive that the smallest misstep can turn into a mishap of gargantual proportions. 
It's too late for Tressel. It's too late for Meyer at least for this season. And no matter what OSU does going forward, it cannot undo the last 18 months of relentless media scrutiny. That's not to say Ohio State is without recourse.
Looks like it's time to dose the lemonade with cyanide.