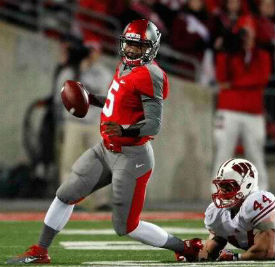 Spring practice has now ended in Columbus, meaning that not only will you see live action on the football field for the Buckeyes until August, but also that we head into a slight lull in the recruiting season.
Things will pick back up again in June when the camp season rolls around, but as coaches are out evaluating talent and checking on top targets during the live period, it is expected things will slow down a bit, at least in the meantime, when it comes to commitments rolling in.
To get you through the slow days of summer, I will take you on a journey to get an in-depth look at the Ohio State recruiting board, position by position. The "Forecasting 2013" segments should give you a better look at "who's in", "who's out", and "who's still left" for Urban Meyer and the staff to go after, as well as create a more clear picture of how the recruiting class of 2013 may finish out come next February.
This week, we take a look at the quarterback situation at Ohio State, a position of need considering there won't be much depth on the roster ahead of when these 2013 stars step on campus. Join us after the jump to get a better look at the recruiting picture behind center, as we fill your brain with knowledge about who may be the next "second most important person in the state of Ohio".
Who's In?
This one is easy for Ohio State fans, as most know by now that the Buckeyes landed the number on player on their board in JT Barrett.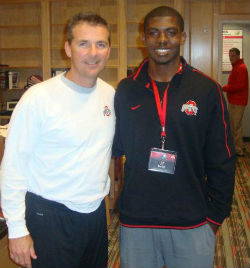 The Wichita Falls (TX) Rider signal caller is rated as a four-star prospect across the board and the top dual threat quarterback in the country by 247 Sports. He had a tremendous junior season last year in which he threw for over 1,600 yards and 14 touchdowns as well as rushed for over 1,500 yards and 9 touchdowns.
More importantly than what he did on the field in high school, Barrett fits the Urban Meyer/Tom Herman offense like a glove. While he definitely needs to work on his accuracy, Barrett has proven he has a strong arm that can succeed in the vertical passing game that Herman has stressed so often this spring, as well as the speed and athleticism to run the option run to the edges in the spread.
Off the field, Barrett fits in as well as he is a high character kid with a strong work ethic. You can already tell how his maturity and mindset of the college game will pay off through his feelings on redshirting and learning from Braxton Miller when he gets to campus, as well as how he is a "Meyer kid" in the sense that he's looking for a football family.
All in all Barrett was a huge get for Ohio State and if the class only ends with him at the position, you can sleep well at night.
Who's Out?
Barrett wasn't the only quarterback Ohio State has gone after hard, and by him being the only one in the class, that means the Bucks missed on a couple prospects they targeted early on.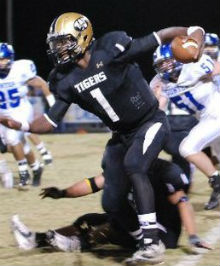 The players that had offers from OSU that have committed elsewhere include Tyrone Swoopes of Whitewright, Texas, Brice Ramsey of Kingsland (GA) Camden County, Aaron Bailey of Bolingbrook, Illinois, Malik Zaire of Kettering Alter, Jonathon McCrary of Ellenwood (GA) Cedar Grove, and Bucky Hodges of Virginia Beach (VA) Salem.
The only two players on that list that definitely had committable offers are Swoopes, who committed to Texas, and Ramsey, who has long been committed to Georgia. The other prospects named either had non-committable offers or it has been questioned if their offers from the old staff still stood under Meyer. Nonetheless, they are off the board as Bailey went to Illinois, Zaire went to Notre Dame, McCrary to Vanderbilt, and Hodges to Virginia Tech.
Looking at these players, a few of them would have fit in well at Ohio State, but by getting Barrett, none become a huge loss. It will take a few years to judge how Ohio State fared in missing out on some of these prospects, but right now you can't jump off the ship in terms of what was missed.
Who's Left?
We've told you who's in and we've told you who's out. It's now time to tell you who is left and who may end up as the second quarterback in Ohio State's class of 2013.
There are two players remaining on the board that claim scholarship offers from Ohio State and they are Mitch Trubisky of Mentor and Darryl Richardson of Seffner (FL) Armwood.
Trubisky is one of the faster rising prospects at the position and as of now has a non-committable offer from the Buckeyes. The staff has told him he is their top target for the second quarterback position, and just needed to see him throw in person before offering. The coaches were at his school last week to watch him throw, and while no news has come yet, we should find out soon if that scholarship offer becomes committable in the very near future. If it does, I expect Trubisky to be a Buckeye and end recruiting at the position.
Richardson is a player who was offered by the old staff, but it doesn't seem like Meyer and Herman are sold on him based on their pursuit. I would be extremely surprised if his name resurfaces at all  when it comes to Ohio State and, while I think he is talented, I don't think he will be a Buckeye.
There are also a number of players on OSU's radar that have not been offered and are being evaluated as back-up options should they be needed. Those players are TraVon Chapman of Kent Roosevelt, Javon Harrison of Huber Heights Wayne, Chavas Rawlins of Monessen (PA) Senior High School, and Brogan Roback of Toledo St. John's.
Out of this list of players, I personally like Chapman the best and think he would fit in to the offense well. He definitely would need some polishing at the college level, but that would be my next target if things did not work out with Trubisky. After that Rawlins is likely the next target on the list, but if they missed on Trubisky, I wouldn't be completely shocked to see the spot in the class used elsewhere and a strategy of taking two quarterbacks in 2014 being put into place.
All in all, I expect Trubisky to be offered in the near future and would be surprised if a commitment didn't happen shortly after. Mitch would be an excellent addition to Barrett in this class and the two would give the Buckeyes a much better feeling about the quarterback situation heading into the future.