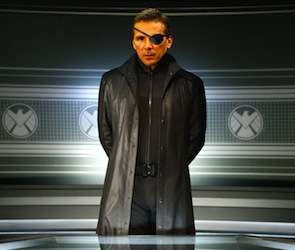 Opening today, The Avengers marks the unofficial beginning of the summer movie season. A sequel of sorts to several others set in the Marvel universe, the blockbuster-to-be is one of the most highly-anticipated films this year1.
In part, that can be chalked up to the success of the previous flicks. But it's also receiving mostly favorable reviews and involves a well-regarded cast and crew. Behind the scenes, there's the creative mind of director and geek god Joss Whedon, and in front of the camera, the leading actors boast multiple Academy Award nominations between them.
Perhaps above all, why our appetite for superhero movies borders on insatiable is because audiences simply enjoy the basic premise of the story: a ragtag group of dysfunctional good guys overcome their differences and combine forces in order to defeat evil.
For a program as accomplished and talent-rich as Ohio State, Scarlet and Gray fans certainly understand the excitement moviegoers are feeling. Looking to avenge the demons of last season, the football team will have to band together to defend Planet Buckeye. 
An expert game planner with an intensity that commands respect, Urban Meyer can handle clashing egos and provoke his players into maximizing their potential. 
And just as S.H.I.E.L.D. director Nick Fury recruited Iron Man, Thor, The Hulk, Hawkeye, Black Widow, and Captain America to save Earth2, Urban has taken charge of this squad, which consists of key players who will help Ohio State return to its winning ways.
With a larger-than-life personality, Tony Stark, a.k.a. Iron Man, takes over any room he enters. He is also limited by a piece of shrapnel embedded near his heart, which requires him to wear a chest plate to stay alive.
Johnathan "Big Hank" Hankins knows a thing or two about drawing attention. When he first stepped foot on campus, the 6'4" defensive tackle weighed more than 350 pounds. Quick for his size and more athletic than he appeared, Hankins earned playing time during his freshman season and recorded 16 tackles, including a sack and 1.5 TFL.
A year later, he was 15 pounds lighter and had improved his conditioning so much that he went from playing about 15 snaps a game to 60. As a result, Big Hank totaled 67 tackles, 11 of which were for a loss, and three sacks. He notched a fumble recovery as well.
Now, after shedding another 15 pounds, Hankins is supposed to have a monster junior season. He is currently projected as a 2013 first-round draft pick, but if he's hindered at all, it will probably be due his knee. He had to wear a brace around it towards the end of his sophomore season and after undergoing arthroscopic knee surgery a couple of weeks ago, he was forced to sit out of Ohio State's spring game. 
Big Hank's partner-in-dominance on the defensive line is John Simon. Although he lacks the flowing golden locks of Thor3, he can seemingly match the son of Odin's otherworldly strength. Similarly, you wouldn't want to infuriate Simon's father.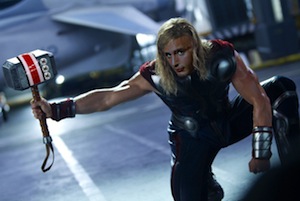 A man of action more than a man of words, Simon so impressed Urban that the coach called him "Tebowish", comparing him to one of his former players who others have deified.
He ended last season with a team-high 16 TFLs and 7 sacks and for his senior year, expectations are even higher. Throughout the spring, he constantly disrupted the offense, and as a leader both on and off the field, the rest of his line will try to follow suit.
Early on in his freshman year, it became clear that people wouldn't like Ryan Shazier when he's angry. His bone-crushing hits on special teams soon translated to increased playing time on defense at the Will spot, where he started for the final three games of the season.
His 57 tackles included five TFLs and three sacks. He also came away with two forced fumbles and a blocked punt. Barring unforeseen circumstances, that should pale in comparison to the stats he puts up for the remainder of his career.
Once considered on the small size for a linebacker, the sophomore is now looking dangerously powerful. That's bad news for any opponents who set him off. 
While not there quite yet, Buckeye fans are hoping Braxton Miller can one day claim the same excellent marksmanship of Hawkeye4. A dual-threat QB who led the team in rushing a season ago, Miller's passing game has steadily improved. On October 15th at Illinois, the freshman was a mere 1/4 for 17 yards. Over a month later, he went up against Michigan for 14/25 and a career-high 235 yards.
Miller finished his first year with his best completion rate, 78.3% (18/23), and threw two touchdowns versus zero interceptions in the Gator Bowl. Even though Meyer, an admittedly tough grader, only gave his accuracy a B or a C after the spring game, Miller still completed 24/31 for 258 yards. 
As he's becoming more proficient as a quarterback, there's no change in Miller's demeanor, which remains stoically cool like Clint Barton. 
In the world of Marvel, Hawkeye shares a connection with Black Widow just as a QB must do with his backfield. Black Widow, with a diverse skill set and an ability to elude men much bigger than herself, has a male football counterpart in Jordan Hall.
One of the few players Meyer has deemed worthy of being a playmaker, Hall is viewed as the closest match on the team to Percy Harvin, Urban's star utility man at Florida.
Hall is similarly versatile. A running back in name, the senior can also line up as a wideout and return kicks. In last year's one-dimensional offense, he managed to do all three, accounting for 408 yards on the ground, 114 receiving yards, and averaging 26.3 yards on kickoff returns.
In the new offense, the goal is to get Hall in open space so he can make guys miss. 
Jake Stoneburner was also hamstrung by the conservative play-calling of yesteryear. Like Captain America, frozen in ice for a long time and now being put to use again, the tight end finally sees an opportunity for him to catch the ball on a consistent basis. A wide receiver in high school, Stoneburner has the capability to do so and offered a glimpse of that a season ago. 
With seven touchdown receptions, he led the 2011 Buckeyes in that category. The problem was that he only hauled in a total of 14 catches all season and seemingly disappeared for stretches at a time. That should change now that the new coach has excavated Stoneburner; Meyer is ready to employ the tight end on his mission to keep Ohio State safe from the dangers that recently plagued them. 
Of course, in a sport like football, there are more than a select few who must do their part. Superhero or not, the team has to unite in order to take down a common enemy, whether it's the Chitauri or the Wolverines. But with this crew leading the way, our Scarlet and Gray world is well-protected.
1 In case anyone is worried about spoilers, there will be none in this piece. The movie just came out and I didn't care to ruin specific plot points for myself or others.
2 I haven't read any of the comic books, so if get a detail or two wrong, please don't go too Comic Book Guy on me. 
3 And as far as I know, John Simon does not work at Dawson's Garage.
4 Not Drew Tate.