G'day, ladies and gentlemen. We're now 72 hours away from the Spring Game, and whether you're planning on attending in person or watching on BTN, it's safe to say most of us are looking forward to our first taste of football for months. 
Well, unless you're an OSU student and got to check out practice on Saturday. If that's the case, then you can enjoy an encore of sorts since your BuckID grants you free admission to the Spring Game. And, you're also allowed to take part in a town meeting with Urban Meyer and his staff on May 15.
There are times that I don't miss the college life, like when I think about reading 1,000 pages about Tocqueville and Keynesian economics in a week, having to study for an exam rather than watch Pete Campbell get KO'd, or sharing a bathroom with three other females.
Then again, being a good student was one of the few skills I could ever claim1, a mostly useless list that also includes staying awake for long periods of time, being able to commit to memory the filmography of random actors, and fulfilling a negative gender stereotype by getting lost even when I have simple directions to follow.
Sure, I don't have to write papers anymore at 3 AM the morning that they're due2, but seeing from afar how the current students get to savor Ohio State athletics on a more immediate and intimate level than I do gives me a twinge of nostalgia and envy. 
And now that I'm sounding like a bitter old lady, I should note that I can't complain about my time there. I went to The Ohio State University, after all. I witnessed many outstanding sports moments in my own right, and I certainly hope that continues to happen for each new class, as it did with previous generations.
Just think of Jenny, the high school senior the aforementioned Pete Campbell tried to mack on in 1966 and who was headed to Ohio State, where she would celebrate a national championship in two years. May there be another 17-year-old today who can boast the same thing. The second part, that is. I do not want a married man in his 30s trying to pick up this hypothetical girl.
THE URBAN DIVIDE. Even before he was hired, how Urban Meyer will fare at Ohio State has been a hot topic of debate. Seemingly every day for over a week, The Sporting News has posted a new article about why he was so terrible at Florida, where he won two national titles and went 65-15.
There are even some detractors locally. Greg Billing of the Dayton Daily News offered his commentary, in which he described himself as excited but admitting to having doubts as well. That's hardly an unreasonable opinion to hold, but then he compared the new coach to Terrelle Pryor because they both supposedly have "controversial baggage."
While I agree that no one should view any player or coach as a panacea, the two situations are not even in the same galaxy, and I really just linked to the article to remind everyone how ridiculous this subject has gotten. 
Despite the criticism lobbed his way, Meyer also has of plenty supporters, including former Buckeye captain William White, who praised the new man in charge at a scholarship dinner earlier this week. White told LimaSports.com's Jim Naveau that in a recent conversation, Meyer relayed to him, "'William, you know my philosophy. If I can beat them by 45, I want to beat them by 50.'"
The ex-safety, whose years at OSU coincided with Meyer's tenure as a grad assistant, went on to compare him with Jim Tressel:
"Coach Tressel, I call him a CEO coach. He is not a motivator that is going to get in your face. But he's going to talk to you logically and you're going to be like, 'We can win this game.' But it's not done with a lot of flash and fanfare and people wanting to jump off the roof.

"With Urban, things make sense but there's going to be a lot of intensity," he said. "After the year we just had, I think it (hiring Meyer) probably was the best move we could have made."
Nowadays, White works in the engineering department at the university as a director of development. He earned his degree in 1992 while he was in the midst of his 11-year NFL career. 
THE BOREN SUPREMACY. Tim May shone the spotlight on captain-to-be Zach Boren, who up to this point has only one carry to his name, a 2-yard run against Michigan in 2010.
In Saturday's scrimmage, he carried the ball twice and caught a pass, a sign that the fullback will be more than just a blocker this coming season. According to his position coach Tim Hinton, "you've got to find ways to give guys who are your football players the ball and opportunities to be successful within the offense."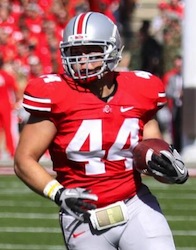 Like with the tight end, spreading the field means Boren should get the chance to touch the ball more. As such, he's been practicing his footwork and similar to other offensive players, he said, "I'm excited I will have that opportunity."
FORGOT ABOUT DE. Although a lot of attention has been paid to the offense in the offseason, Rusty Miller points out that in comparison, the defense has been flying under the radar. Well, as much as a unit can that features the likes of John Simon, Johnathan Hankins, and Ryan Shazier. 
Speaking of Meyer-favorite Simon3, he proved his captain worthiness by downplaying the coach's raving. The senior declared, "It's a great honor everything that he says about me. But we've got a lot of guys on this team who deserve that honor as well."
Other than faster-paced practices with more emphasis on competition, the only other noticeable change on the defensive side is in the secondary, where the new staff is stressing the importance of interceptions. Travis Howard Island explained:
"Their new addition coming in was for us to be more ballhawks and have more ball-awareness. Playing off, that gives us more opportunities to make plays on the ball instead of just being pressed up man to man on a guy and not being able to see where the ball is coming."
Helping the secondary is the defensive line's dominance and ability to pressure the quarterback. CB coach Kerry Combs noted that when the DL can get that done with a four-man rush, then it allows for seven guys in coverage. All in all, they expect more than the 13 interceptions they hauled in last season.  
SAME TIME, NEXT YEAR. With Sullinger and Buford off to the pros and Sibert and Weatherspoon transferring, Thad Matta is losing four players from this season's squad. However, Mansfield News Journal's Rob McCurdy outlines why next year's hoops team should be in good shape, and not just because the defense should once again be strong. 
Earlier this year, leadership was a problem for the Buckeyes, but McCurdy believes they won't fall into that same trap next season, thanks to Aaron Craft and Lenzelle Smith, Jr. The same goes for three-point shooting. Both of those players were better from long range than many assume and with practice, they could become more reliable shooters.
LaQuinton Ross has the skill set to contribute, too, especially on the offensive end where he hopes to emulate the jump Deshaun Thomas took from his freshman to sophomore year. Referring to Thomas as "a budding All-American", McCurdy states that he'll often encounter double teams and if Ross can emerge, that will make life easier for DT. 
Meanwhile, the Hall of Fame Tip Off schedule has been released. Ohio State will start with the University of Albany on November 9th and then inconveniently will face Rhode Island on November 17th, the same day as the Ohio State vs. Wisconsin football game. After that, the basketball team will take on Washington or Seton Hall on the 19th and will finish up with UMKC on the 23rd. 
HEY BABE, TAKE A WALK ON THE WILD SIDE. On the other hand, as of now, Matta will only have nine scholarship players, and ten total, on his roster next season. The three potential transfers he's looking at are Amedeo Della Valle, a guard originally from Italy who could play right away; Rodney Hood, a wing from Mississippi State who was on the same AAU team as Ross; and Anthony Gill, a PF who suited up for South Carolina this past season.
Matta and assistant coach Dave Dickerson met with Gill yesterday, and Della Valle landed in Columbus late last night. If all else fails, Matta could add another walk-on to follow in Mark Titus' footsteps. 
On that topic, Titus spoke to the Lantern after a book signing at OSU, where he answered questions about Buford's NBA prospects ("If he gets into the NBA, it'll be better-suited for him because he's good when you can just throw him the ball and be like"), Weatherspoon's transfer ("He would have gotten his chance this year too"), and Urban Meyer, which gave us this gem:
I would tell Urban, "Gimme a shot. You never know." I could be this year's Joe Bauserman, which I'm sure he's probably excited about.  
Nebraska fans are already practicing to duck in the stands. 
CAN I CLICK IT? (YES, YOU CAN). The House voted yay on Jack Nicklaus receiving the Congressional Gold Medal... Mike Adams visited with the five NFL teams, including the Browns... Michigan re-upped with Al Borges... The NCAA on academic reform... Fat Betty... The 21 Absolute Worst Things in the World... Ben Franklin, what were you up to?... So long, Space Shuttle Discovery.
1 This is not intended to be a brag, humble or otherwise. Once you graduate, no one really cares about your GPA, so it's an obsolete talent to have at this point, like driving a stick shift...I'm assuming. I can't do that, either.  
2 Though, chances are that the same holds true if you're reading something I wrote on this website. 
3 That does not mean Urban and the other coaches are scared of Simon, but if they are, I think it's understandable.