Good morning Buckeye faithful and welcome to your Tuesday Skull Session.
I wish you could see the view from my front porch right now because it's absolutely stunning. Spring quarter always brings out the beauty of Ohio State's campus and everything it has to offer.
Whether it's oval beach, friends' 21st birthdays, intramural softball, you just can't replace being a Buckeye at this time of year. However, I might need to pay attention to this whole school thing as apparently they are giving out these things called grades at the end of the quarter. If you're as shocked as I am, don't worry it's the first time I've heard of these things as well.
Not everything is great in Buckeye nation, though, as yesterday it was learned that Lewis Neal, the 13th recruit in OSU's 2013 football class, announced he would be looking at other schools.
The positive side is that the DE/OLB has maintained that the Buckeyes still have a shot to reacquire his services. I'm sure Urban Meyer is going to be selling what Ohio State is going to be like in just a few years. Meyer has already racked up quality talent, and with the right coaching, the Buckeyes should be back on top of the NCAA.
In my opinion, though, Meyer doesn't have to sell this place too hard. As I've mentioned before, and will until the day I die, I will never regret coming to this school. Then again, I'm not a highly touted football prospect, so there may be different factors in Neal's decision. All I know is it would be great to see Neal in Scarlet and Grey and I hope the feeling is mutual.
PRESEASON TOP 25. ESPN's flagship college football show released its pre-pre-preseason Top 25 for the upcoming season and they have Ohio State at #20.
Being ranked at all is certainly an improvement over last season as the Buckeyes failed to make the top 25 for the majority of the regular season last year. I believe it's a fair ranking, as of now, to have OSU at 20th because we're still not sure what to expect from them coming off a 6-7 season.
I don't think it's out of the question to think the Buckeyes could climb up to a higher ranking, but we need to see how helpful Urban Meyer's coaching philosophy is from the beginning of his reign here in Columbus. This new offense is still a work in progress and the defense last year was miserable. However, the Buckeyes do have more experienced talent coming back this year and this team will be playing with a chip on their shoulder due to the NCAA bowl ban.
Other notable teams from the Big Ten to make the preseason ranking were #10 Michigan, #12 Michigan State, #16 Wisconsin, and #17 Nebraska. USC, LSU, Alabama, Oregon, and Oklahoma make up the top 5 in College Football Live's rankings.
ON THE ROAD AGAIN. Former Ohio State basketball player Jordan Sibert is still weighing his options in terms of where he wants to transfer to.
According to Bob Baptist via Twitter, Sibert is considering Xavier and Missouri after visiting the University of Dayton last Friday. This comes as a bit of a surprise as the belief was Sibert was transferring to Dayton.
It would be interesting to see what Sibert's role would be at two schools that are coming off nice seasons, whereas he probably could've found a way into the rotation at Dayton after sitting out a season.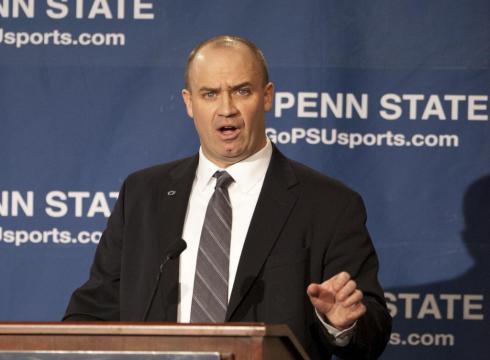 BUCKEYE LAXER REWARDED. Ohio State junior attackman Logan Schuss has been named ECAC offensive player of the year.
Schuss leads the Buckeyes with 55 points on the season. He is ranked 13th nationally with 3.93 points per game and second overall in points per game in the ECAC. Additionally, Schuss was named to the all-ECAC team along with fellow OSU player Joe Bonanni, a defenseman. Defenseman Keenan Ochwat and goalie Greg Dutton made the the ECAC-second team. Midfielder Jesse King was named to the all-rookie team.
The Buckeyes are currently ranked 17/18 on the season.
O'BRIEN TOUR. New Penn State head coach started his 18-stop tour yesterday in Philadelphia. Bill O'brien will be visiting areas with "strong Penn State ties", including important recruiting areas, Baltimore, Washington D.C., and Richmond, Virginia.
The tour is aimed at assuring the Penn State fan base that O'Brien is committed to restoring the program back to glory in the wake of the Penn State sex scandal. The tour will last nine days and O'Brien will be making every stop in order to speak with alumni and recruits.
This is somewhat of a much larger version of Urban Meyer's efforts to connect with fans at OSU after the NCAA sanctions were handed down to the football program. However, while Meyer is seen as the new hope for the Buckeyes, O'Brien is seen as being the guy who needs to clean up a much bigger mess in Happy Valley.
It's a good plan by PSU to try and show dedicated fans that O'Brien wants to begin to help fans forget about the late Joe Paterno who passed away at the age of 85.
LOS LINKS. ESPN's thoughts on Ohio State... Obama pushes back OSU's baseball game... Hoke reinstates safety Josh Furman... Butler to the A-10?... Case Keenum signs with Houston.