Just two more days until Buckeye fans get their first glimpse of the squad under the direction of Urban Meyer and plenty of nuggets continue to emerge as kickoff draws near. 
With Braxton Miller serving as the straw that stirs the drink, Meyer won't choose to unveil much of Ohio State's new outside running packages orchestrated by his sophomore quarterback, instead opting to utilize reps to work on Miller's passing and testing the ability of receivers to make some plays in space. 
The spring game draft is being held this morning with Luke Fickell and Tom Herman handling the head coaching duties on Saturday. The losing team will have to complete a fall community service event. 
Doug Lesmerises notes that in spring practice scrimmages, the defense holds a 3-1 edge on the offense with two ties. Seems like the safe bet is to expect more of the same on Saturday especially with Miller a bit shackled by the rules but there should also be some big play opportunites for guys like Stoneburner who continues to see more time split wide. So long as it's injury free, the day is a success. 
BETTER MAKE THE HIGH FIVES QUICK. It was a foregone conclusion UFM planned to turn up the offensive tempo this fall but he broke it down further yesterday proclaiming he wants to crank out 80-85 snaps per game via a Braxton Milled led hurry up, no huddle attack similar to Chip Kelly's:
"All you've got to do is look at Oregon. We're committed to it. We're still going to pop a huddle once in a while, but we're committed to it." 
Obviously, the offense is being bulit around Braxton and he shared it will showcase his athletcism including one particularly enticing package: 
"I've never run the triple-option until this year. It's neat. There are a lot of things that go into it. I can't wait to run it."
The easy assumption is that this, while a huge shift in what the historical OSU offense looks like, is a welcome evolution that will enable the Buckeyes to better compete for national championships. It's an easier sell to skill position recruits looking for a high volume of touches and will undoubtedly lure more game breakers to Columbus. A similar blueprint helped Matta reel in a laundry list of incredibly talented kids paced by the likes of Conley and Turner. 
On the heels of ranking 107th in total offense, Meyer is bringing the program a much needed mid-life crisis Ferrari to replace the aging and beige 4-door Taurus. The plan seems to come with no few downsides though I'm interested to see how this philosophy fares against physical defenses in in windy places like Champaign and Evanston along with the general November cold. Meyer inherited a bruiser in Hyde and brought in a banger in Dunn so my hope is that there's still an appetite for featuring a power running game that often needs established to win the B1G. 
DANTONIO CONTINUES TO GIVE NAY DAMNS. So, I guess Mark Dantonio wants to get back in the good graces of Buckeye fans after his temper tantrum about UFM raiding his cupboard. Already in mid-season form, the kinda sorta intense Mark D had this to say when asked about Michigan's supposed (but not yet) cemented return as an elite national program: 
"We're laying in the weeds. We've beat Michigan the last four years. So where's the threat?"
Okay. Go ahead and put me once again firmly in the Dantonio camp. It works out perfect that he didn't up as the head coach in Columbus but still has ample opportunity to earn our love by beating then taunting the Ann Arbor arrogance.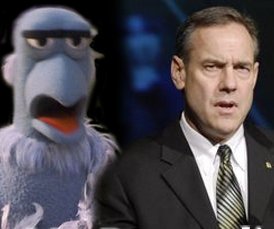 WHISPER WORDS OF WISDOM... The American Football Coaches Association board will hold meetings next month and a topic of discussion is said to be whether or not a proposal should be sent to the NCAA permitting schools to scrimmage or hold practices against each other during spring football. 
The AFCA's president noted such sessions already occur in basketball and soccer though practices seem much more logistially doable than spring games. Personally, I think spring ball is about things like skill development and identification of depth through repetition and would be best left alone. Guys like Saban and Stoops have the same preference but there's support for the idea including out of Ann Arbor. 
Hoke loves the idea of practicing against another school away from fans and media while David Brandon could even get behind a spring game against an opposing school.
I don't think it would be the end of the world or anything but I still say let it be. 
BREAKING: COLLEGE FOOTBALL PLAYERS LOVE TREE. ESPN the Magazine recently uncovered that some college football players like to burn the chronic and actually prefer it to alcohol because there's not hangover. That is some shocking sh!t right there. For realsies though, there has been what reads like a rash of marijuana related incidents touching top players at schools like Georgia, TCU, Alabama, Florida and LSU to name a few. 
Then there's Oregon. 
According to the story, in January one player explained how things work in a town where plentiful bud has the squad instinctively flocking like the salmon of Capistrano: 
"Most of the guys are waiting until after winter workouts." Once those conclude in March, he adds, they'll gather in clusters to partake together. About half the team smokes, he estimates. "It's a team thing. Like video games."
And just how accessible is it in Eugene? Former Duck Reuben Droughns offers:
"It's the weed capital of the world. Long dreads. Girls with hairy armpits. Where there's hippies, there's weed."
Now, I'm not condoning the practice - almost entirely because it's not exactly a performance enhancer but I hope ESPN didn't think this was some type of expose as the NCAA and the schools themselves are highly aware many of their players smoke weed. The NCAA knows so well that they only test players for marijuana before bowl games. Another year round test is conducted but it doesn't look for marijuana. That's convenient. The one test with a stiff penalty (one year suspension) has a date every player is acutely aware of while the random test that would actually catch someone doesn't test for greens. 
Instead of taking a tough stance, the NCAA leaves it up to schools to implement their own testing plans and corrective action measures. At Ole Miss, Purdue and UCLA, players don't miss game time until their third positive test and less than 10 schools suspend players for at least one game upon a first positive. 
It's big business people. Don't pretend to be shocked or outraged. 
VCA TAKES A HIGH STICK. StadiumJourney.com evaluated cavernous Value City Arena as a hockey venue recently and could only give it a FanFare rating of 3.1 out of 5. While the place has the potential to be electric for big college hoops showdowns, I'm not sure it takes an expert to detect the professional sterility of the Schott when it's less than half full. 
Based largely on the reality that the Knucklebucks draw about 4,000 fans to a building holding 17,500 - through no fault of their own - it's easy to understand why VCA picked up just two stars for Atmosphere. 
The Fans also rate just two stars thanks to low numbers and despite free tickets, the students are raucous but not overwhelming in head count. 
It's a shame the team doesn't have a better environment in which to play. Sure the Schott is a nice pro style venue but it's simply too big not to swallow up the mood. I don't blame the fans muich for not drawing bigger numbers. The university need to evaluate how to create a more inviting atmosphere because to many it's the equivalent of being ready for a fun night on the town only to show up at a bar 20% full (ie: use the facilities real quick and bounce).
COOL DOWN LAP. The campus Barnes & Noble will host a Spielman book signing Saturday from 10:30-12:30... Kentucky declares for the NBA Draft... Donor gives Arkansas a cool mil for firing Bobby Petrino-disiac... Meanwhile, his side ass resigned... I'm pretty sure this is called the Jim Bollman Effect... I'll take an XL please...Be careful, Social Boosters... A BTN special on the '02 Buckeyes is in the works... Ohio State's Beta Theta Pi fraternity closing... RIP Dick Clark, I tip my $25,000 Pyramid box set to your memory.