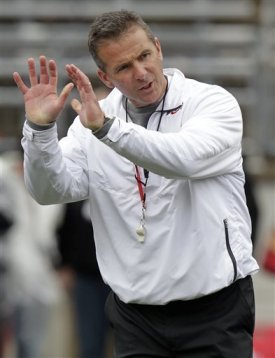 Saturday's Spring Game, Ohio State's first under Urban Meyer, gave fans their first glimpse of the new look Buckeyes and clearly the times, they are a changin'. 
It's hard to argue with his predecessor's success in Columbus but for fans forced to frustratingly defend some big game failings and an offensive brand of football that often had a sluggish, play not to lose vibe to it when it mattered most, Meyer's Hyper Spread is a blessing in many ways. 
Basically, Urban's bringing sexy back. 
Now, that's not to imply fans prefer a sleek product over substance, aka wins, but in a perfect world, Ohio State football should be able to manage both. 
Meyer's philosophies and style of play obviously move more than fans as blue chip prospects are lining up to play for a coach that wants only elite talent and focuses on showcasing individual skill sets. Some outputs of this include heightened competition to earn a starting spot and an engaged group of backups thanks to an uptempo style and mulitple sets creating the need for significant rotation of bodies particularly in the backfield and receiving corps. 
Once it has been in place for a few years, the system should show its full potential as Meyer's stockpiled assets in the playmaking department push each other on the field while creating a snowball effect on the recruiting trail. 
Essentially, Thad Matta employed the same skeletal model when he came to Columbus with a free and easy style of play built around giving supremely talented kids room to create and have fun doing it. 
The two scenarios are actually very similar when you look at what both Matta and Meyer inherited.
Matta's existing players were brought in to execute a more methodical style of play instead of going out and trying to punch the opponent in the mouth for the length of the entire game. That's not to say Jim O'Brien didn't have some pretty damn good teams during his tenure but lower hype and general expectations typically left most fans satisfied with his results and failed to make Ohio State a destination for a high volume of the nation's top prospects. Oh, and like Tressel, O'Brien's program was in trouble with the NCAA leaving a stain on the state of things.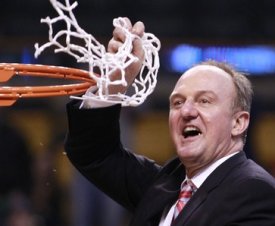 When Matta arrived in Columbus, he changed the culture of the program by aggressively going after elite prospects with an eye on turning Ohio State basketball into something sexy, something top recruits wanted to be a part of. The results? Two Final Fours and five B1G titles in seven seasons thanks to bringing in names like Greg Oden, Mike Conley, Evan Turner, Jared Sullinger, David Lighty, William Buford, Jon Diebler et al. 
Meyer is still in the infancy of his system overhaul but the early returns are hard to ignore. 
Beyond the boost to recruiting, the team, as most do, seems to really be taking on the personality of their head coach, looking more engaged with a greater intensity and desire to kick ass on the field from start to finish. Watching the intensity of the hoot and holler drill - exhibited by both the players and the entire coaching staff - was as much a metaphor for the new OSU football as anything we've seen thus far though watching the offenses combine to churn out 27 total plays in a 10 minute 1st quarter also made it crystal clear that Urban Meyer's Buckeyes plan on attacking you like a swarm of touchdown hungry savages. I think I summed this all up fairly accurately yesterday tabbing it Philosophical Viagra. 
In addition to the early returns, the long term goal for Meyer's program is to have the horses and gazelles combined with an aggressive style of play that allows the Buckeyes to better compete with the ridiculously talented and eternally deep rosters found among the nation's elite, specifically those in the SEC. That's the next step for OSU football and it's certainly not lost on the new sheriff in town with a 4-0 record in BCS bowls and two national titles in his holster. 
With all of this serving as a backdrop, it's easy to see why the fanbase has a full blown case of Buckeye Fever following yesterday's unveiling despite the fact this season won't feature a run for a national title, a bowl game or even another conference crown thanks to sanctions left in Tressel's wake. 
That said, spring forward and try to comprehend how electric the program and fanbase will be a year from now assuming Meyer's 2012 Buckeyes achieve the expected growth and another top five recruiting class putting them squarely in the hunt for a national title next year and beyond.