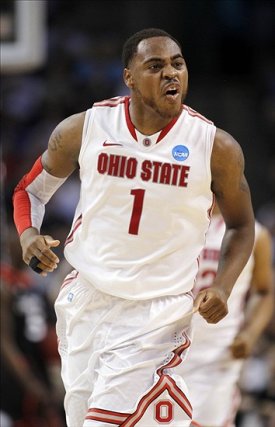 While there's no getting around the fact Thad Matta lost 32 points per game from his starting lineup with the departures of Jared Sullinger and William Buford in addition to taking a depth hit with the impending transfers of Jordan Sibert and J.D. Weatherspoon plus the swing and miss in luring blue chip power forward Tony Parker to Columbus, all is not lost as the basketball Buckeyes look toward next season. 
That's not to say next year's squad will be a sure fire Final Four contender but remember very few thought the Sullinger led Buckeyes had a shot to achieve such a ceiling as the team stumbled through mid-late February before catching fire and winning eight of nine ahead of Kansas turning the lights out on the 2011-12 campaign. 
The offseason certainly got off to a perceived inauspicious start as Weatherspoon and Sibert took turns waffling on their intentions before finally pursuing their release from the program. I truly do not mean to pile on or have my words taken out of context as jabs but I refuse to believe either of these guys were destined to be difference makers for Matta next year or beyond. 
Weatherspoon's athleticism was fun to watch but only from inside three feet. He made 29 field goals in mostly garbage team last year and I'd venture a guess that 80% of those were dunks or layups. Meanwhile, he struggled with a fairly unattractive jumper and hit only 58% from the stripe further illustrating his deficiencies outside the circle. Defensively, he was long and lean but hardly an impact performer as he often seemed too focused on the highlight play like a swat or steal instead of on fundamentals and staying in front of his man. Again, I wish him well but I think it's a stretch to say he was going to compete for playing time based on existing guys in front of him, his overall lack of offensive polish, and Thad's reluctance to go more than seven, maybe eight deep against legit competition. Basically, I think Weatherspoon absolutely made the right call for his future and I hope it's bright. 
Sibert is a slightly different case in that I think he would've had every opportunity to reclaim the role he blew last year in November as the team's first scoring guard off the pine though after two years of struggling to throw the ball in the ocean, a change of scenery might do him good as well. After shooting 29% from the field and 25% from deep as a freshman, he could only muster a one percentage point improvement in both categories - hardly a Dielber-esque increase in accuracy. 
In the end, Matta should be grateful for having the opportunity to repurpose these scholarship misses even if the short term means a few less practice bodies with a bit of experience. 
Missing out on Parker hurts in that he had the feel of a game ready banger that could help out on the boards immediately in what is always a rugged, physical conference. Unfortunately, after reportedly emerging as the front runner late last year, it seemed Parker slowly but surely cooled on the idea of playing in Columbus. The void left behind means Deshaun Thomas may have to play out of position at the four spot at times and ensures Amir Williams and Evan Ravenel will see plenty of minutes on the low block.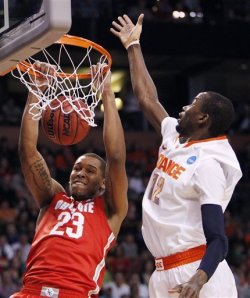 Now that we've touched on losses - some real, some perceived - the 2012-13 squad can still be a dangerous team capable of making another deep run in March. 
Though Thomas grabbed the headlines when he opted to further season his game with one more tour at the collegiate level, he's far from the only big name focused on taking his game to the next level.
Aaron Craft remains the straw that stirs the drink and after seeing how he could help this team by being more focused on scoring instead of just being the best on ball defender in college basketball, as he did in a 17 point effort against Gonzaga, another summer of firing up 1,000 perimeter jumpers per day could pay big dividends in taking some of the scoring pressure off Thomas. 
Joining him in the backcourt, Lenzelle Smith Jr. should also be a more consistent scorer to go along with his already highly productive glass work from the two guard slot. No question his confidence skyrocketed as the season played out and he was particularly outstanding from the Sweet 16 on, shooting a combined 56% over the three game stretch (13/23) in which he scored 17, 18 and 10 points respectively. Small sample size to be sure but anyone watching the games had to see the kid grow into his role and the hope is a season of joining Craft launching jumpers will help him take his game to new heights. 
Thomas was obviously in beast mode for much of the Dance averaging nearly 22 ppg over the first four games before hitting just 3/14 shots in the loss to Kansas. Of course, everybody already knew he could score but what impressed me was he actually put in a great deal of effort at the defensive end often times taking on bigger guys as he played out of position at the four. If Tank can bring that same defensive intensity every night and keep from reverting back to his old sketchy shot selection ways, having been anointed The Man in Thad's offense, he has a chance to be a top three player in the B1G.
With those three locked into starting/starring roles, this is where things get interesting. It's also where you should realize that if Ohio State is going to be a national factor next year, it's going to be because their defense has a chance to be every bit as good as last year's unit which ranked #2 in Ken Pom's Adjusted D rating.  
With Craft and Smith doing work on the perimeter, I'm intrigued to see what Amir Williams can do behind them. It's no secret that Sully, with all his greatness, was not an impact defender. He was a great rebounder to be sure but he did have limitations, most notably the inability to effectively challenge shots especially help side and struggling to hedge on high ball screens. Amir has a long way to go but it's easy to get excited about his defensive tools in the way of shot blocking/altering and fairly fluid footwork that looked to improve as his skills and confidence progressed. He's another one where it's crucial he improves over the summer (and adds some beef) but with plenty of PT dangling as a carrot, I have to believe the McDonald's All-American is serious about his game. 
With Sam Thompson coming back as a decent defender and Shannon Scott seeing more minutes partnered with Craft down the stretch despite a crippled jumper (28% FG, 5% 3FG(!)) , the backcourt at least has bodies with some experience and the mantra of defense should not be lost on these two if they want minutes. 
The real wild card next year is LaQuinton Ross. The sophomore to be screwed his freshman season by not gaining eligibility until early December. With games already under way, it was virtually impossible for Thad and staff to get the kid up to speed on all the offensive and defensive sets despite reports he was the most lethal jump shooter all summer long on a team in desperate need of a guy that could stretch the defense providing Sully more room to operate. Even with his supposed offensive repertoire, he's only going to see the floor if Matta has trust in his defensive commitment. If the kid buys in, he could be a difference maker. 
Finally, the Buckeyes should get another serviceable year out of Evan Ravenel who at the very least has a B1G frame to help Williams bang with the big boys. Matta did add Italian sharp-shooting guard Amedeo Della Valle out of Findlay Prep in Nevada but it's hard to project him being of huge help in year one. I like that coaches complement his basketball IQ though typically a foregone conclusion with Euros and his 50%+ accuracy from distance is a plus but that doesn't always immediately translate at the next level (just ask Diebs). 
Bottom line, this team doesn't figure to be overly deep and has plenty of questions to answer but if the new big three of Thomas, Craft and Smith get enough support from psuedo breakout seasons out of Williams and/or Ross, this team can still make plenty of noise in the national picture. 
Rebuild or Reload?
With Matta's track record of 20 win seasons, conference championships and a underrated ability to get teams to commit defensively combined with what we know about his current roster, I'll take reload.