Last year's draft was notable for a couple of things, as far as I'm concerned: the Cincinnati Bengals laid down the bedrock for their franchise the next decade, and I got very, very angry at Dane Sanzenbacher not being drafted.
Of all the Tressel-era wideouts, Sanzenbacher might've been one of the least likely players to make NFL noise after his stint in Columbus. After all, though he was a tough (but undersized), quick (but short), and fearless (but slight) receiver, he was also the heir apparent to guys like Ted Ginn, Santonio Holmes, and Anthony Gonzalez. It was a tall order for him to step in and change that perception, and that'd become even more difficult in a Jim Tressel offense.
But eventually he did. In his final season, he managed 55 catches for nearly 1000 yards, was voted a team captain and then MVP, gained a groupie in Jon Gruden, and unfortunately did not grow the two inches and gain the 10 pounds needed to get selected in the 2011 NFL draft.
Dane Sanzenbacher is listed at 5 foot 11, and having stood next to him I'd say that's perhaps a little generous. And in the NFL, that is more than enough to have the Undrafted Free Agent label slapped on you after seven rounds of teams selecting three or four dudes who will make the squad and roughly six guys who won't. For the more well-known guys, it generally works out; Dane was, of course, eventually signed by the Bears, where he put together a decent season consisting of 27 catches and 3 TDs.
And while no one is yet heralding Sanzo as the second coming of Wes Welker (5 foot 9, 185 pounds, UDFA), his production is miles above what most non-OSU fans would've said it was going to be after he wasn't drafted in 2011. The inches and pounds that he and Welker lack are no impediment to them being what they are: terrific football players. It's unfortunate that in a measurables-obsessed NFL, players who aren't of ideal size or speed are passed over or ignored; not just because it denies great players a chance to show their skills, but because it's antithetical to one of the things that I love about football, that almost anyone of any size can contribute in some way.
And this year it happened again, only much worse.
Kellen Moore should've been drafted.
There really should be zero debate about this. Aside from being the winningest FBS quarterback of all time, the sheer magnitude of what he was able to accomplish in four seasons of college football is staggering. His full stats are here, but some choice selections are as follows: 142/28 TD/INT ratio. 3486 yards was his worst season in terms of yards passing. Worst completion percentage in a season: 64.9%. Completed fewer than 15 passes in a game only four times throughout his career.
Of course, the easy and lazy counter to this is the "Sisters of the Poor" argument (which I've always found ironic coming from OSU fans who were angry at Troy Smith not being given a fair shake in the NFL despite beating up on a weak Big Ten); that Moore isn't deserving of the same kind of recognition as the Andrew Lucks and the Robert Griffins of the world because his conference was weak and Moore played against inferior competition. He sure did. But, he also played a number of out of conference games against elite competition and blew up the argument that he was only beating up the nerdy anemic kids on the playground by going up to the fat kids who had peach fuzz and punching them right on the weird, ingrown hairs on their necks.
As a freshman, Moore sauntered into Autzen Stadium and led Boise State to a 37-32 victory after passing for 386 yards over an Oregon team that would eventually go 10-3 on the year. Later that season he'd have a "bad" game against TCU in their bowl, completing 22 of 35 passing attempts for 222 yards. His sophomore year, he'd play those same two teams again, this time beating them both while passing for over 400 yards combined against the eventual combined 22-4 record of Oregon and TCU.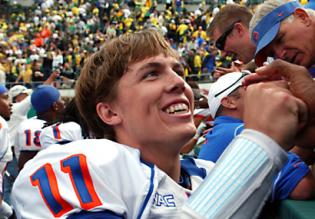 Moore's junior and senior years were more of the same, but are especially notable for the complete dismantling of Virginia Tech and Georgia in consecutive season openers. If you haven't seen Moore take a scalpel to Georgia's defense last year, you owe it to yourself; his ability to consistently make plays under duress, while working with an almost entirely new WR corps, in a hostile environment, is pretty remarkable.
So the ultimate question with Moore for the NFL wasn't ability, it was about perception. Not just of the WAC or MWC competition that he faced, but of his measured 6 foot, 0 inch size and the strength of his arm. Despite all evidence to the contrary, Moore was deemed to be not at valuable to NFL teams as the likes of 6 foot 2 Chandler Harnish, 6 foot 3 BJ Coleman, or even 6 foot 2 Rod Gurnsey, which is ridiculous. Especially since I just made that last dude up since you've never heard of the other two guys anyway. Even more irritating is that despite a sub-par Senior Bowl, a guy who had an even worse performance in that exhibition than he did, Ryan Tannehill, is now drawing a gigantic 1st round paycheck mostly by virtue of his height and weight.
I don't cry for Moore. He was quickly signed by the Detroit Lions and will hopefully have every opportunity to prove that he's the next Drew Brees. The larger issue that I'm getting at is that the NFL, in putting a premium at "ideal" size over apparent talent or skills, homogenizes the league and makes it less fun to watch. There are guys who, if given the chance, can bring a large measure of excitement and interest to games but are currently being passed over because of antiquated ideas about what makes a good player. Not every position can benefit from a different kind of infusion of talent, but enough of them can for it to make a difference.
My final example is this: in the combine before the 1985 NFL draft, Jerry Rice, from D-1AA Mississippi Valley State, ran what is reported to have been a 4.71 in the 40 yard dash. Then, that was enough to make all but a handful of teams lose interest in him. The 49ers took a special interest in him and drafted him 16th, but today, I can't help but wonder how far perhaps the greatest NFL player of all time might fall because he didn't have the "correct" numbers or come from the right college.