Happy Friday everyone, and welcome to your morning Skull Session!
Congrats, Bengals fans! You followed up a thoroughly incredible 2011 draft with a decent first round in 2012 that did not result in any major embarrassments, like, say, the drafting of a 28 year old quarterback in a move seemingly designed to create an organization-crippling QB controversy while at the same time infuriating whatever fans might still remain after year after year of blown expectations borne from a misbegotten feeling of self importance.
Seriously, Browns fans. The Bengal train hasn't yet left the station. There's still time to get on board.
A couple of caveats, though. Unlike you, we Bengals fans have learned to embrace awfulness; this is actually kind of nice in that when the team somehow isn't terrible we feel like how a white collar criminal must feel after stealing 20 million dollars (kind of a "holy cow, how did people not notice us doing this right under their noses? sssssuuucccckkkeeerrrsss"), but it does come at the expense of a bit of your soul at the completion of each 4-12 season. You can however replenish said soul through schadenfreude.
Also keep in mind that as a fan of the Bengals, there is a chance you may find yourself within 150 yards of members of the team. This is generally not advisable, as many of them are armed and dangerous, and will strike again. Still, it does add to the forbidden fruit aspect of the team, and really, what's sexier than the world's palest Texan leading a ragtag posse of misfits and ne'er-do-wells against teams led by a big hairy lecherous creep and whoever is currently being possessed by the ghost of Tim Couch? Nothing, that's what.
RIDING HIGH, FEELING LOW Many players were drafted last night; Mike Adams, Ohio State offensive lineman, was not one of them. It had been said that his stock had been falling due to his positive test for weed during the NFL Combine, and this confirms it. Personally I don't expect the guy to fall any lower than the second round; stupid decision or not, he wasn't projected as a potential top 10 pick at one point for nothing. It will, however, be interesting to see which team takes a shot at him since he's about as high risk, high reward of a player as you'll find in the draft.
With that said, considering Alex Boone is now a consistent starter in the league, who knows what could happen with the dude. All I know is that I'm pretty angry that I agree with Colin Cowherd on something; it's not that what he did was so horrible (although personally I'm pretty anti-drug), it's more that he knew he was going to be tested for it and still went ahead and put literally millions of dollars at stake. Pretty dumb. Anyway, that's depressing, so instead you should watch this .gif of Whitney Mercilus' draft fiesta!
OH HEY THE BCS IS OFFICIALLY DEAD Just thought you would want to know! It's pretty cool, basically we're looking at a 4 team playoff in 2014. The details, of course, haven't been hashed out yet, but as Andy Staples points out, one big thing is that the idea of Automatic Qualifiers is dead:
...That is terrible news for the Big East, which used its AQ status to lure several new programs after Pittsburgh, Syracuse and West Virginia announced their intentions to leave the conference.
Yeah, it is, but frankly the bigger issue, as pointed out at SBN, is where those four teams are going to come from. Some have advocated the idea of conference champions, which is a terrible and exclusionary idea. Honestly, I have no problem with letting two SEC teams into the four team round playoff as long as a team like Boise or TCU would get at least a semi-legit shot at the title. Because the way things are now, literally the only way for a non-AQ conference team to get to the championship is for them to be undefeated, every other team in the country to lose a game (ideally two), AND for most conference favorites to lose their conference championship game. My own ideal situation would be an 8-team playoff, but if teams are going to be excluded, I'd rather exclude 6 deserving teams than 8.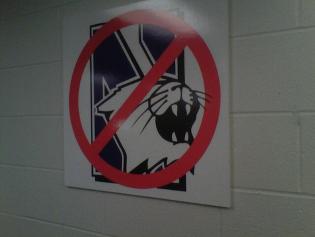 PSU PR WTF I guess it's not THAT big of a surprise, but Penn State will have spent about 10 million dollars on public relations, starting from the beginning of the Jerry Sandusky scandal through the end of this year. That's 10 million dollars that could have gone to any number of school-related projects, or keeping tuition down, or giving to charity, or medical research, or any number of things not related to making sure people don't immediately associate the name "Penn State" with "pedophile coverup."
And yes, I know that the money comes from different places and is earmarked for certain things and blah blah blah. The point is that PSU wouldn't even have this problem if they had been proactive from the very start, instead of trying to bury their problems with a fresh coat of paint every couple of years. I just hope Ohio State has learned from watching.
YEAH I HATE NORTHWESTERN TOO WAIT WHAT I know two things in this world: warm milk + peanut butter sandwich = instant bedtime, and that Jim Tressel hated, hated Northwestern with every fibre of his being. After a lone, shocking loss to the Wildcats in the early Aughts, his average margin of victory against the Purples was in the low to mid 40's, and I imagine had Tressel not been preoccupied with stuffing potatoes into every tailpipe belonging to a car from Illinois in the parking lot it would've been a lot worse.
Well, now JT Money has a second member of his No Nerds club, and that's new Illinois coach Tim Beckman:
When Beckman was announced as Illinois' head coach back in December, he referred to Northwestern as "the team up north" and said, "you'll never see me wearing purple." In fact, Beckman might even go as far as having his team burn all of its purple attire.
THAT'S A LITTLE CHILDISH, DON'T YOU THINK TIM???
DOGS, SPORTS STUFF, DOGS, DOGS, THE HOBBIT Okra is Delta State's mascot. For a plant it is pretty ill tempered... Dog in a towel... The first appearance of the greatest basketball team ever assembled... Uh actually I think it's more important to think about the 5 votes Craig James won't (allegedly) get... BILL BILL BILL BILL... Spy dog... If six iguanas can't turn that frown upside down... The Hobbit at 48fps looks like butt