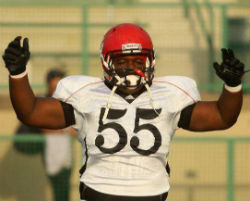 The Buckeyes are already off to a great start in recruiting the offensive line for the class of 2013. Centerville's Evan Lisle, the best lineman in the state, is already on board, and the Bucks are looking good with Ethan Pocic and a few other top prospects.
One player who hasn't got much mention, but is very well in the mix is Bear (DE) Red Lion Christian OL Khaliel Rodgers. The 6-3/310 lineman is ranked as a four star and the number two center in the nation by Rivals, and has already been named to play in the US Army All-American Bowl in January 2013.
Rodgers is projected to definitely play in the inside at college, with most of the 12 schools that have offered him thus far telling him they like him at guard. One of those schools is Ohio State, who offered the Delaware product, along with his teammate and USC commit Kenny Bigelow, three weeks ago.
We caught up with Kahliel to hear about his interest in the Buckeyes, find out what is going on with his recruitment, see what visits he plans on taking, and more. Join us after the jump to learn more about one of the east coast's best linemen, Khaliel Rodgers.
Where are things currently at with your recruitment? How many offers do you have and from who? What schools that haven't offered are showing interest?
I have 12 offers so far. They are from Ole Miss, UCLA, Ohio State, West Virginia, Boston College, Cincinnati, UConn, Houston, Purdue, Temple, Rutgers, and Syracuse. I am hearing a lot from LSU and Miami (FL) and they could be close to offering.
You mention OSU offered you. I don't think too many people knew about that. How did that go down.
Coach Warinner, who is my recruiter, called our high school coach to tell him that he loved my film and that they were interested. Then, about three weeks ago, my teammate Kenny Bigelow and I called Coach Urban Meyer. He offered both of us right there on the phone.
What else did Coach Meyer say to you when you spoke?
He told me he definitely wants to see me end up as a Buckeye and that he wants to get me up there for a visit as soon as possible.
Do you plan on taking a visit to Ohio State?
Yes, I will definitely take one of my official visits there, but am also going to try to get up there some time this month or next month.
What other visits have you taken so far? What visits do you have planned in the future?
I just got back from visiting UCLA and USC out in California. I have also been to Maryland. The only other trip I have planned is to go to LSU.
When do you think you'll make a college decision?
I am planning on making my decision at the US Army All-American Game in January.
Do you have any favorites at this point?
I don't favor anyone right now. I am open to all schools that want to recruit me as there is a lot of time before I make my decision.
What are you looking for in the school of your choice?
I'm looking for a family atmosphere with a great set of coaches and players that care about you. I'm also looking for a university that has a great academic program.
What position are schools recruiting you for?
Ohio State is looking at me as an offensive guard. Most schools are looking at me there, but some have mentioned other positions like center.
What are your strengths on the field? What are some things you need to work on?
My strengths are that I am powerful, use my hands well, have great footwork, and finish the play off well. I wouldn't say there's one thing specifically I need to work on, I just want to work on improving all aspects of my game.