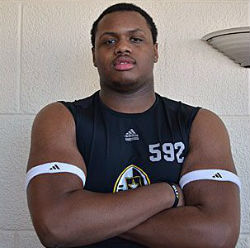 If you have followed recruiting since Urban Meyer was hired by Ohio State, you know that the offensive line for the Buckeyes has been made a priority.
The recruiting class of 2013 is supposed to have three players from the position come next February and the Bucks have already reeled in Evan Lisle and are looking good for Ethan Pocic and a few other prospects.
Once that class is locked up, Meyer and the staff can turn their attention to the class of 2014, where OSU is expected to bring in another haul of outstanding road graders.
One of the players the coaches have targeted early is Damian Prince of Bishop McNamara High School in Forestville, Maryland, who just received an offer from the Buckeyes this week. The 6-6/295 Prince already has the size to be a future NFL star, but will hone his craft at one of the many schools that are pursuing him to protect their quarterback in the next few seasons.
We caught up to hear the latest on Prince's recruitment, what his interest is in Ohio State, what his visit plans are, and more. Join us after the jump to learn about one of the nation's best offensive linemen in the class of 2014, Damian Prince.
How did your sophomore season go? How did you perform and how did the team do?
My sophomore season was great in terms of personal success, but as a team we didn't do well at all with a 3-6 record.
It is early, but how is recruiting going for you right now? What offers do you have right now? What schools are showing you interest?
Recruiting is going well for me. I already have a bunch of offers. To name a few, they are from Auburn, Ohio State, Michigan, Florida State, Boston College, Maryland, Iowa, UNC, Buffalo, East Carolina, North Carolina State, Rutgers, Virginia, and Syracuse. Alabama and USC are showing a lot of interest as well.
Have you taken any visits yet?
I just took a visit to UNC, but other than that have not taken any other visits.
You were recently offered by the Buckeyes. What are your feelings on Ohio State?
I really like Ohio State a lot. I love the coaching staff's vibe.
Do you plan to visit OSU at all?
Yes, I will be taking a visit out to Columbus sometime in June to check things out.
What coaches have you spoken to at Ohio State? What did they say to you?
I speak with Coach Smith all the time and I have also spoke with Coach Warinner. Coach Smith tells me everything I would need to know about the school and the tradition. He says that when it is time for me to go to college that I have the ability to be a major asset for the Buckeyes.
When do you plan on making a college decision?
As of now I plan on announcing my decision on February 14, 2014.
What factors are important to you when choosing a school?
The main factors for me will be prestige of the coaching staff and ability to win games. I want to win a lot of games and have a shot at a conference championship and national championship.
What are your summer plans? Any camps/combines/visits?
I will be visiting Alabama, Ohio State, Wisconsin, and Michigan. I will also probably do a camp or two.
What are some things you plan on working on to make your game better over the summer?
I need to work on using my hands and also my flexibility.