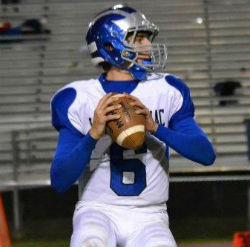 While the 2013 quarterback class is rolling with the addition of JT Barrett, it's never too soon to look ahead to who's next. The answer to that question is still unknown and while there may be another rising senior added to Ohio State's class in the near future, there are also a ton of options for Urban Meyer to choose from in the recruiting class of 2014.
One of those players is Caleb Henderson of Lake Braddock High School in Burke Virginia. The 6-3/215 prospect had an excellent sophomore season and has already seen the results showing, as he has collected four scholarship offers in the early stages of his recruitment. That number is sure to go up as more programs get a better look at his strong arm that matches a pair of legs that don't move bad either (4.7 40-yard dash/4.2 shuttle).
While Ohio State hasn't been the school in most contact with Henderson, they have been in touch and they already have a built in advantage. Henderson has long been a fan of the Buckeyes and grew up with a desire to one day don the Scarlet and Gray.
We caught up with Caleb to hear the latest on his recruitment, what his interest in Ohio State currently is, what his plans for visits are, and more. Join us after the jump to hear about one of the east coast's best quarterbacks in the class of 2014, Caleb Henderson.
How did your sophomore season go? How did you perform and how did the team do?
Sophomore year I threw for 2,700 yards with 27 touchdowns against 8 interceptions. I also rushed for 600 yards with 5 scores. My team went 8-4 and lost in the second round of the playoffs to the top ranked team in the state. We were up at half time and that was the first time anybody had a lead on them in three years.
It is early, but how is recruiting going for you right now? Do you have any offers yet? What schools are showing you interest?
My recruiting is going well. I have offers from Virginia, Virginia Tech, North Carolina, and Maryland. Clemson and South Carolina haven't offered yet, but both are showing a lot of interest lately.
Have you taken any visits yet?
The only visits I have taken so far are to Virginia and Maryland.
What are your feelings on Ohio State? Do you plan to visit OSU at all?
I love Ohio State. Ever since I was a kid I wanted to go there. I'm also a huge Tim Tebow fan and the fact that Urban Meyer is at OSU now makes me love Ohio State even more. I am going to get out to Columbus for a one day camp this summer.
Coming from the Mid Atlantic Region are you opposed to going away from home for school?
I really don't mind how far I go for college. I just want to go and play ball wherever that is.
What are your summer plans?
As I mentioned, I will be out at Ohio State for at least a day. I will also head to the Elite 11 event next week. Other than that, I am not sure.
What are your strengths on the football field? What are some things you need to work on?
I think I am very consistent and I have great arm strength. I could work on getting a little quicker.