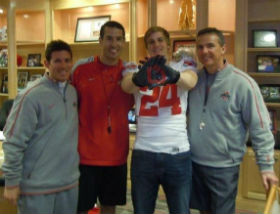 Last time we spoke with Wyomissing (PA) LB Alex Anzalone, he was fresh off his first visit, and about fifth overall college trip, to Columbus to check out Ohio State and came away with what was his 12th athletic scholarship offer at the time (mid-February).
Fast forward to today and Anzalone has made visits to over 10 schools and now counts a total of over 30 offers to choose from as he tries to narrow down his massive list so that he can choose the one school that is the best fit for him.
Ranked as the sixth overall outside linebacker by 247, the tenth outside linebacker by Scout, and sixteenth at the position by Rivals, Anzalone (6-3/220) certainly has the offer list to merit his four-star ranking. In addition to Ohio State, his offers include Alabama, Florida, Penn State, Notre Dame, Stanford, Florida State, Virginia, Oklahoma, Arkansas, Georgia, Michigan, Michigan State, South Carolina, USC, Tennessee, and UNC, among many of the other top programs in the nation.
While most prospects visit just a handful of schools that they can get to locally or on official visits, Anzalone had the luxury of taking multiple visits this winter and spring to get more information on some of his potential college options. Some of these visits included Penn State, Virginia, Boston College, Maryland, Michigan State, UConn, Notre Dame, and most recently a visit to Florida, a return trip to Ohio State, and finally followed by a trip out west to check out UCLA, USC, and Stanford.
On his latest set of visits, Florida got the first shot to impress the two-way Wyomissing star. The Gators had sort of a built in advantage coming into this recruiting process, as Anzalone's father studied in Gainesville back in the day and son grew up as "sort of" a Florida fan. As you could imagine, the trip was definitely a good one if you're a fan of the orange and blue.
About his trip to UF, Anzalone said, "The campus was really nice and they have a great college town. The coaches are down to earth and Coach Muschamp is definitely turning things around there. The last two years have been disappointing for them, but you can tell things are swinging in the right direction and he definitely has the team headed upwards."
When asked what additionally stood out about Florida, Anzalone said "I have some family there which isn't too big of a factor, but it is cool to see. It's good to know that if I decide to go there I have family down there to make me feel comfortable".
Following the trip to Florida, Anzalone was back in Columbus on his second visit to Ohio State. While the first time he was there it was a Junior Day, this time Alex got to see things a little bit more in depth.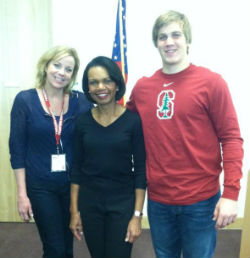 "The Ohio State visit went really well. It definitely reassured me of the feelings I had about the school and program. It was a little different this time as last time was a Junior Day, but it was much better this time around."
In addition to getting to see more of campus and the facilities, Anzalone also got to speak with some academic people at the university, as well as hang out with some of the current players and other prospects that were on campus at the time. Players he hung out with included Ryan Shazier, Braxton Miller, and Se'Von Pittman, while the recruits he spent time with were Noah Spence, Cam Williams, Armani Reeves, David Perkins, Courtney Love, and Ezekiel Elliott, among others.
Regarding his time with the players, Anzalone said, "They were all really cool guys. We had a fun time hanging out throughout the weekend and I could definitely see myself fitting in with these guys and being their teammates in the future".
While that was all good and fun, the best part of Anzalone's trip was getting to spend more time with Ohio State head coach, Urban Meyer. Meyer spent a lot of time with Anzalone and it was greatly received, as the linebacker said "Coach Meyer really took a lot of time to talk with me. I got to eat dinner with him and his family, as well as with some of the other coaches and their families one of the nights, which was really cool. He told me they really want me at Ohio State and are willing to wait as long as they have to for me. They mentioned they are only taking two or three linebackers in this class, but that they would hold one of those spots for me, which really meant a lot".
After what would be considered a successful visit at the very least, Anzalone hit the road out west to visit three prominent schools in UCLA, USC, and Stanford during his high school spring break. Going in to the visit, he had offers from Stanford and USC, and was expecting to receive one from the Bruins upon arriving on campus.
Regarding UCLA, Anzalone said that the "everything was really nice and the campus was beautiful", but he didn't get the offer he hoped for as his visit came and went without Jim Mora Jr.'s staff extending an offer. It appears the Bruins aren't pursuing him that strongly and are now likely out of contention for his services.
The USC visit went better for Alex, where he got to meet Lane Kiffin's staff in person, calling them "a really good group of guys". He also got to see the plans for their new facilities which are "going to have some really cool, up to date technology", and sit in on some team meetings, which he described as "crazy".
Finally, his Stanford visit may have been the best of his trip out west. Of the trip Anzalone said, "The campus was impressive and extremely nice. The coaches were great and were cool to talk with. The meaning of the degree from that school really stuck out to me. It really is a powerful degree."
After returning home from his long "vacation", Anzalone has had some time to think things through regarding his college decision and mentioned some schools standing out at this point, including Ohio State, Florida, Stanford, USC, Penn State, and Notre Dame. Regarding his decision it seems he's getting closer to making the call, saying, "I have all the information I need to make my decision. At this point it's just a matter of making sure I am doing what is best for me and that I am 100% sure of where I want to go. I plan on talking to my parents shortly and hopefully getting closer to that decision."
While no summer plans are booked yet, Anzalone will make another trip to see Penn State spring practice this coming Saturday and is planning to follow up with a third trip to Ohio State for the spring game on April 21, although he is unsure if he will be able to make it that weekend. Either way, the Buckeyes appear to be sitting towards the top of Anzalone's list, which is good news right now, as it appears a college decision could be coming in the near future.