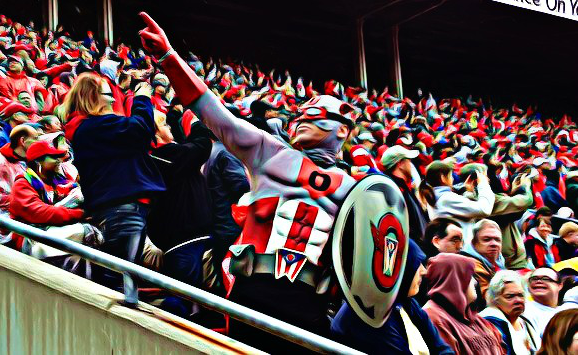 It wasn't supposed to be like this had been a recurring theme around Ohio Stadium for the past 18 months. That unfortunate period has now mercifully run its course.
Beginning with Tatgate and encompassing a dismal season capped by a surprise postseason ban that precluded a Gator Bowl no one will ever watch again (Gator fans included) no facet of Buckeye football had gone according to the preferred script with the sole exception of Urban Meyer's hiring to save the program from a painful and prolongated recovery.
His ascention to the role of program savior singlehandedly kept Ohio State's Beta from spiraling into volatility. Meyer began with a ferocious recruiting finish to 2012 and has continued to upgrade the roster with fat being trimmed and/or melted from his inheritance.
The wholesale reinvigoration of the beleaguered holdovers from the it wasn't supposed to be like this era was the final piece of the turnaround. That mission became a fait accompli this month.
It's this important context that helps outsiders understand why 81,112 fans (give or take, like, 15K) enthusiastically tailgated for several hours in frigid weather before paying actual money to sit in pea soup for the privilege of observing Ohio State's spring drillspracticescrimmage: We needed to witness this transformation for ourselves.
Saturday's showing was the long-awaited conclusion of the it wasn't supposed to be like this era with Meyer's open demonstration in just how different Buckeye football is going to be with him as its steward.
During this unique and delicate transition Meyer's presence as figurehead has temporarily overshadowed Ohio State's bigger-than-any-one-man-brand that is still mending from its most challenging year in several decades. He has been an immediate emperor, and the program has required nothing less than that.
Saturday's scrimmage provided not only a contrast in style to what Buckeye fans had come to embrace as its hallmark brand, but a desperately-needed reset from its most recent spring game, which was one of the most uncomfortable days in Ohio Stadium history.
A year ago the university actually considered banning Jim Tressel from spring practices, the spring game and all summer camps for 2011. He was eventually allowed to take part in all of those activities, though his involvement with summer camps went away after his coaching contract was voided the following month.

In the midst of that burgeoning scandal, Tressel took the field for his fragile football program's spring exhibition, which he had transformed several years earlier into a vehicle for something greater than football: In 2010 his Buckeyes used our football addiction to raise money for The James Cancer Center.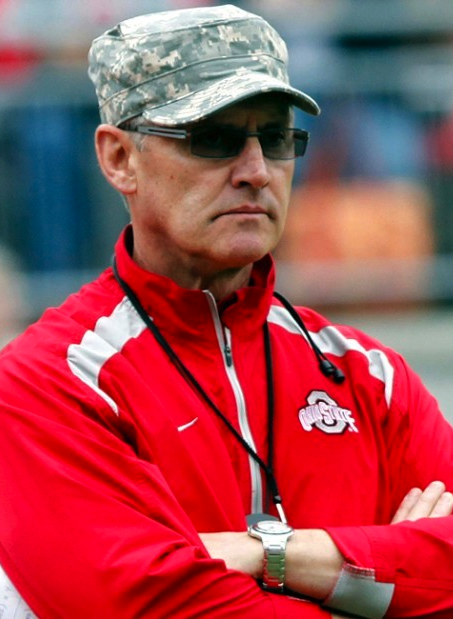 Last year - in what would be his final afternoon patrolling the sidelines - he used it to honor the military and raised almost $200,000 for charity as his legacy was in the balance. Buckeye fans had long grown accustomed to the virtuous behind-the-scenes nature of the Tresselian way.
However, during that tenuous period when his name was in the news daily for violating the most intolerable offense in amateur athletics - fibbing to the NCAA - the guy who had written two books about living and winning the right way trotting out onto the field in camouflage fatigues was widely viewed as a gimmicky diversion.
Unfortunately, it's also the very last image we have of him coaching: As he stood next to his suspended star quarterback who as it turned out had a penchant for loaner vehicles, Tressel in camouflage became an unfortunate pun for his now infamous cover-up.
Saturday was complete departure from both the Tresselian way of football and the use of the spring game as a vehicle for something greater: The cause being championed and promoted in that pea soup was exclusively Meyer's vision for Buckeye football. Nobler endeavors would have to wait until this transformation is complete.
Tressel had many signature moves, from his sleeveless attire and his conservative game strategy to his penchant for hiring assistant coaches named either Jim or Tressel. As successful as he was, there is more than one way to procure the sacred glass testicle, as Meyer once proved against him and once against a similar spread-option attack two years later.
The afternoon began with that awesome gladiator circle at midfield, conducted at the behest of the new emperor. While his predecessor intentionally kept the fiery antics out of the worldview, Meyer put them front and center while deliberately giving BTN cameras a front-row view of his festivitates pugnae.
Your new Buckeye offense immediately went no-huddle with a tempo that - if it has ever been seen before in Ohio Stadium - was the product of another team's efforts. Ohio State sent plays to scrimmage and ran them unhurriedly at a controlled, methodical and expedient pace in its debut.
If you need to be convinced of how dramatic the difference in pace was between this no-huddle and what the rare flirtation with no-huddle looked like during the previous era, go back and rewatch the first two drives of the 2011 Sugar Bowl* when the Buckeyes "surprised" Arkansas with this tactic. (SPOILER: Imagine last Saturday's tempo slowed down to 162/3 RPM).
(EXPLANATION OF PREVIOUS SPOILER FOR YOUNG PEOPLE: That was a metaphor to communicate slowness using an ancient device called "the record player"). /liver spots
It was an absolutely breathtaking exploitation of wonderful talent that had historically been accumulated by Tressel only to be chronically underutilized or mis-purposed. Outside of the quarterback position, which he micromanaged and adjusted schemes accordingly to perfection either in cooperation with the late, great Joe Daniels or by himself under the cover of a pretend QB coach, players at other positions routinely found their skills being square-pegged/round-holed.
A quick refresher of Tresselball's puzzling personnel decisions: Neutralizing the abilities of Maurice Wells and Brandon Saine by thrusting them into power plays. Using Jake Ballard almost exclusively as a glorified tackle instead of the grotesque pass-catching mismatch against any unfortunate linebacker that he always was. Routinely sprinting bruisers like Beanie Wells out wide and essentially giving the defense an 11-on-10 advantage.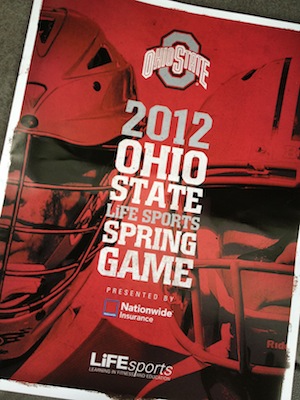 Refresher over - let's get back to the future, which almost certainly doesn't include the diminutive Jordan Hall running off-tackle out of the I-formation on 3rd and short.
One constant of the past that will always transcend Ohio State eras was that of the Spring Game Legend™. The very moment that Michael Thomas caught his fourth pass you began to hear Taurian Washington's name being whispered. When he caught his ninth, it was Bam Childress'.
As we learned last season - when Buckeye receivers were getting open about as often as Chick-fil-A on Sundays - that position is as much about catches as it is about gaining separation, being targeted and catching the ball without the slightest hint of a bobble. The last time a #83 totally surprised anyone like Thomas did during a spring game, Terry Glenn made good on that glimpse once the games began to count.
Braxton Miller played as expected and demonstrated all of the usual descriptors you want to see in an underclassman (maturity, patience, poise, etc) while Kenny Guiton also performed with the invigoration of 1,000 Sicilianos, calling into question why a player capable of his performance found himself languishing behind Joe Bauserman for the balance of 2011.
Despite the blossoming sanguinity over both Miller and Guiton realizing their high potential, they are veterans of the worst Buckeye offense of the modern era. However, they now both benefit from qualified coaching. It wasn't supposed to be like this.
The ever-maligned and enormous Chris Carter, whose nickname is The Big Hungry bull-rushed his way into many hearts on Saturday, demonstrating the potential for Ohio State to essentially play 12 guys without committing a penalty. After rumors of his impending departure, Carter actually showed signs of defensive utility as well as ample, televised butt crack, which has reportedly claimed the lives of several DVR fast-forward buttons.
The attacking Buckeye defense was business as usual; it's clear this coaching staff isn't going to tinker too heavily with the defensive philosophy that did virtually all of the heavy lifting during the most successful decade in program history. And the punt used to be the most important play in football, but for several memorable minutes during the first half, the field goal took its place
Once the exhibition ended for those fans who paid actual money for the privilege of being cold and wet all afternoon, there was a palpable sense of satisfaction throughout Ohio Stadium. Sure, spring games are as inexact as football can get, but the desired transformation into Meyer's vision was as obvious as the departure from our collective discomfort with the past.
And that's what Ohio State football is now becoming again: Comfortable. It's supposed to be like this.