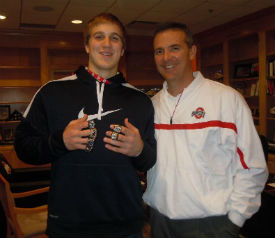 After what you could call somewhat of a "lull" in Ohio State's recruiting, things have begun to pick up again and Urban Meyer is back at it in trying to put together a top notch recruiting class for 2013, all the while preparing his team for next season in spring practices.
Last weekend marked the first of many busy weekends ahead for OSU recruiting, as the staff saw a number of talented visitors come to town during a stretch from Friday to Tuesday. The results were great after the weekend concluded as the Bucks picked up two new commitments, as well as made some solid ground with a number of other prospects.
The weeks lying ahead will not prove too different, as starting today, more potential Buckeyes are strolling in to Columbus to see what the "new Ohio State" has to offer them. Weekends like this are likely to continue throughout the summer, all leading up to the first annual Friday Night Lights camp to be held in Ohio Stadium.
In today's 11W Recruiting Notebook we take a look at some of the visitor's that have come through campus recently, some prospects that plan to visit soon, and what the Ohio State Spring Game could mean for recruiting at the end of the month. Please join us after the jump as we take you through the rundown and bring the latest buzz in the Buckeye recruiting world.
Weekend Past

This past weekend brought a star studded line-up of visitors to Columbus and the staff did not disappoint when it came to results.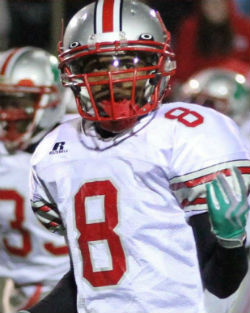 Visitors included QB Chavas Rawlins, QB Aaron Bailey, RB Ezekiel Elliott, OT Marcell Lazard, OT Ethan Pocic, LB Alex Anzalone, LB Courtney Love, LB Jaylon Smith, DB Chris Worley, DB Jayme Thompson and DB Darian Hicks, as well as commits DB Cam Burrows and ATH Jalin Marshall from the 2013 class. The list also included a couple players from the 2014 class, including OT Andy Bauer and LB Raekwon McMillian.
News started out with a bang on Sunday when word came out that Ezekiel Elliott became the sixth member of the class of 2013. Elliott told us later that after his first trip he felt good about the Buckeyes, but his second trip with his family to see the entire university sold him that OSU was the place for him.
The good news rolled on Sunday night, when Jayme Thompson announced he would be the seventh member in the class. Thompson was previously committed to West Virginia since February 2, but received an offer from the Buckeyes last week after reporting his grades to the staff and quickly jumped on the opportunity to play for his home state team.
Although the commitments ended there, Meyer definitely did some work with other recruits. The Buckeyes are now the favorites for Marcell Lazard, who could commit at any moment, continued to stay in the lead for Ethan Pocic, Courtney Love, and Aaron Bailey, kept their place at the top of the list of Alex Anzalone, made up ground on Notre Dame with Jaylon Smith, and got a good feel for Chavas Rawlins.
The staff also did some great work with the 2014 stars. McMillian came up to Columbus with his coach and after his visit he told us Ohio State was the "biggest offer he had", a significant piece of news considering home state Georgia and SEC schools South Carolina and Ole Miss have offered. Marcell Lazard also told us he could tell McMillian really liked OSU and he wouldn't be shocked if the Buckeyes were the winners whenever that decision is made.
As for the other 2014 prospect, it appears Ohio State sits in a good spot with Andy Bauer, a sophomore who already has eight offers, all from BCS schools. It looks like Notre Dame and Ohio State are the two schools to watch early on for Bauer, who'd like to end his recruitment sooner rather than later.
Overall it was a tremendous weekend when it comes to recruiting for the Buckeyes and gives the staff some momentum as they head further into the spring.
Weekend Coming

It will be hard to match last weekend, but Mark Pantoni is certainly preparing to do his best.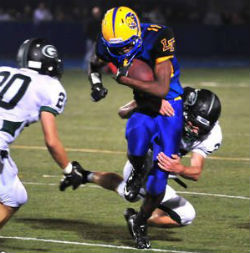 Heading to Columbus this week (as of Wednesday night) are 2013 stars DB Vonn Bell, WR Laquon Treadwell, WR Robert Foster.
Bell is scheduled to be on campus today and it will be the Georgia star's first visit to Ohio State. Ranked as the nation's number two safety by 247, Bell will certainly have the red carpet rolled out for him as the Buckeyes look to add to a super secondary class that already includes Jayme Thompson, Eli Woodard, and Cam Burrows. It is unknown how serious Bell is about OSU, but the fact that he is visiting on his own dime is a great sign and as I always say, if you get a prospect on campus with Meyer, anything can happen.
Treadwell is a name many Buckeye fans are familiar with and have been waiting for him to visit for some time now. Treadwell was originally supposed to visit in early March, but Meyer was on vacation and the trip got postponed to what turned out to be this weekend. Many think Laquon is leaning towards Michigan and that very well could be true despite what he says, but if Meyer really wants him in this class he has a great chance to impress him on Saturday. I'm not sure how many receivers the Bucks plan on taking this year, but Treadwell is definitely a player worthy of one no matter what.
Finally, the best prospect of this group in my eyes, Foster will be making his second trip to Columbus this year. The nation's top receiver, Foster will be in Pittsburgh today and tomorrow before heading to OSU on Saturday to check out spring practice. It doesn't look like a decision is imminent, but it does appear that the Panthers and Buckeyes have the early lead over Penn State and Alabama. The Tide are supposed to get a visit from Foster before he makes a decision, but I still think this comes down to one of the Pennsylvania schools and Ohio State. Urban has a great chance to jump ahead this weekend, so look out to see what happens.
Spring Game Looks To Be Key

It is still unknown who may visit between this coming weekend and the Spring Game on April 21, but that weekend at the end of the month should be action packed.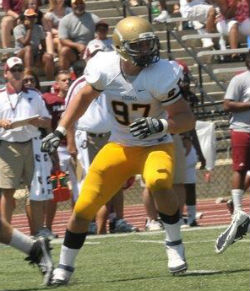 Prospects that are potentially going to be in attendance (obviously subject to change) include QB Drew Barker (2014), WR James Quick, TE Mike Heuerman, TE Josh McNeil, DL Joey Bosa, DE/LB Lewis Neal, LB Alex Anzalone, LB Courtney Love, LB Devaris Brunson, and DB Mackensie Alexander. There are sure to be other players in attendance, but for now this is the list we have gathered.
If you're looking at the commitment watch, go no further than the tight ends. Mike Heuerman is trying to make a decision by May 1 and it looks like it will be the Buckeyes, LSU, Miami (FL), or Notre Dame. I have been hearing good things regarding OSU and would be surprised if he is not a Buckeye on or shortly after the Spring Game. 
The other tight end is Josh McNeil of Durham (NC) Hillside. McNeil is a teammate of 2012 commit Jamal Marcus and will be visiting Columbus for the Spring Game with him. On Twitter McNeil claimed he was 90% sure of where he wanted to go to school and once again I will be surprised if the other 10% isn't locked up this weekend and he is a Buckeye.
If you're looking for the "big fish" coming into town, take a look to the Sunshine State as Joey Bosa and Mackensie Alexander are top notch recruits with some outstanding talent.
Bosa, who's uncle Eric Kumerow played for the Buckeyes and whose mother graduated from OSU, holds Ohio State in his top five with Alabama, Florida, Florida State, and Wisconsin. The thought is the Tide currently leads, but I expect Meyer and staff to push hard for that top spot during the weekend. [EDIT: There is word circulating Bosa moved up his trip to April 12-13, but regardless, above still applies]
Alexander originally committed to Tennessee, but backed off that verbal pledge to look at other schools. Reports now have Florida State and Clemson as the new leaders, but once again, get any prospect on campus with Urban Meyer and you never know what will happen.
James Quick, Lewis Neal, and Devaris Brunson will all make their first trips to Columbus.
Neal holds an offer, but it is unknown if it is a committable one or not. He continues to say the Bucks are one of his leaders, but we will find out how serious Ohio State's interest really is.
Quick and Brunson will both try to earn offers and hope to pick them up on their visits to OSU. Quick is a fast rising prospect, but the way I see it is that he is behind some other receivers on the recruiting board. I feel the same way about Brunson at linebacker and I think the next few weeks should clear up the picture at linebacker.
Anzalone you heard about before, but if he makes it to Columbus it would be a huge sign. He previously has said he has to decide whether to come to OSU or go to Penn State or Notre Dame that weekend, as all three spring games are on the same date and if he chooses to come see the Buckeyes, it could be a telling sign. Florida and Ohio State are definitely holding a slight lead over Penn State here, but seeing Anzalone on campus for the third time this year would be huge.
Same deal with Love in that he will be back for the Spring Game. He could pull the trigger on a verbal pledge before then, but my guess is it comes this weekend. Will be nice to be at around 10 commits (with Lazard and Love) before any of the other names mentioned here decide their fate.
Finally, Barker is a 2014 quarterback that is already high on the list. At 6-4/205 he already has great size and has compiled great numbers playing at Conner High School in Burlington, Kentucky. Last season, Barker threw for over 1,400 yards and 7 touchdowns, while also rushing for over 1,500 yards and 22 touchdowns. His offensive system is very similar to what Ohio State plans to run under Meyer/Herman and he seems like a player who would fit like a glove. The best part is he is extremely interested in Ohio State and I wouldn't be surprised to see him get an offer when he visits.
The Spring Game should be a great event, not only for the current Buckeyes, but for recruiting, as big moves could be made by the staff by a number of prospects. I'm definitely looking forward to seeing what the rest of April brings and will be sure to bring you all the goods here on 11W.