Greetings, ladies and gentlemen, cats and dogs. Since the last time we Skull Sessioned together, the Ohio State basketball team won two games, just as they had done the previous week.
Let's keep that streak alive, shall we?
I trust everyone has firmed up their plans for this weekend. Although I will not be traveling to New Orleans, unless I suddenly win a contest that I didn't enter or the Mega Millions lottery that I didn't play, I have been singing Fats Domino the past few days1.
And if anyone happened to pick the correct lotto numbers, we're still taking donations for a couple more days so we can hire a full-time beat writer, someone who would be wonderfully busy today trying to cover both the basketball team's departure to the Final Four and the first day of spring football practice.
For those of you in Columbus, if you want to help send off the Buckeyes, hit High Street today, from Woodruff to West 11th, at 5:15. 
While Jared Sullinger was probably right when he said, "We're never going to beat Urban Meyer. He brought the most buzz to Columbus, Ohio, in a long time. Big ups to coach Meyer", it would be nice if fans could also prove him right when he added, "I think the buzz we've brought to Columbus, Ohio, with being known as not only a football school but a basketball school, is great." 
But if Sully wants to try to top the Urban chatter by bringing home a national championship, then I think he should do just that.  
IN THE SIMPLEST TERMS, IN THE MOST CONVENIENT DEFINITIONS. Ever since Thad Matta's first trip to the Final Four five years ago, hoops aficionados have bemoaned the lack of attention the basketball team has attracted compared to their football brethren. At this point, it shouldn't need to be stated that Buckeyeland has room for both. Sports is not in the monogamy business.  
In fact, Doug Lesmerises brought up that in the past decade, 11 schools have made the Final Four more than once. Ohio State is one of them, as are Kansas, Kentucky, and Louisville. And yet, Matta still has to remind everyone, "over the course of the last few years, this program has identified itself."
Ohio State has plenty of tradition in basketball, but a lot of its most recent success can be traced back to the 2006-07 squad. That team was more talented, and at once more experienced and younger, than the current one. Nevertheless, there are similarities between the two: the All-American center, the relentless point guard, the streaky shooter. The chemistry between Sullinger and Craft, who played together on the AAU circuit, is akin to the one that Oden and Conley shared2. 
What Oden, Conley, and company helped do was shine a national spotlight on Ohio State basketball, which is of course beneficial in the recruiting game. Another trip to the Final Four, which the students gobbled up their tickets for, boosts the perception that this university is more than its football team, even if that's what will garner more headlines. 
Or to put it another way: 
"That's kind of how you gauge where your program is," Craft said. "It is a lot about winning, but a lot of it is based on how many Final Fours you can get to. Hopefully some younger kids like we were can watch us and see us having fun and playing basketball like it's supposed to be played and just enjoying our time."
BRING IT ON HOME TO ME. Despite some bumps and bruises along the way, Ohio State ended up where many thought they would at the beginning of the season. They now have the chance to earn the school's first basketball national championship in over 50 years. It won't be easy, but they can do it, especially if they channel their ruthless, revenge-minded side.
Jeff Goodman breaks down both why they will win the title and why they won't. According to him, their strengths lie in Sullinger and their "sharing is caring" ability to pass the ball. However, what could hinder their title aspirations is that their star will have to go up against other elite big men, first Thomas Robinson and then potentially Anthony Davis or Gorgui Dieng. The athleticism of those opposing players could cause him problems.
Craft's inimitable defense will also be key:
Ohio State's Aaron Craft is the only player this season who has forced more than 50 turnovers as an on-ball defender (57)

— ESPN Stats & Info (@ESPNStatsInfo) March 27, 2012
The team may need his offense as well if other players aren't making shots.
Speaking of Buford, if he struggles like he did last weekend, when he went 4/20 from the floor, then that could spell doom for the Buckeyes. It may sound obvious, but the best way for him to deslumpify is to get him open shots. In the tournament, he has only connected on 3/23 contested shots and is 10/26 on uncontested ones, including 7/16 from distance.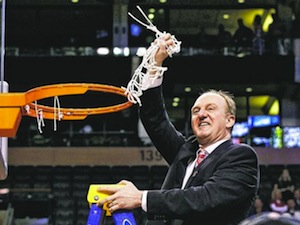 LIVIN' ON THE EDGE. As it should be for two teams facing off this late in the tournament, when examining the skill at different positions, Ohio State and Kansas are on the same level. SI's Rob Dauster did just that, looking at who has the edge in certain categories. 
Dauster claims that Ohio State own the advantage at small forward and power forward. Erratic though he may be, when he's on, Buford has the ability to shoot better than his counterpart, Travis Releford. At PF, Deshaun Thomas has been nearly unstoppable in March, averaging 22.3 21.75 points in the Big Dance. He's tough to guard for any team, and Kansas will have to decide if they want to put Robinson on him or perhaps Jeff Withey or Kevin Young.
On the other hand, Dauster gives the Jayhawks the nod with their bench and coach. Like OSU, Kansas doesn't receive a ton of production from the bench, but Young and senior Conner Teahan are fairly significant, especially if Young can match up against Thomas. 
Every other position, including center, are considered even. And while everyone wants to see All-Americans Sullinger and Robinson battle one-on-one, it's possible that Withey, who has a few inches on Sully, could guard him instead.
REDEMPTION SONG. In December, when Sullinger was out with back spasms, we were denied watching him take on Robinson. As the sophomore sat on the bench, he was powerless to help as the Jayhawk junior scored 21 points in Ohio State's first loss of the season. Now, he'd like nothing more than to make up for that:
"I felt like I could have helped the team overcome the 10-point leads … the times when we had it down to four points, and we had a turnover or didn't score a basket. I felt like everything was my fault. I'll take that as a little bit of motivation going into New Orleans and getting ready to play Kansas."
Even so, Sullinger's injury allowed Evan Ravenel and Amir Williams to put in valuable minutes. That experience came in handy against Syracuse, when Sully went to the bench in the first half with foul trouble, and could be important again.  
SPRING AWAKENING.  With the kickoff of spring practice, it's finally time for Urban Meyer to start roaming the football field again. The Dispatch's Tim May and Bill Rabinowitz discussed what they expect from his group in the offseason.
There are a lot of question marks on the OL, and because of that and the high praise Meyer has heaped on him, May believes that recently enrolled Taylor Decker has a chance of making an impact. Receiver is another position that needs player to step up, and like everyone, they think it's definitely time for Ohio State to utilize their TE talent3. Besides Stoneburner, who should become a focal point of the offense, back-ups Jeff Heuerman and Nick Vannett have also excited their new coach.
While the DL is loaded with returning players and five-star recruits, there's a little more uncertainty at linebacker. Ryan D. Shazier will only add to his collection of souls, but whether Etienne Sabino and Storm Klein can improve, or Curtis Grant can contribute, remains to be seen.
Despite their issues last season, Rabinowitz anticipates an improved secondary, even if Kerry Coombs, pumped as he is, was the 52nd cornerbacks coach to be hired. 
Both writers are curious to witness Meyer's competition-based practices, and Zach Boren's comments on the matter only amplify that:
"As intense as the offseason conditioning drills have been, the spring drills will be even more intense," Boren said in a press release. "There is no on-off switch. Everyone will be going full-go every play. It is going to be a physical spring with everyone putting everything on the line."
Maybe the spring game, on April 21st, will be a little more interesting than usual.   
A NOD IS AS GOOD AS A LINK. Tyshawn Taylor does not like domes... Evan Turner approves if John Groce is hired at Illinois... Minnesota will play in the NIT finals...  Purdue's Ishmael Aristide's campaign ad for student body president... The Wire wins this bracket... Belle & Sebastian cover the Primitives' "Crash"... *Phew*... Twins!
1 That is, when "Zou Bisou Bisou" hasn't been stuck in my head. *shakes fist at Megan*
2 Not only does Craft feel comfortable telling him what to do and vice versa, he also plays grammar cop to Sullinger and their other teammates. According to Craft, "I do correct their English because I'm trying to prepare them for a situation where they might be with someone important and they don't want to have the same mistake there." I hope he's now ready to receive this card from his many adoring fans. 
3 For real this time! But, like, actually for real.