Good morning, ladies and gentlemen. I encourage everyone to rest up for another weekend of basketball, which tips off tomorrow at 7:15 when Wisconsin and Syracuse battle to take on the winner of Ohio State-Cincinnati, which should begin around 9:45.
While the late start is inconvenient for many folks, I admit to preferring that time, and not just because of my night owl tendencies. Even in this DVR age, I would rather watch my favorite shows live. In case you haven't been paying attention, that includes Community, which returned to delightful demographic ratings last week1.
That also means that between 9-11 on Sunday, no one better bother me because I will be glued to AMC, finally welcoming a new season of Mad Men.
But before that, Ohio State will play at least one and hopefully two basketball games. Doing so, though, will require them to move past the Sweet Sixteen, a goal in which they came up just short the previous two seasons. 
ALL THE CATS WANNA DANCE WITH SWEET LITTLE SIXTEEN. The Plain Dealer's Doug Lesmerises pointed out that making the Sweet 16 is a difficult enough task, as evidenced by only two teams—Ohio State and Kentucky—being able to accomplish that feat the past three years. However, as the higher seed each time, if the Buckeyes fail to go any further, they will have underachieved again.
In his press conference yesterday, Matta summarized, "Being in this situation is great, but being complacent or satisfied is something that we don't want to do." 
Matta went on to discuss why this year's team may be more equipped for a run, and it goes back to the final week of the regular season when his squad came away with road wins in two close contests. Toughing it out against Northwestern and Michigan State gave the Bucks a bit of confidence heading into postseason play, and their head coach believes it helped them sustain Gonzaga's runs on Saturday. 
The inability to close out their matchups with Tennessee in '10 and Kentucky last season is what cost them a chance to advance. In the past few weeks, they've proven capable of clutch play and may need to do so again to stay alive.
IT IS THE EAST. At this point in the tournament, many brackets are a mess2, meaning it's time to reevaluate predictions about which teams will continue to move on.
ESPN's Jason King re-seeded the Sweet Sixteen and ranked Ohio State just below Kentucky. He considers the Buckeyes the favorites to win the East Region because of Deshaun Thomas' stellar tournament play and the abilities of Aaron Craft and Jared Sullinger to step up when needed. CBS Sports' Gary Parrish, with his choice of Kentucky over OSU in the championship game, concurs 
SI's Luke Winn also gave a Craft a shout-out, citing his recent offensive emergence as a reason why they will win the East in his estimated all-Big Ten Elite Eight matchup between OSU and Wisconsin. 
His colleague, Andy Glockner, is the contrarian who picked Syracuse to survive. If so, that's good news for Jim Boeheim. Glockner thinks that he, along with Bo Ryan and Matta, are under pressure because they are all successful coaches whose teams haven't met expectations during recent tournaments. 
Still, his gamebreaker in the region is Thomas, whose size and offensive prowess could present problems for the Bearcats. Overall, that game is his "intriguing matchup" due to the two schools' proximity3 and history. 
For Matta, though, it doesn't matter who their competition is. As he stated, "This isn't about Ohio State-UC. This is about trying to get to the Elite Eight and have a chance to play for the national championship. That's my motivation with our guys."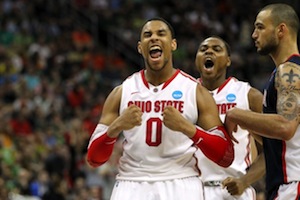 SULLY SESSION. Yesterday, Sullinger was named to another All-America team, this time the one voted on by the National Association of Basketball Coaches. Joining him on the first team were the usual suspects: Anthony Davis, Draymond Green, Doug McDermott, and Thomas Robinson. 
Despite that recognition, Herb Gould of the Chicago Sun-Times believes that people are nitpicking Sully's game rather than showing it the proper respect. When it comes down to it, if the Buckeyes need a bucket, they still want the ball in the sophomore's hands. Like Matta said, "He's a winner. We'll ride that down the stretch."
Although he hasn't dominated yet during the Tourney, he totaled 18 points against Gonzaga, including some key baskets after the Bulldogs tied it up. And Sullinger can always silence the doubters by guiding his team further than the Sweet Sixteen. 
As he told Dana O'Neil, "we've got to get past it, it's as simple as that."
URBAN MATRIMONY AND THE SANDWICH ARTS. Recently, Urban Meyer headed out west to address the ACG Utah conference. While he was there, he took the time to answer a few questions from the Desert News. 
The former Utes head coach spoke fondly of Utah, but he reaffirmed that his heart belongs in Ohio. He also maintained the importance of molding his players into responsible men:
Q: What do you hope kids get out of playing for you?

A: I hope they develop a sense of selflessness, accountability with teammates and obviously get a great degree and get them prepared for life after football. (The lessons are) important — being a member of a team, having your teammates count on you.
Then, Meyer, Lane Kiffin, and new Penn State DC Ted Roof were asked by the Atlanta Journal-Constitution about whether SEC speed4 was fact or fiction. 
According to Meyer:
"I think the SEC's speed is legit. And I can tell you for sure after next year. I haven't had enough experience yet in the Big Ten. Certainly, the defensive front seven is at a different level in the SEC. We went and recruited a bunch of good guys for our front seven this year for Ohio State, so I hope we can catch the SEC."
As long as we don't have to wear jorts, I can get behind that. 
QUARTERBACK RATING. Over at the Bleacher Report's new Big Ten blog, Adam Jacobi ranked the 2012 B1G QBs, ranging from Denard Robinson at #1 to Jon Budmayr5 at #12.
In the two spot, Braxton Miller was listed right behind Denard. Even though he's entering just his sophomore year, Miller improved enough in the second half of last season that with Urban at the helm, he should excel. His stats should only get better so that by his junior season, he'll be one of the nation's elite quarterbacks. 
In other Big Ten QB news, Danny O'Brien visited Penn State and is planning the same at Wisconsin. The graduate transfer out of Maryland is also looking at Ole Miss. Nittany Lions fans have to be praying they land him so they'd be spared another season of "Matt McGloin or Rob Bolden?"
For your daily dose of hate, Michigan is supposedly preparing more packages that involve backup QB Devin Gardner. Offensive coordinator Al Borges won't divulge what sets they're using during spring practice, though there is speculation that Gardner has lined up as a wideout. If that's the case, he better learn how to catch jump balls. 
LINKING ABOUT YOU. The OSU football team getting their community service on... Michigan State and Oregon scheduled a home and home... Five Southern Mississippi band members have been punished for their racist chant... Give the man his high five... At least the shark cooperated... Party Downton... 13 Songs That Don't Mean What You Think They Do... This dog does not seem to like traveling.
1 I'm pretty sure that's all thanks to last week's Dubcast. 
2 I'll spare you the details, but guilty. 
3 Matta jokingly suggested the two teams play a future game at the Jeffersonville outlet mall, before reminding everyone for the 500th time, this week alone, that Ohio State has no plans to schedule a series with Cincinnati.
4 Everyone's favorite topic!
5 Wisconsin's QB, in case you couldn't guess by his name.